Robot Wars: The Third Wars/Semi-Final 2
Talk

1
1,514pages on
this wiki
Semi-Final 2 of Robot Wars: The Third Wars was the second of two Semi-Finals which determined the Grand Finalists of Robot Wars: The Third Wars. The eight semi-finalists were paired off in Round 1, with the four victors pairing off in Round 2 to determine the two Grand Finalists. The episode featuring Semi-Final 2 was originally broadcast on April 14, 2000 on BBC Two.
Competing Robots
Edit
Semi-Final 2 had six newcomers and two veterans. This is contrary to Semi-Final 1, which featured three newcomers and five veterans.
Newcomers
Edit
Blade (Winner of Heat C)
Weight
75.5kg
Dimensions
0.31 x 0.94 x 0.63m
Clearance
0.03 - 0.07m
Power
3 x Various Motors
Weapons
Rotary Lawnmower Blade
Notes
Cost £146.52
From: Newbury
Team Members: John Ainslie, Ben Reid, Geoff Reid
Gravedigger (Winner of Heat F)
Weight
79.8kg
Dimensions
0.62 x 1.31 x 0.82m
Clearance
0.02m
Power
2 x Electric Motors
Weapons
Arm Powered by Hydraulic Ram
Notes
Steel Shell in a Coffin Shape
From: Norwich
Team Members: Jonathan Chaplin, Dave Chaplin, Owen Ramsey
Hypno-Disc (Winner of Heat H)
Weight
78.3kg
Dimensions
0.25 x 1.26 x 0.74m
Clearance
0.02m
Power
2 x 750W Electric Motors
Weapons
600rpm Rotating Disc
Notes
Cost £800
From: Oxford
Team Members: Dave Rose, Derek Rose, Ken Rose
Scutter's Revenge (Winner of Heat M)
Weight
79.8kg
Dimensions
0.47 x 1.30 x 0.80m
Clearance
Variable
Power
2 x 2HP Starter Motors
Weapons
Front Bulldozer Blade
Notes
High Powered Motors
From: Essex
Team Members: Graham Warner, Oluremi Idris, Darren Ball
Steg-O-Saw-Us (Winner of Heat G)
Weight
78.1kg
Dimensions
0.50 x 1.20 x 0.71m
Clearance
0.01m
Power
2 x 750W Electric Motors
Weapons
Pneumatic Lifting Tail
Notes
Cost £1,500
From: Southampton
Team Members: Dan King, Peter Rowe, Rob Heasman
Evil Weevil (Winner of Heat L)
Weight
76.5kg
Dimensions
0.25 x 1.05 x 0.75m
Clearance
0.20m
Power
Electric Motors
Weapons
Lifting Spikes
Notes
Build Time: 3 Months
From: Cardiff in Wales
Team Members: Kevin Pritchard, Andrew Davies, Michael Walsh
101 (Winner of Heat J)
Weight
79.5kg
Dimensions
0.27 x 1.0 x 0.75m
Clearance
0.05m
Power
Electrically Powered
Weapons
CO2 Powered Ram With Spike
Notes
Cost Under £5
From: Northamptonshire
Team Members: Mike Franklin, Amy Franklin, Paul Johnson
Beast of Bodmin (Winner of Heat I)
Weight
79.0kg
Dimensions
0.60 x 1.34 x 0.90m
Clearance
0.01m
Power
3 x Motors
Weapons
Circular Saw & Tusk
Notes
Large Animated Eyes
From: Cornwall
Team Members: Chris Kinsey, Peter Kinsey, Hender Blewitt
101 vs Scutter's Revenge
Edit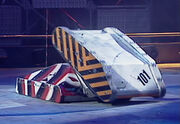 101 started quickly and twice drove over the front scoop of Scutter's Revenge. Both robots tried to push each other around but neither robot was able to get any real power behind each push. Eventually, Scutter's Revenge began to slow down and soon stopped moving completely and was immobilised, allowing the house robots to attack the beaten machine.
Winner: 101
Gravedigger vs Steg-O-Saw-Us
Edit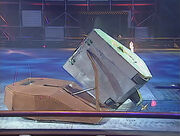 The battle started very slowly with both robots avoiding each other before Gravedigger pushed Steg-O-Saw-Us into Sir Killalot and then attempted to flip its opponent but was just unable to flip it completely. Gravedigger then flipped Steg-O-Saw-Us up onto the arena wall but Matilda knocked it back onto its wheels. Steg-O-Saw-Us then backed into Gravedigger and pushed it around the arena before cease was called and the judges went for Steg-O-Saw-Us.
Winner: Steg-O-Saw-Us
Beast of Bodmin vs Blade
Edit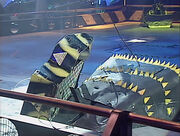 Beast of Bodmin quickly got underneath Blade and attempted to tip its opponent over, but was unsuccessful. Beast of Bodmin tried twice more unsuccessfully before finally managing to get underneath and flip Blade onto its side using its lifting ram. Beast of Bodmin then tipped Blade onto its back and it was immobilised.
Winner: Beast of Bodmin
Evil Weevil vs Hypno-Disc
Edit
Hypno-Disc started slowly to get its spinning disc up to speed but was unable to cause damage in the early exchanges. However, Hypno-Disc was soon able to cause damage to Evil Weevil as pieces of armour flew off the robot. Hypno-Disc continued to do damage until Evil Weevil suffered control problems and was immobilised.
Winner: Hypno-Disc
Steg-O-Saw-Us vs Beast of Bodmin
Edit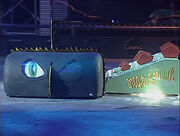 Steg-O-Saw-Us drove into Beast of Bodmin and caused minor damage to the front of its opponent. Steg-O-Saw-Us continued to ram into its opponent until Beast of Bodmin started to slow down. Steg-O-Saw-Us repeatedly rammed Beast of Bodmin into the arena wall until it eventually became immobilised and the house robots attacked. Beast of Bodmin was then placed onto the arena flipper and flipped, rolling once in midair and landing onto its side before falling back down onto its wheels. Steg-O-Saw-Us went through to the Grand Final.
Winner: Steg-O-Saw-Us
101 vs Hypno-Disc
Edit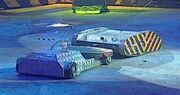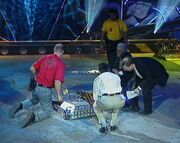 Hypno-Disc attacked 101 but its spinning disc did no damage and bounced off. 101 then pushed Hypno-Disc across the arena and drove up onto the disc, stopping it from spinning. Both robots drove into a CPZ and were attacked by Dead Metal, with Hypno-Disc sustaining some damage. Hypno-Disc then pushed 101 into the CPZ, but 101 quickly escaped. The battle concluded with the two robots pushing each other and the decision went to the judges. For the first time ever, the judges went into the arena to inspect for damage before making their decision. The judges went for Hypno-Disc, who progressed to the Grand Final.
Winner: Hypno-Disc