Robot Wars: The Seventh Wars/Semi-Final 1
Talk

0
1,514pages on
this wiki
Semi-Final 1 of Robot Wars: The Seventh Wars was the first of two Semi-Finals which determined the Grand Finalists of Robot Wars: The Seventh Wars. The eight competing semi-finalists were paired off in Round 1, with the four victors pairing off in Round 2 to decide which two robots would progress to the Grand Final. The episode featuring Semi-Final 1 was broadcast on February 22, 2004 on Five.
This semi-final featured two newcomers, both of which were from the Netherlands. These were the only two robots from outside the UK to reach the semi-finals in UK Robot Wars history. Of the six veterans, only two had made the semi-finals the previous year and three had never reached the semi-finals in any of their previous appearances.
This semi-final featured four seeded robots, all of which were drawn against an unseeded robot in the first round. All but one of these battles resulted in victory for the seeded machine.
This episode featured the Shortest Battle in UK Robot Wars, between Gravity and Dantomkia, which lasted only six seconds in total.
This was the last appearance of Bulldog Breed.
Competing robots
Edit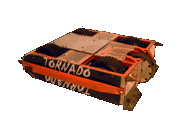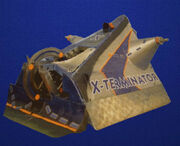 Newcomers
Edit
Tornado (1) vs Raging Knightmare
Edit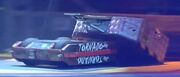 For this match, Team Tornado had elected to equip the spinning drum to their robot. After activate was sounded, Raging Knightmare charged at Tornado, but its flipper blade missed Tornado, allowing Tornado to catch on to Raging Knightmare, which was already in front of it, and using the spinning drum to flip Raging Knightmare up onto the top of itself. Tornado pushed Raging Knightmare towards the arena wall, but turned, and instead pushed Raging Knightmare towards the arena wall in the CPZ, doing so with such force, Raging Knightmare was flipped onto its side against the arena wall.
Raging Knightmare fired its flipper to dislodge itself from the arena wall, but remained stuck on its side. A nudge from Tornado knocked Raging Knightmare down, but onto its top. Raging Knightmare was invertible, so it could change its angle, and then use its flipper to self-right. Tornado caught up to Raging Knightmare straight afterwards though, pushing it into the arena wall. This was in CPZ territory, so Shunt could intervene, choosing to axe the top of Tornado, rather than Raging Knightmare. However, as Shunt had its back to Raging Knightmare, it got stuck on Raging Knightmare's flipper, which then overturned Shunt.
But rather than escaping fully, Raging Knightmare instead got underneath Shunt and flipped it. This was shown via the Shunt Cam on the televised edit, before being shown regularly in a replay. Both robots escaped the CPZ, with Tornado barging Raging Knightmare again, which fired it flipper with no target in sight, causing it to overflip, leaving Raging Knightmare inverted, despite only possessing a low-pressure flipper. Tornado then pushed Raging Knightmare over the flame pit, and into another CPZ, where Raging Knightmare seemed to grind to a halt. Tornado then repeatedly slammed Raging Knightmare into the arena wall, jamming Raging Knightmare's flipper blade into the arena wall, where it got stuck.
Tornado attacked from a slightly different angle, using the spinning drum to raise Raging Knightmare, dislodging it from the arena side wall, and once again on top of Tornado, which then dropped Raging Knightmare, leaving it idle so Tornado could check Raging Knightmare's mobility.
Team Tornado realised Raging Knightmare was immobile, so it slammed the pit release tyre, and then got around the back of Raging Knightmare, where Tornado could slide Raging Knightmare into the open pit.
Winner: Tornado
Dantomkia (5) vs Gravity
Edit
Gravity and Dantomkia were both aligned with each other right at the start of the match. Dantomkia's tactic was to get around the side of Gravity where it could flip, but unfortunately for Dantomkia, Gravity was too fast, and got underneath Dantomkia while it was turning. Gravity then drove Dantomkia straight to the arena wall, and immidiately flipped it out of the arena, resulting in the shortest battle of Robot Wars history, with cease being called after just six seconds.
"On cue, the second battle, in this, the first semi-final. Dantomkia! Ha Ha Ha! Over and out! Simple as that!"
— The entire commentary of the fight by Jonathan Pearce
Winner: Gravity
X-Terminator (11) vs St. Agro
Edit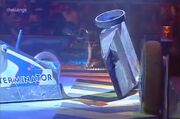 St. Agro was the first robot off the mark, either looking for a side-on flip at X-Terminator, or simply missing with its charge. While trying to align itself, St. Agro accidentally drove up X-Terminator's front scoop, slightly bending St. Agro's flipper. On another drive into the front, St. Agro got very slightly underneath X-Terminator, but not far enough to raise X-Terminator when it flipped. While doing this, St. Agro flipped itself over.
St. Agro fled, but X-Terminator chased, and directly hit one of St. Agro's wheels with its flywheel, tearing a chunk off of St. Agro's wheel, also flipping it over again. St. Agro's mobility was then hindered, and X-Terminator could attack the side of St. Agro, buckling its flipper.
St. Agro was still able to reverse away, but X-Terminator was still chasing, completely buckling the flipper upwards with its next flywheel attack. St. Agro ran for the pit release tyre, but could not get away fast enough, and X-Terminator got another attack from behind, and then pressing it against the arena side wall. St. Agro toppled back down, only to be struck by X-Terminator's flywheel once and twice more.
X-Terminator went on another charge at St. Agro's wheels, missing twice, before hitting its target to no visible impact. X-Terminator got two more attacks from behind, and then backing away for Refbot to count out St. Agro, as X-Terminator drove into the arena wall for no apparent reason. As X-Terinator went on one more attack, its flywheel had not spun up again after driving it into the arena wall, so did no damage to St. Agro.
Still with a motionless flywheel, X-Terminator pushed St. Agro into Matilda, which took another panel off of St. Agro. X-Terminator pushed St. Agro further into the CPZ, where a huge slam from Matilda tore another chunk off of St. Agro's wheel. Shunt struck St. Agro with its axe, and St. Agro was revealed to be venting gas from the rear. Shunt axed it once more.
X-Terminator and the house robots teamed up to push St. Agro onto the floor flipper. After St. Agro was flipped, Matilda attempted to inflict more damage to St. Agro, but it was too low, and X-Terminator instead opted to push St. Agro into the pit.
Winner: X-Terminator
Bulldog Breed (12) vs Tough As Nails
Edit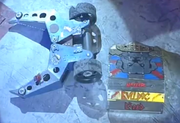 Bulldog Breed and Tough As Nails both charged headlong at each other, but Toush As Nails did so at such an angle, it drove straight up Bulldog Breed, and overturned itself sideways. Tough As Nails reversed, but straight onto Bulldog Breed's wedge. However, Bulldog Breed did not flip, and after a short bout of evasion, Tough As Nails grabbed Bulldog Breed side-on. Bulldog Breed, however, was simply able to fire its flipper to dislodge Tough As Nails. Tough As Nails drove up Bulldog Breed again, but despite staying on top of Bulldog Breed for a lengthy time Bulldog Breed did not fire its flipper.
Bulldog Breed drove into Sergeant Bash's CPZ, before reversing into an angle grinder. Tough As Nails slowly travelled towards the pit release, activating it, before once again, reversing up Bulldog Breed and darting straight over it. Bulldog Breed caught up to Tough As Nails, got in underneath, and flipped it. Bulldog Breed kept its attacks persistent, getting another flip on Tough As Nails. The two pushed each other side-by-side, with Tough As Nails reversing away and performing a sort of pirouette, balancing solely on its two wheels.
Tough As Nails kept charging at Bulldog Breed, but got itself flipped against the arena side wall, where Tough As Nails could drive off before Bulldog Breed would get the chance to flip it out of the arena. Tough As Nails then finally got a good grip on Bulldog Breed, but Bulldog Breed drove in circles, eventualy sliding itself underneath Tough As Nails, where it could flip the Dutch machine.
Tough As Nails grabbed Bulldog Breed from the front again, but could not seem to push it backwards. Bulldog Breed fired it flipper, but this was costly, as they bounced slightly, allowing Tough As Nails to maintain Bulldog Breed with its wheels off of the ground. Tough As Nails slammed Bulldog Breed into the arena side wall, putting Bulldog Breed's wheel back on the ground, still in Tough As Nails' grip.
Bulldog Breed made a push, trying to get Tough As Nails into the pit, but failed to do so, instead getting it near to Sergeant Bash's CPZ. The two pushed against each other over the flame pit. Bulldog Breed repeatedly slammed Tough As Nails against the arena side wall, but staying on top of the flame pit the whole time. The two made contact again, with Tough As Nails running up Bulldog Breed and overturning itself.
Bulldog Breed got fully underneath Tough As Nails, and flipped it onto the arena side wall, but Tough As Nails, comprisng mainly of an axle, was still able to get its wheels onto the arena side wall and drive back down again. Bulldog Breed made another attempt at flipping Tough As Nails out of the arena, but misaligned, and flipped Tough As Nails sideways instead.
Tough As Nails got another grip on Bulldog Breed on the tile of the drop zone, but simply did not have the power to push Bulldog Breed into the pit. Tough As Nails made one last attempt to grab Bulldog Breed, but did not do so, and the two did not attack again until cease was called, where the Judges opted in favour of the seeded Bulldog Breed.
Winner: Bulldog Breed
Tornado (1) vs Gravity
Edit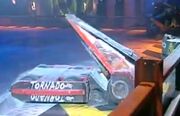 Tornado made an instant attempt to get around the side of Gravity, the latter staying idle, only turning on the spot in turns of momevent. Tornado successfully got around the side of Gravity, but Gravity got away. Gravity turned into Tornado, but Tornado's lower scoop meant Gravity would simply go straight up Tornado's scoop, and then fall off again. The two robots drove at each other again, but their wedges were equally low down, and the two just bumped off each other. As Gravity's drive kept persisting, however, it drove up Tornado's scoop once again, allowing Tornado to get fully underneath, and ram Gravity into the arena side wall, where it repeatedly bashed Gravity
As Gravity turned away, Tornado snuck around the back, and pushed Gravity into Sir Killalot's CPZ. Sir Killalot made an effort to trap Gravity between its weapons and the arena side wall, but freed Gravity shortly afterwards, where Tornado was waiting to shove Gravity back in again. Gravity fired its flipper to no avail.
After Gravity found its way out, it was clear that Gravity had sustained damage to one of its tyres, as the robot was hobbling. This also hindered Gravity's ability to get underneath Tornado's scoop, which showed when Tornado got in underneath again, with the flail inflicting minor damage. Tornado got underneath once more, slamming Gravity into another arena side wall and then an angle grinder.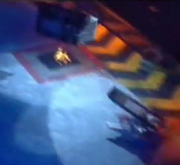 As Gravity tried to escape again, Tornado pushed Gravity into an empty CPZ, and into the wall again. As Cassius Chrome came in to attack one of the machines, Tornado was leaving the CPZ, reversing straight into Cassius Chrome, preventing Tornado's escape. Tornado's rear ground clearance was showing to Gravity, which swept underneath and powerfully flipped Tornado, leaving it inverted. Tornado's approach then seemed more evasive, eventually driving into the side of Gravity, but with little speed and power, only inflicting minor flail damage at best.
Tornado then pushed Gravity, but had to do so in a slight arc, as Tornado could not get underneath Gravity. Tornado pushed Gravity onto the flame pit, where the Gravity team thought they had the potential for an Out of the Arena flip, but this did not happen, with Tornado instead somersaulting back onto its wheels, as a burst of smoke escaped Gravity's flipper, which was still on the flame pit.
As Tornado pushed Gravity into a more central area of the arena, Tornado then pushed the pit release, where Gravity was lingering nearby. Tornado then got underneath the front of Gravity, which fired its flipper, allowing Tornado to get even further underneath, where Gravity could be pushed onto the descending pit. Gravity attempted to drive off again, but this did not quite succeed. Gravity fired its flipper once more, as it steadily lowered into the pit, at which point Tornado was declared the first Grand Finalist of the Seventh Wars.
Winner: Tornado
X-Terminator (11) vs Bulldog Breed (12)
Edit
The match begun with Bulldog Breed trying to sneak around the rear of X-Terminator, but X-Terminator turned quickly enough so that Bulldog Breed would drive up X-Terminator's scoop and into the flywheel. Right from the first attack. Bulldog Breed's flipper blade was bent slightly upwards, meaning that Bulldog Breed would struggle to get underneath X-Terminator. Straight afterwards, X-Terminator got another attack on the wedge of Bulldog Breed, curling it, leaving Bulldog Breed's wedge completely redundant.
After a few short clips at the side of Bulldog Breed, X-Terminator got underneath Bulldog Breed and started shunting it down the centre of the arena. Bulldog Breed fired its flipper, causing it to jump off the ground, where X-Terminator could then roll Bulldog Breed over. Bulldog Breed tried to self-right, but landed on X-Terminator's flywheel again. On its second attempt, Bulldog Breed self-righted.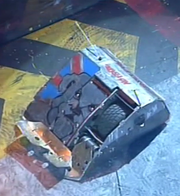 However, before Bulldog Breed could move away, X-Terminator was already aligned for another attack, where X-Terminator overturned Bulldog Breed once more. Bulldog Breed self-righted, but straight into the arena wall. Bulldog Breed managed to get down and back away before X-Terminator could hit Bulldog Breed with its flywheel, but Bulldog Breed reversed straight into Sir Killalot, which pushed Bulldog Breed into the flywheel of X-Terminator.
Bulldog Breed suffered more damage, but charged at the scoop of X-Terminator once more, still merely driving up X-Terminator and taking damage from the flywheel. X-Terminator's flywheel temporarily stopped, so instead pushed Bulldog Breed into the CPZ, but no house robots intervened. The two robots drove into a slightly more central part of the arena, where Bulldog Breed kept on trying to ram into the front of X-Terminator, and just taking more damage and being lifted onto the top of X-Terminator, which pushed Bulldog Breed back into the CPZ, this time occupied by Sir Killalot.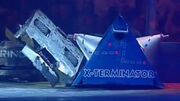 Sir Killalot tried to grab Bulldog Breed with the jaws of life, inadvertedly stabbing X-Terminator with its lance before picking up Bulldog Breed, holding it momentarily before releasing it, where X-Terminator could again drive at Bulldog Breed, sending the sparks flying with its attack connections.
Bulldog Breed merely dawdled from hereon out, slowly driving around the same patch of area, before finally grinding to a halt. X-Terminator attacked Bulldog Breed once more, throwing it into the arena side wall, and then striking Bulldog Breed once more, balancing it on the arena side wall. Bulldog Breed toppled back in, inverted, where it self-righted into Sir Killalot's CPZ, which merely poked Bulldog Breed so X-Terminator could come in with another slam. As the flywheel connected once more, the sparks flew again, with the attack afterwards completely ripping a top piece of armour plating clean off.
X-Terminator made one more effort to send Bulldog Breed flying out of the arena, which the Bulldog Breed team did not take in good spirits. Bulldog Breed was finally left to lie, inverted, where it was counted out by Refbot.
"Big Respect to Bulldog Breed, we have always felt bad for what we did to this robot, real heat of the moment stuff and not really realising how much damage we were inflicting while trying to fly them out of the arena. Since this fight I try and give other peoples work a bit more respect."
— Marlon Pritchard
Winner: X-Terminator