"Man may have tempered the spectre of nuclear evil. But tonight I have the unenviable task of reporting that warfare has been taken out of man's hands. We're now at the mercy of machines, and a battle, the likes of which we've never seen before, is about to begin. Outside the studio, women have lashed themselves to the railings. Britain is about to witness the birth...of Robot Wars, which is all about robots...fighting."
— Jeremy Clarkson's introduction
Heat A of Robot Wars: The First Wars was the first of six heats which determined the Grand Finalists of Robot Wars: The First Wars. The episode featuring Heat A was originally broadcast on February 20, 1998 on BBC Two. This heat was the pilot of Robot Wars.
Competing robots
Edit
Barry
Weight
116.9kg
Dimensions
1.20m x 0.76m x 0.55m
Speed
7mph
Turning Circle
0m
Ground Clearance
60mm
Power
24V wheelchair motors
Weapons
Pneumatic scoop
From: Hagley Roman Catholic High School
Team Members: Amy Sproat, Chris Sherwood & Daniel Parry
Grunt
Weight
45kg
Dimensions
1.40m x 0.46m x 0.25m
Speed
15mph
Turning Circle
0m
Ground Clearance
3mm
Power
2 x 12V wheelchair motors
Weapons
None
From: Coventry
Team Members: Matthew Dickinson
Killertron
Weight
72.2kg
Dimensions
1.40m x 0.70m x 0.60m
Speed
4mph
Turning Circle
0m
Ground Clearance
10mm
Power
2 x 24V wheelchair motors
Weapons
Pickaxe & mace
From: Maidstone
Team Members: Richard Broad, Abdul Degia & Ian Degia
Nemesis
Weight
76.8kg
Dimensions
1.30m x 1.25m x 0.55m
Speed
6mph
Turning Circle
0m
Ground Clearance
50mm
Power
24V batteries
Weapons
Pneumatic spike
From: Dublin, Ireland
Team Members: Peter Redmond, William Murphy & Joe Gavin
Roadblock
Weight
82.5kg
Dimensions
1.45m x 1.10m x 0.40m
Speed
5mph
Turning Circle
0m
Ground Clearance
10mm
Power
24V electric motors
Weapons
Circular saw
From: Bodmin Community College
Team Members: Hender Blewitt, Chris Kinsey & Peter Kinsey
Shogun
Weight
82.7kg
Dimensions
0.92m x 0.60m x 0.33m
Speed
7mph
Turning Circle
0.5m
Ground Clearance
10mm
Power
2 x 12V Sinclair C5 motors
Weapons
Cutting blade & forklifts
From: Nottingham
Team Members: Robin Woodhead, Brian Carrington & Peter Fairbrother
"For the first time, in the history of Robot Wars, the Gauntlet is run."


Competing order: 1. Roadblock 2. Barry 3. Shogun 4. Nemesis 5. Grunt 6. Killertron
Ranking
Competing Robot
Report
Distance
1

Nemesis
Nemesis took the middle route over the ramps with no house robots in opposition. It made it to the final stretch, and dodged Matilda to reach the end. It was struck by the pendulum, but this did not hamper its progress.
Completed
2

Grunt
Grunt shot straight into the route guarded by house robots and past Sergeant Bash. Dead Metal halted it briefly by driving up on top of it. However, Grunt escaped and continued, briefly halted by Matilda, but ultimately reaching the endzone.
Completed
3

Roadblock
Roadblock paused enough for the turntable to come to a halt, and then drove forward. It dodged the ramp and went for the left-most route. It swerved around both Matilda and Dead Metal, before driving into the endzone.
Completed
4

Killertron

"Drivers Abdul and Richard, with that sort of weaponry and paintjob, I'd go and see a psychiatrist if I was you"

Killertron was the final robot to run the Gauntlet. It effortlessly crossed the first ramp and ran into Dead Metal. It escaped, but was hampered by the drills, and ran into the same position that Shogun had, beaching itself on the side of the ramp.

11.02m
5

Shogun
Shogun went for the central route. It crossed the first ramp in good time, and ran up the second ramp, but fell off the side. It was menaced by Matilda, and its run ended.

Jeremy Clarkson: "I did warn you that humiliation was an option, but I bet you couldn't have foreseen it like that?"
Robin Woodhead: "No! If you don't try, you don't win."
— After Shogun's run ends

10.71m
6

Barry
Barry drove straight onto a grille and was blocked by a pyramid. It spun around, and went for the ramp whilst under pressure from Sergeant Bash. It rushed at the centre ramp, but its low ground clearance prevented it from crossing it. Matilda attacked, and Barry lost power.
2.93m
Eliminated: Barry
Trial (Sumo)
Edit
Competing order: 1. Shogun 2. Killertron 3. Roadblock 4. Nemesis 5. Grunt

Ranking
Competing Robot
Report
Result
1

Nemesis
Shunt appeared to be the stronger, pushing Nemesis to the very edge of the ring. Nemesis fought back, however, and spun around, leaving Shunt unable to power straight forward on an exposed side. Eventually, Nemesis drove backwards into Shunt, sticking its rear spikes into his wheelguards and forcing him towards the edge. With Shunt finished, Nemesis delivered the Coup de grâce by pushing off the ring sideways.

"Oh he's not going to go again, surely! We thought Shunt was unbeatable and fearless! Go on Shunt, get out! Talk about living on the edge, and Nemesis surely through, marvellous!"
— Jonathan Pearce

Victorious
2

Killertron
Killertron attacked Shunt with its axe several times, but missed. However, it also managed to keep itself from being pushed straight off, occasionally using its axe to maintain a grip on Shunt. Killertron held on until the end, lasting the full sixty seconds.
Survived
3

Roadblock
Shunt aimed his axe at Roadblock's wedge, before Roadblock shoved its rounded front into Shunt, attempting to push him off the ring. Roadblock was eventually able to drive under Shunt's side, and with a powerful charge, pushed him off podium, but drove off itself immediately afterwards. Because of this, it was only awarded third place, even though it was technically victorious.

"Look at this, Shunt's gone! And death by glory, they've gone too!"
— Jonathan Pearce

Survived
4

Shogun
Shogun ran into the rear slope of Shunt and held off the House Robot's push for a significant amount of time. Finally, however, Shunt spun and reversed Shogun off the podium. This was the only robot that Shunt defeated in the Sumo in the First Wars.
21.51 seconds
5

Grunt
Grunt darted around Shunt and drove straight off the edge.

"Not so nice, over in a trice! And Grunt goes in spectacular style."
— Jonathan Pearce

4.15 seconds
Eliminated: Grunt
"[Adam Harper] did 150 miles per hour in a Sinclair C5. The man is certifiable. But he is not as certifiable as our opponents who will now indulge in the first semi-final."
— Jeremy Clarkson
Semi-Finals
Edit
Nemesis vs Roadblock
Edit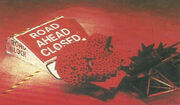 Both robots started slowly but Roadblock was able to use its circular saw to slice through the polka dot fur of Nemesis (as well as marking and denting the stainless steel undercover), before the Irish machine retaliated by piercing a hole in the side of Roadblock. Unseen footage then saw Roadblock nudging Nemesis into Dead Metal's CPZ, where Nemesis was briefly clamped between the house robot's pincers. Steering away, Roadblock drove into Matilda's CPZ, and impaled itself on the spikes, trapped by Matilda and Nemesis. Roadblock escaped, used its wedge to push Nemesis back, and Sergeant Bash came to set it on fire.
"The Nemesis boys all want to go to space and they're in the air! They're in the air! And they're on fire!"
— Jonathan Pearce's excitement as the fur ignites for the very first time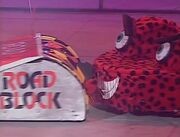 The battle was immediately stopped and Nemesis' fur was extinguished. Roadblock was automatically given the victory.
"Its gone from an armchair to a three-piece suite."
— Hender Blewitt
Nemesis' defeat here was mostly due to, as revealed on the video compilation of the first series, being unable to go backwards as the result of its speed controllers being burned out after its successful run in the sumo.
Winner: Roadblock
Killertron vs Shogun
Edit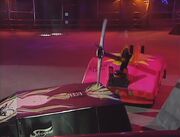 Shogun moved forward, before driving over near the grilles. It tentatively moved towards Killertron and rammed into him, reversing away as Killertron's axe came swinging forward. Killertron spun, battering Shogun with its axe, and Shogun eventually drove over the grille and got stuck.
"Doesn't seem to be able to dodge Killertron, who seems to be having some sort of fit...oh, Shogun's stuck! On the grille! And Killertron comes in, for the kill!"
— Jonathan Pearce
Killertron cornered its foe and struck with its axe, first with the pointy end, and then penetrating through Shogun's shell with the flat-edged end. Sergeant Bash interceded, but his circular saw made contact with Killertron and flew clean off. Cease was called, as Shogun was clearly immobile.
"I enjoyed that. You put that pickaxe, which I like a lot, into his skin!"
— Jeremy Clarkson
It was revealed that problems with the speed controllers caused Shogun's poor driving, and that Sergeant Bash's circular saw had fractured a wire in Killertron. However, it managed to be fixed in time.
Winner: Killertron
Killertron vs Roadblock
Edit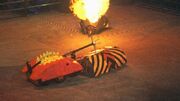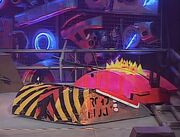 In a very anticipated final, both robots drove towards each other. Killertron fired its axe prematurely, but managed to retract and swing again in time to hit Roadblock. Roadblock's scoop proved effective, slipping beneath Killertron twice in quick succession, resisting a second axe blow, and pushing it into the side wall. Killertron was left in Sergeant Bash's CPZ, but easily dodged the Sergeant to escape. It then charged at Roadblock, but drove too far onto the road sign wedge, and beached itself there.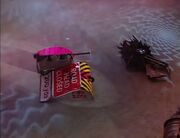 "It's piggy-back time!"
— Jonathan Pearce
Roadblock carried Killertron around in circles, and then with an assisted bump from Dead Metal, Killertron eventually slid off the side of Roadblock, who steered and rolled its enemy onto its back, helpless. Roadblock had won the first ever heat of Robot Wars.
Heat Winner: Roadblock
As the pilot of Robot Wars, this episode was the first appearance of Jonathan Pearce, Philippa Forrester and Noel Sharkey, as well as Eric Dickinson, Adam Harper and original host Jeremy Clarkson.
The début of Nemesis, from the Republic of Ireland, signified the first competitor from outside the United Kingdom to compete in Robot Wars.
Roadblock, Killertron and Shogun were the first robots on the show to feature interchangeable weapons.
Roadblock was the first robot to complete the Gauntlet.
Nemesis was the first robot to defeat Shunt in the Sumo (Roadblock also did this, but fell off itself afterwards, so was deemed to have survived rather than won).
There was a particular controversy over the actions of stock robot Grunt. Under the control of an experienced driver, it completed the Gauntlet with ease. This meant that the legitimate competitor Barry was eliminated at the Gauntlet stage. Grunt proceeded to dive off the podium in the Sumo. Team Power lamented on their website, because they felt that Barry would have been perfect for the Sumo.
At the end of the Arena Semi-Final fight between Roadblock and Nemesis, a member of the camera crew tripped over the arena wall, landing a short distance from Nemesis and Matilda who had been caught on a grille. This incident was cut from the broadcast version, but shown in a compilation of highlights and bloopers from Series 1 in Robot Wars: The First Great War.
Ad blocker interference detected!
Wikia is a free-to-use site that makes money from advertising. We have a modified experience for viewers using ad blockers

Wikia is not accessible if you've made further modifications. Remove the custom ad blocker rule(s) and the page will load as expected.