Robertus George 'Rob' Kamphues is a Dutch comedian, TV presenter and motor racer who hosted both series of Robot Wars: The Dutch Battles. He was born in Wassenaar, South Holland, the Netherlands on 16th September 1960.
Robot Wars
Edit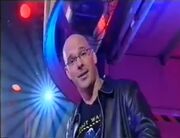 From 2001 to 2003 Kamphues took on the role of Presenter in Robot Wars: The Dutch Battles, introducing the battles and handing over to Bridget Maasland in the pits and Eric Corton in the commentary box. Kamphues also provided the commentary for the Dutch release of Robot Wars: Arenas of Destruction.
Outside Robot Wars
Edit
Television
Edit
Kamphues made his TV debut in 1995 on Dutch comedy show Kopspijkers (Tacks), which he would remain on until 1998. In 2001, he cameoed on BNN at Work, which was a series of special reports on places and events outside the Netherlands, and hosted Kamphues maakt vrieden (Kamphues Make Friends). He appeared in Jensen! and in 2006 and 2007 and in De Lama's, also in 2007. In 2008, he appeared alongside a variety of BNN presenters, including Bridget Maasland, in National BNN Test, a show to celebrate BNN's tenth anniversary.
Motorsport
Edit
In 2007, Kamphues entered alongside Gaby Uljee in the SEAT Cupra Cup Netherlands. Kamphues only raced twice, but they finished nineteenth out of twenty-two. In the same year, Kamphues also entered the Volkswagen Endurance Cup Netherlands alongside Rob Bergmans and Jeroen den Boer. Kamphues raced seven times, winning once. They finished second out of twenty-three. He would enter the Volkswagen Endurance Cup Netherlands the next year with the same team. Kamphues raced once more this time, but still only managed one victory and again, they finished second. Kamphues entered the SEAT Leon Eurocup in 2009, but failed to score a point. For 2010, he swapped to the HTC Dutch GT4 Championship, but again failed to score points.
Personalities
Presenters
Pit Reporters
Commentators
Judges

Noel Sharkey

(

Series 1

-

10

,

Extreme 1

-

2

,

US 1

-

2

,

Nickelodeon

,

Dutch 1

-

2

,

German

) •

Eric Dickinson

(

Series 1

-

2

) •

Adam Harper

(

Series 1

-

3

) •

Martin Smith

(

Series 3

-

7

,

Extreme 1

-

2

,

US 1

-

2

,

Nickelodeon

,

Dutch 1

-

2

,

German

) •

Myra Wilson

(

Series 4

-

5

) •

Mat Irvine

(

Series 5

-

7

,

Extreme 1

-

2

,

US 1

-

2

,

Nickelodeon

,

Dutch 1

-

2

,

German

) •

Sethu Vijayakumar

(

Series 8

-

10

) •

Lucy Rogers

(

Series 8

-

10

)

Other