"Slimy, sneaky, tricky, low down, we love it!"
Riptilion was a flat dome competitor in Series 6, 7 and Extreme 2 of Robot Wars.
Riptilion lost all three of its battles; the first round in Series 6, the first round of the Extreme 2 Iron Maidens, and its world championship qualifier in Series 7 (in which it represented New Zealand). Surprisingly, these losses were not because of its vulnerability to axes and inability to self-right, its official weaknesses.
It was a wide, round, scaly green machine with a spinning blade, claws with spikes on the sides and 27 mph top speed. The team boasted a side-step manoeuvre, which allowed the robot to swiftly relocate itself to attack a robot from the side making it nimble, tough and fairly destructive. The first version of Riptilion was one of the widest robots in Robot Wars at least 139cm wide. It originally took 6 months to build, costing £2,000.
Robot History
Edit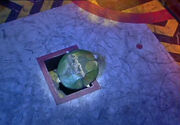 "Risen from the Robot Wars swamps, looks prime evil"
Riptilion was immediately targeted by Bigger Brother, who flipped it up and pushed it near Mr. Psycho, who hammered at it. Not long afterwards, Riptilion drove too close to the pit and it fell into oblivion, ending Riptilion's only main series appearance relatively quickly.
Extreme 2
Edit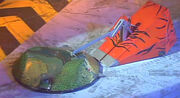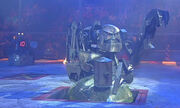 "Resists impact well, unless it's an axe weapon, which can penetrate the outer cover."
— Jonathan Pearce
Riptilion faced Kat 3 and Behemoth in the Iron Maidens tournament. It initially stayed out of the action in this battle, until it used its spinning bar to hit Kat 3 when it was upside down. However, Riptilion stopped moving at this exact moment, and it was almost turned over by Behemoth. Riptilion's immobility became clear, and it was spiked by Kat 3's axe, and hammered by Mr. Psycho. Riptilion was pushed onto the pit by Kat 3, where it struggled to fit, but a nudge from Mr. Psycho caused it to fall in. Riptilion was hammered once again as cease was called.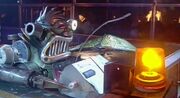 Riptilion participated in the Third World Championship, representing New Zealand. It faced Belgian robot Hard in its qualifier, and tried to attack at the start, only to be lifted. Riptilion was pushed and lifted repeatedly, before being struck by Cassius Chrome. It then broke down and was flung by the floor flipper.
Wins/Losses
Edit
Series Record
Edit
The Terror-Dactyls are the only New Zealander team to enter Robot Wars.
Ad blocker interference detected!
Wikia is a free-to-use site that makes money from advertising. We have a modified experience for viewers using ad blockers

Wikia is not accessible if you've made further modifications. Remove the custom ad blocker rule(s) and the page will load as expected.