"This incredible, ominous-looking robot hides a world of high-tech engineering"
— Angela Scanlon
Rapid was a heavyweight robot which competed in Series 9 of Robot Wars, entered by design and manufacturing firm RPD International. It reached the second round, but after being drawn against Aftershock at the beginning of the head-to-heads, it sustained terminal damage and forfeited from the competition.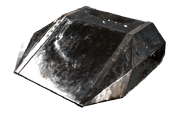 Rapid was built through heavy use of CNC, and is box-wedge shaped, armoured in a reflective metal. Its weapon is a very broad flipper with seven tonnes of force, which also serves as the robot's self-righting mechanism. Rapid is driven by four wheels towards the back of its shell. The robot's shape was somewhat reminiscent of Turbulence. According to the Robot Wars website, Rapid cost £25,000 to build. This could be explained by the CNC techniques made available by Josh Valman's company RPD International, and Rapid used top-of-the-line components including motors valued at £1,000. Rapid was reportedly capable of throwing a Transit van one metre into the air.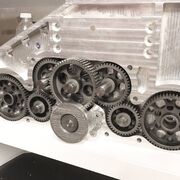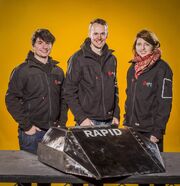 Dara Ó Briain: "Does it have any weaknesses?"
Josh Valman: "...it scratches quite easily!"
— Team RPD's confidence in their design
However, the team referred to their robot as 'completely overengineered', and ultimately their forfeit from the competition was because of the inaccessibility of Rapid's parts during the repair process, and the time it would take to remanufacture essential parts.
Robot History
Edit
Rapid competed in Episode 1. It was the only newcomer in its melee as it faced former Grand Finalist Terrorhurtz, alongside two halves of Team Nuts, Nuts 2 and Jellyfish.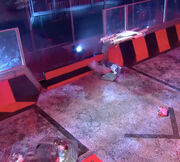 As soon as activate was called, Rapid targeted the lightest machine in the arena, and launched Jellyfish into the air. Rapid required a few seconds to close its flipper, where it was pursued by Terrorhurtz, but once the flipper had retracted, Rapid stormed under Jellyfish, and on a second charge, trapped it on top of the flipper, and backed it into the arena wall. Rapid lined Jellyfish up against the arena wall, where its next flip powerfully threw Jellyfish backwards. Team RPD noticed that Nuts 2 was suffering from mobility issues, so Rapid clamped its open flipper onto the chains of Nuts, and dragged it towards Matilda, which threw Nuts 2 out of the arena with her flywheel. Rapid returned to Jellyfish, pushing it into an empty CPZ to throw it high once more, although Rapid then sustained a blow from Terrorhurtz. Rapid's flip has caused Jellyfish to lose fluent control, so Rapid fled from the pursuing Terrorhurtz, failing to breach its wedge, but cease was called and both robots qualified, with Rapid only sustaining minor damage to its wedge.
Dara Ó Briain: "You got under some but didn't get under others..."
Josh Valman: "Well it's a balance between getting it low enough and not getting caught on every screw at the bottom of the arena, so we've got to find that balance."
— Post-battle chat on Rapid's ground clearance
In the second round, Rapid was drawn against vertical spinner Aftershock, entered by Grand Finalists from the previous series Team Shock.
"If we go out of the competition, it's going to be our fault, I don't think it'll be the opponent."
— Josh Valman in his rather prophetic VT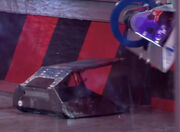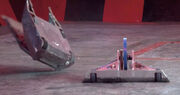 Rapid was not hesitant in its attack, and snuck straight under the front ground clearance of Aftershock, driving it into the arena wall and flipping it high, causing the spinner to land on its disc, and self-right. However, while Rapid's flipper was still open, Aftershock hit it from underneath, and knocked the robot towards Sir Killalot. Rapid was still mobile, but on another charge, it rode up the ground clearance of Aftershock, and was thrown over. Rapid attempted to self-right, but threw itself straight back onto its open flipper, and tumbled onto its back. Rapid's flipper would not close, leaving it unable to self-right, so it was counted out and defeated by knockout.
"£25,000 worth of machinery, hours and hours of work ends up like that! Sympathy? None here!"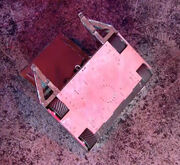 It was revealed after this battle that Aftershock had significantly bent the flipper arm, which required cutting in half and re-welding straight before its next fight against Terrorhurtz. While the team reassembled the robot, they discovered that its gearbox had also seized, with one of its wheels locking up and potentially rendering it unable to drive straight. As the repairs required an extra hour to complete, and were therefore impossible to make within the allotted time, Rapid was forced to forfeit its place in the remainder of the second round. Jellyfish was reinstated to fight Terrorhurtz in Rapid's place, with Team RPD offering Jellyfish their spare speed controller.
"Something's got into the gearbox. Problem is, the gearbox is just too deep inside for us to fix that in time, so I think we're going to have to forfeit, gonna be too long to get back into the game."
— Josh Valman
Wins/Losses
Edit
Series Record
Edit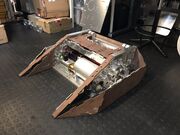 Outside Robot Wars
Edit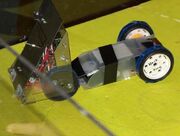 Josh Valman's first robot was a lower weight class competitor known as Shovit which fought Dave Lawrie's robot at what was their first event. Team driver Andy built an antweight called Anticide armed with a flipper which found great success, becoming a six-time antweight world series champion, Kwijebo, a shufflebot armed with a vertical drum, previously a vertical spinning disc, Nom Nom Nom, which is armed with a vertical spinner and Ickle, a fleaweight version of Kwijebo. Josh Valman has also designed a featherweight called Astro (also spelt as ASTRO), armed with a flipper. It takes its design from Rapid, albeit with smaller front wheels and angled side panels.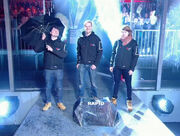 The team are all employees at RPD International, the company owned by Josh Valman, hence the robot's name.
As the £25,000 valuations of Storm 2 and Kan-Opener were spent across the entire competitive histories of those robots, spanning over a decade, Rapid is the most expensive robot to be purpose-built for a series of Robot Wars.
References
Edit
External Links
Edit
Ad blocker interference detected!
Wikia is a free-to-use site that makes money from advertising. We have a modified experience for viewers using ad blockers

Wikia is not accessible if you've made further modifications. Remove the custom ad blocker rule(s) and the page will load as expected.