Ramming blades
Talk

1
1,514pages on
this wiki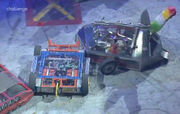 Ramming Blades were possibly the most common form of weaponry throughout robot combat.
Definition
Edit
There is no one definition of ramming blades, as they can take a number of shapes and sizes. The basic concept of a ramming blade is to do damage to the enemy robot by running into it. Skillful drivers use their weapons to aim at certain areas for damage, but in most cases, the ramming blade is simply an auxiliary weapon which is used for bonus damage. Ramming blades are typically arrow-shaped blades on a robot's front but, as Robot Wars developed, it became more popular for flipping weapons as a straight, sharper blade.
Alternatively, the ramming blade may be in the shape of a scoop, which is affixed to the robot and not a lifting scoop. The best example and most successful robot with this design would be Scutter's Revenge.
Advantages and Disadvantages
Edit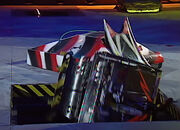 Advantages
Ramming blades could be used to good effect on flimsy robots or exposed areas. The best example would be The Steel Avenger's attack on King B Powerworks during a Mayhem, when the impact sheared King B's wheel off, ultimately costing it the match.
A static scoop or wide ramming weapon provides excellent design for pushing and was very effective in the first few series, when the pit was open. Cerberus and Scutter's Revenge achieved significant success this way.
Flipping weapons benefit from this as it significantly reduces ground clearance on the front and thus allowing robots to get underneath particularly low ground clearances. This was the deciding factor in Mute's battle against Firestorm where, despite having similar weaponry, Mute could not get underneath Firestorm at all.
Disadvantages
In later stages of the robotic combat generation, ramming blades or battering rams became very uncommon, as those who used them often failed to qualify or lost easily as they became less effective over-time.
The ramming blade, as with all static weapons, were banned from Series 7 unless the robot also had an additional moving weapon.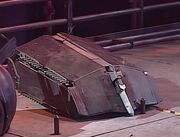 The ramming blade weapon was reasonably successful, as along with the vertical crusher and horizontal flywheel, it was the only weapon to successfully remove a robot's wheel.
The ramming blade weapon succeeded in earning Cerberus the quickest battle record when combined with the pit in Series 3, which was not broken until Series 7 when the flipping weapons became proficient in hurling robots out of the arena in matters of seconds.
Often, ramming blades were a last resort when a weapon broke, which was the case for Bodyhammer and Mortis in Series 1 when their axes broke. However, neither of their ramming blades succeeded in securing victory.
Robots with ramming blades
Edit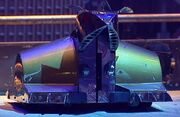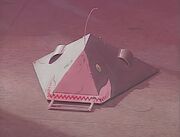 Robots are listed alphabetically. Robots that are not heavyweight are listed with a green background. House robots are listed with a red background.
| Robot | Series Appearances with Battering Rams | Notes |
| --- | --- | --- |
| Ally Gator | Series 3 | Had a toy alligator on top. |
| Alpha | Series 7 | |
| Bodyhammer | Series 1 | The hammer had stopped working, so the team changed it to a ramming blade, similar to what Mortis had done earlier in the Series. |
| Bugs | Series 1 | First robot to enter with the ramming blade as its primary weapon. |
| Cerberus | Series 3-4 | Cerberus' hard circular saw was removed for safety reasons in Series 3, leaving it with its claws and tail as its only weapon, but it still managed to defeat Griffon and give Thing 2 a run for its money. In Series 4, similarly, its head was removed for weight, leaving it with the tail and claws, in addition to a ramming half-crusher. |
| Dantomkia | Series 6-7, Extreme Series 2 | The Series 4 version of Dantomkia (Dantomkia 1.0) had no moving weapons and failed to qualify, but it did fight in many live competitions. The version that did qualify retained the spike wedges but had a flipper as its main weaponry. |
| Delldog | Series 6 | In the UK vs Germany, Delldog's weapon broke. Delldog was forced to use only its dead full body spinner as a ramming blade. It still managed to defeat Dynamite in this way. |
| Full Metal Anorak | Series 1 | Designed specifically for targeting tires. |
| Killerhurtz | Series 2-4 | |
| Mortis | Series 1 | Only used during a single battle, after the axe drivetrain broke. This made Mortis, technically, the first robot to use such a weapon. |
| Scutter's Revenge | Series 3 | Most successful scoop robot. |
| Sergeant Bash | Series 1-2 | Later replaced with crushing claw. |
| Sonic | Series 3 | |
| The Steel Avenger | Series 3-5, 7, Extreme 1-2 | Succeeded in tearing off an opponent's wheel. |
| X-Bot | Dutch Series 1 | |

This Robot Wars related article is a stub. You can help Robot Wars Wiki by expanding it.