Pussycat/Pullback
Talk

0
1,514pages on
this wiki
Pussycat



Both sides of the Pussycat Pullback

Robot Statistics
Weight
62g
Dimensions
10cm x 8cm x 5cm
Ground Clearance
0.5mm
Power
Pullback Motor
Weapons
Circular Saw
Year of Release
2001
The pullback toy of the robot Pussycat was made in the image of its real life counterpart. It is based upon the Series 4 version of the robot and features crossed out images of its defeated robots (Reptirron, Milly-Ann Bug, Robochicken and Razer) on one side. The robot's saw was grey and black in the show, yet it is all black in this toy. Only one caster wheel runs, which makes the saw spin downwards instead of the usual upwards spin.
Accessories
Edit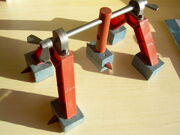 Included with the Pussycat toy was a unique, never before seen prop called the Powerhammer. Presumably this was a rejected idea for the Pinball tournament. The idea of it is that a robot needs to get under the hammer without being hit. The hammer could be set lower for robots with a low centre of gravity.
Differences from real life
Edit
While sitting in the correct position to use the pullback motor, Pussycat's blade spins down.
Pussycat's blade is completely black instead of being black and silver.