Plague
Talk

0
1,514pages on
this wiki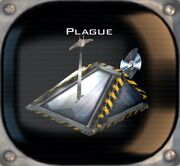 "The Plague is menacing, swift and deadly- time for a vaccination, I think"
— Jonathan Pearce
Plague was a middleweight competitor robot in the games Robot Wars: Arenas of Destruction and Robot Wars: Extreme Destruction. However, unlike many fictional robots that appeared in both games, there were few similarities between the two. In Arenas of Destruction it was a wedge shaped robot weapons with an axe and a cutting disc, armoured in titanium. In Extreme Destruction it had a cuboid shape and had some pincers instead of the cutting disc.
Arenas of Destruction
Edit
Components
Edit
Locomotion: 4 x Large Inner Pneumatic
Power: Yuarta 100 12 volt sealed lead acid battery
Drive: Dosch 750 watt 24 volt DC electric motor
Weapons: Spring Powered Axe & Carbon Steel Cutting Disc
Strategies
Edit
Using Plague
Edit
Plague has some very potent weaponry in the carbon disc, which can cause lots of damage quickly. Flippers should be avoided due to the high ground clearance and lack of srimech. The axe, whilst fairly powerful, takes a relatively long time to reset, so it should only really be used as an auxiliary weapon.
Against Plague
Edit

Extreme Destruction
Edit
Components
Edit
Locomotion: 4 x Medium CCTs
Drive: 2 x Purtuba 12 volt
Weapons: Pick Axe & Spiked Pincers
Strategies
Edit
Using Plague
Edit
Against Plague
Edit