Pincers
Talk

0
1,514pages on
this wiki
Pincers were a pair of crushing weapons usually mounted vertically. Chompalot was one of the most effective utilisers of this weapon system. The pincer weapon system first appeared on the original Judge Shred and General Carnage, who had them mounted on extended arms. Agent Orange was the first to use the pincers traditionally.
Because of a robot's design, pincers were also referred to as "jaws", usually when they resembled a mouth (Chompalot for example). These should not be mixed up with the defined weapon.
Potentially, two pincers could be used simultaneously as Claws. Only one robot used this system - World Championship Semi-Finalist, Crushtacean, which were operated by motion sensing gloves on the weapon operator's hands.
Definition
Edit
The idea of pincers was similar to that of the horizontal crusher, except the goal was instead to attack the top and bottom of an opponent.
Advantages and Disadvantages
Edit
Advantages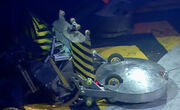 The strengths of this design are that it has the ability to restrict an opponent's movement more effectively than the other two types of gripping weaponry, as Chompalot's battle with Pussycat demonstrated.

Claws demonstrate an even better control, as Crushtacean's shock victory over Behemoth demonstrated.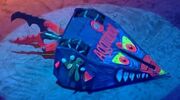 They can often display effective weapons synergy with lifters or overhead weapons, as demonstrated in the design of Agent Orange, General Carnage and Judge Shred.
Pincers can easily get at the underside, which is often the most vulnerable part of a robot.
It is compatible with the invertible design, as Crushtacean and Aggrobot demonstrated.
Pincers have the potential to cause greater damage than Vertical and Horizontal Crushers, as the ram focuses on a much smaller area, allowing it to deliver more force.
Disadvantages
The weakness of pincers is that they are no use unless they can close on an opponent, a task that is difficult to do with such an awkward and narrow weapon. The Series 7 version of Aggrobot demonstrated this.
List of Robots with Pincers
Edit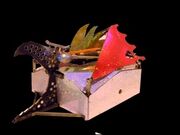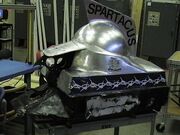 Robots are listed alphabetically. Robots that are not heavyweight are listed with a green background. House robots are listed with a red background.

This Robot Wars related article is a stub. You can help Robot Wars Wiki by expanding it.