Piece De Resistance was the original robot of Team Death that competed in Series 2 of Robot Wars. Because it entered in Heat A of Series 2, Piece De Resistance débuted at the same time as new House Robot Sir Killalot, and became his first target.
Due to Piece De Resistance progressing past the Gauntlet stage of its heat, it is the only robot from Team Death to progress past the first round of its heat.
Its name originates from a French term which translates into English literally as "piece of resistance", referring to the best part or feature of something (as in a meal), a show-piece, or highlight.
"The bug-eyed Piece de Resistance is the lightest competitor tonight - don't take it too lightly though, with its Lifting Blade made from a Snow Shovel. Its chassis is an old microwave oven, and it's driven by windscreen wipers from a Mini!"
— Jonathan Pearce
Piece De Resistance was constructed from an old microwave - to insert motors, the team had to open the microwave door - and featured a flexi-lifting blade which originated from a snow-shovel. This means that despite the wonky appearance, the weapon was fully functional, and could bend into other shapes, which it frequently did. It also featured spike weapons at the back and ran on tricycle wheels powered by windscreen wiper motors from a Mini.
Robot History
Edit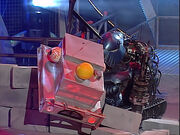 Philippa Forrester: "You've got toy tricycle wheels. Will you be able to get over the bricks on your toy tricycle wheels?"
Colin Scott: "Yes, because I've got the shovel to lift the bricks out of the way."
— Colin Scott's explanation on how Piece De Resistance will clear the bricks
Piece De Resistance started with a series of rams to try and knock down the brick wall. Three attempts failed to get through the wall, and Matilda and Sir Killalot came at it from both sides, with Matilda raising it off the ground with its tusks. Sir Killalot picked up Piece De Resistance and lifted it over the wall.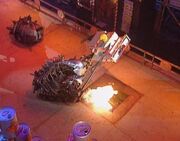 "Sir Killalot, picks it up, like a piece of fluff...the hopes of Colin Scott - they're hanging by a thread!"
— Jonathan Pearce, as Sir Killalot demonstrates his power for the first time.
This gave Piece De Resistance a very small distance of 3.92m, which still managed to beat Caliban's, and put Piece De Resistance through.
Craig Charles: "You didn't seem to have the power to break down the wall, and then you got caught in a pincer movement."
Colin Scott: "Well it was Piece De Resistance, and that's a piece of scrap."
— After the Gauntlet
Piece De Resistance moved sluggishly forward at the beginning of its Trial and despite the claim of its power being increased for this run, it was unable to make any impact on the skittles. It was attacked by Matilda and flipped on its side, leaving it with a score of zero, which cost it the place in the tournament.
PIECE DE RESISTANCE - RESULTS
Series 2
The Second Wars - UK Championships
Heats, Trial
Heat A, Gauntlet
3.8 m (5th)
Qualified
Heat A, Trial (Skittles)
0 pins (5th)
Eliminated
Series Record
Edit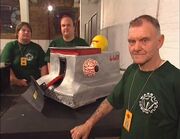 Although Team Death did not enter Series 8, Colin Scott's creation, Chimera, competed under ownership of a new team, who also entered Chimera2 into Series 9.
Piece De Resistance is one of 20 Robot Wars heavyweights never to fight in robot combat, having only ever been in the Gauntlet or Trial.
Ad blocker interference detected!
Wikia is a free-to-use site that makes money from advertising. We have a modified experience for viewers using ad blockers

Wikia is not accessible if you've made further modifications. Remove the custom ad blocker rule(s) and the page will load as expected.