Philippa Forrester is a British television and radio presenter as well as an author. She is perhaps most famous for her role as a pit reporter in Robot Wars, as she also hosted the spin-off show Robot Wars Revealed.
Robot Wars
Edit
Forrester won widespread acclaim from the show's fanbase for her approach to the task, and is widely regarded as the programme's best pit reporter. She appeared in the first three series of the show, and was a consummate professional who dealt with her job enthusiastically, in spite of her lack of knowledge with regards to engineering. It didn't take long for her to become a fans' favourite and her role in future series was cemented.
Forrester missed Series 4 and Extreme Series 1 due to pregnancy, and was replaced by her friend Julia Reed. She made a welcome return for Series 5 and remained in her famous role until the end of Extreme Series 2. During this period, she also appeared as an additional interviewer in one episode of German Robot Wars.
She continued to gain plaudits for her reporting, but 2003 would be her last year as pit reporter. Forrester was unavailable for filming due to pregnancy when the show moved to Five in Series 7. She was replaced by Jayne Middlemiss, a move that was unpopular with many.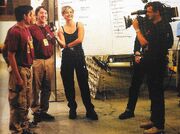 She also presented Robot Wars' spin-off show Robot Wars Revealed, which presented a behind-the-scenes take on Series 2 heats, and Forrester filled the role of on-screen presenter and voice-over.
Philippa Forrester also hosted Techno Games for Series 3 and 4, along with Robot Wars Judges, Professors Noel Sharkey and Martin Smith. Ironically, she took over as host from Jayne Middlemiss, who took over Forrester's job as pit reporter on Robot Wars when the show moved to Five for Series 7.
Career outside of Robot Wars
Edit
Forrester first worked for the BBC as a presenter on CBBC until 1994. She hosted many programmes including Tomorrow's World, Barking Mad and The Heaven and Earth Show.
She also co-presented the BBC's coverage of the solar eclipse in 1999. At the end of the same year she was part of the corporation's team covering the turn of the new millennium. She was infamously fooled into appearing on the spoof documentary Brass Eye's 2001 paedophilia special when she explained how a paedophile could use a pair of gloves to touch children through a television screen.
She has appeared in television adverts for Lloyds Pharmacy and supports the Recycle Now campaign to encourage more people to take up home composting.
In 2007, she co-produced An Otter in the Family, a documentary series about the adoption of a cub called Grace and their attempts to raise her in order to be released into the wild. She is a co-presenter of World on the Move, a BBC Radio series on migration in the animal kingdom.
In 2010 she presented Halcyon River Diaries, a wildlife show, which looked at the various animal species that lived near her home. She returned to presenting in 2013 on the BBC programme Harvest which followed the progress of Britain's vegetable, cereal and fruit harvests.
Personal life
Edit
Forrester is married to wildlife cameraman and television producer Charlie Hamilton-James. The couple live just outside Bath, and have three sons.
She is an avid environmentalist and took a part-time degree in Ecology and Conservation when presenting Tomorrow's World. Her love of nature conservation has seen her become the vice-president of the Avon Wildlife Trust.
External Links
Edit
Personalities
Presenters
Pit Reporters
Commentators
Judges

Noel Sharkey

(

Series 1

-

10

,

Extreme 1

-

2

,

US 1

-

2

,

Nickelodeon

,

Dutch 1

-

2

,

German

) •

Eric Dickinson

(

Series 1

-

2

) •

Adam Harper

(

Series 1

-

3

) •

Martin Smith

(

Series 3

-

7

,

Extreme 1

-

2

,

US 1

-

2

,

Nickelodeon

,

Dutch 1

-

2

,

German

) •

Myra Wilson

(

Series 4

-

5

) •

Mat Irvine

(

Series 5

-

7

,

Extreme 1

-

2

,

US 1

-

2

,

Nickelodeon

,

Dutch 1

-

2

,

German

) •

Sethu Vijayakumar

(

Series 8

-

10

) •

Lucy Rogers

(

Series 8

-

10

)

Other
Ad blocker interference detected!
Wikia is a free-to-use site that makes money from advertising. We have a modified experience for viewers using ad blockers

Wikia is not accessible if you've made further modifications. Remove the custom ad blocker rule(s) and the page will load as expected.