Phantasm was an American competitor robot that fought in Nickelodeon Robot Wars. Phantasm's first and only competition was the Nickelodeon United States Championship where it lost both of its battles to take fourth and last place overall.
Phantasm was a box shaped robot. It was originally armed with two spiked hammers and a spiked wedge. However, when the team came to England, they discovered their robot was 156kg (56kg over the UK heavyweight limit and 2kg over the Super Heavyweight limit, at the time). As a result, the team had to remove the hammers as well as several armor panels, leaving the robot with only the wedge, no top armour, and no srimech.
Robot History
Edit
Nickelodeon
Edit
Phantasm fought Probophobia in the first round of the Nickelodeon United States Championship, but without its weapons, it was unable to cause damage to Probophobia, who lifted Phantasm up but not over. Phantasm then began smoking and broke down. After being counted out by Refbot, Dead Metal sawed into Phantasm's frame and Sir K tossed it onto the Floor Flipper, flipping it onto its back. Phantasm then fought in the Playoff against Ninjitsu. Ninjitsu started off by ripping pieces off of Phantasm's frame. Phantasm tried to fight back by pushing Ninjitsu aside, but Ninjitsu continued to land hits until Phantasm was eventually immobilized. Phantasm was once again placed onto the Floor Flipper and then the Drop Zone where tennis rackets, golf clubs and golf bags fell on it.
Wins/Losses
Edit
Series Record
Edit
| Series | Phantasm Championship Record |
| --- | --- |
| Nickelodeon | Fourth Place |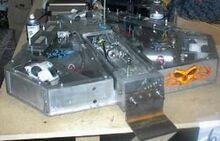 When Phantasm is being introduced by the emcee, it is incorrectly billed from Ballwin, Montana when it is actually from Missouri.
External Links
Edit
Team Phantasm Website (Archived)
Ad blocker interference detected!
Wikia is a free-to-use site that makes money from advertising. We have a modified experience for viewers using ad blockers

Wikia is not accessible if you've made further modifications. Remove the custom ad blocker rule(s) and the page will load as expected.