Penetrator was a heavyweight robot that entered Series 2 of Robot Wars. It was unsuccessful, being eliminated in the Trial stage of its heat.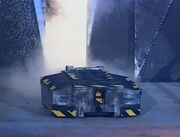 Box-shaped in design, Penetrator featured three ramming spikes; two at the front and one at the rear, and had an extending saw blade. The armour of Penetrator consisted of steel plates that overlapped for maximum protection. Penetrator's motors and wheels originated from a child's go-kart.
Robot History
Edit
Penetrator started well as it smashed through the brick wall after its second attempt. It managed to go over the see-saw. However Penetrator was then pinned by Shunt and Dead Metal, Shunt attempting to axe holes into Penetrator. Dead Metal then pushed Penetrator back towards the start, but cease was called and Penetrator had covered enough distance to qualify for the Trial.
The Trial was Tug of War, which ended rather quickly for Penetrator as it only survived 9 seconds which wasn't enough to send it through to the arena.
PENETRATOR - RESULTS
Series 2
The Second Wars - UK Championship
Heat, Trial
Heat J, Gauntlet
5.2m (5th)
Qualified
Heat J, Trial (Tug of War)
9.75 seconds (5th)
Eliminated
Series Record
Edit
Team member Andrew Kettle formerly designed missile guidance systems for the Ministry of Defence.
Penetrator is one of 20 robots never to fight in robot combat, having only ever been in the Gauntlet or Trial.