Paul Bunyan was a robot from Washington that competed in the second season of Robot Wars: Extreme Warriors. It participated in the US championship and the Robot Rebellion respectively, but lost both Round One battles.
Its name came from the giant lumberjack from American folklore. The teams name "The Fighting Lumberjacks" was also a reference to the character.
Paul Bunyan is a four-wheeled robot whose primary weapons were a spinning cross and a rear spike. Despite having good traction, the weapon was very ineffective as it can only spin up to 230 RPM and the wheels were exposed.
Robot History
Edit
Paul Bunyan was up against Falcon Mark 2 and Bunny Attack in the first round of the competition. The battle started with Falcon immediately going on the attack against The Bunny. Bunny Attack tried going after both opponents, but ended up getting pushed around some more. Sir Killalot got in trouble for leaving his CPZ, and then Paul Bunyan was tapped by Bunny Attack's hammer a couple of times. The judges chose to eliminate Paul Bunyan, as it wasn't aggressive enough, and didn't cause much damage.
Paul Bunyan also participated in the Robot Rebellion. In its first round match, it faced Snake Bite and after a shoving match between the two, Paul Bunyan was caught by Sergeant Bash's claws. Sir Killalot came in and lifted Paul Bunyan up, nearly toppling Sergeant Bash by accident. Paul Bunyan escaped but was caught by the house robots again. Sergeant Bash used his claw to break Paul Bunyan's disc and Sir Killalot then carried Paul Bunyan around the arena, eventually dumped it over the wall.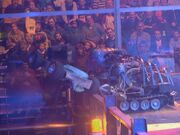 Wins/Losses
Edit
Series Record
Edit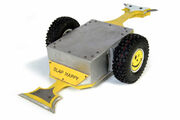 Outside Robot Wars
Edit
The team also fought in BattleBots with the middleweight Slap Happy.
Ad blocker interference detected!
Wikia is a free-to-use site that makes money from advertising. We have a modified experience for viewers using ad blockers

Wikia is not accessible if you've made further modifications. Remove the custom ad blocker rule(s) and the page will load as expected.