"Panic Attack, that's what I'd be having, if I were in the pits!"
— Craig Charles in Series 7, referring to Panic Attack's opponents
Panic Attack was a competitor in the British television show Robot Wars. It fought from Series 2 through to Series 7, and appeared in both series of Robot Wars Extreme. The UK Champion of Series 2 and a four-time semi-finalist, Panic Attack was one of the longest appearing and most consistently successful competitors in the show. Although the only grand champion never to reach another Grand Final, Panic Attack reached the most Semi-Finals of all Grand Champions at four.
Panic Attack was created by Welshman Kim Davies, and was the most successful Welsh robot to appear on the show. In addition to its domestic championship, Panic Attack also won the Sumo Basho competition in Series 4 and was inducted in 2003 into the Combat Robot Hall of Fame. The presenters of the honour noted their surprise at Panic Attack's strong showing during the voting process.[1].
Panic Attack's signature move was to use its low ground clearance to get underneath an opponent, using its forks to hook onto and get a grip inside the opponent's armour, wheel shafts or any other exposed gaps, before lifting them off the ground, driving into the pit release and lowering them down the pit. It achieved this many times, against robots including Axe-Awe, S.M.I.D.S.Y., Manta and Kat 3.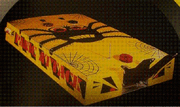 In Series 2, it was just a four-wheel driven 20 cm high box, with a set of electrically powered 12' long lifting spikes. These spikes were powered by a home made system and capable of lifting a ton and ramming opponents as well to great effect. It had a zero turning circle as well as an aluminium shell. It was emblazoned with the image of a spider. This spider motif was the result of a school competition to come up with a design of "something that made you panic". A 12 year old girl designed the spider and, as a result, Panic Attack became the only sponsored robot in the field.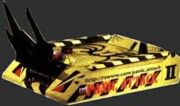 With his prize money from Series 2, Kim built a newer machine, the one seen on TV being the fifth as it had been rebuilt four times. This version had a srimech in the form of a pair of electrically-powered top-mounted bars which could raise up to push the robot off its back should it be flipped. It also had a new slightly angled body shape (still with battle scars from the last wars) and larger, more effective forks, custom-made and imported from Sweden, which were capable of completely overturning opposing machines and lifting and pushing 81.6 kg. It also had an alloy frame and 3mm thick bodyshell. The self-righting mechanism proved to be unreliable and was eventually replaced by a newer version after the Fourth Wars.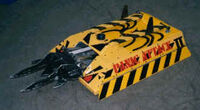 In Series 4, a set of side "skirts" were added to prevent all but the lowest of robots getting underneath it, as well as sloping sides and bulletproof fibreglass armour. A gyro was also added to the robot to improve control, which was an issue the team had with the previous version. In this series and the two previous series, Panic Attack weighed more than the Heavyweight limit allowed at the time.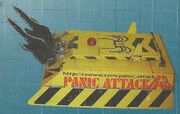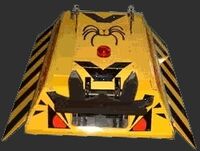 The Series 5 model had improved skirts, lorry windscreen wiper motor power at up to 8 mph and the srimech was updated into a moveable flipper-like panel that could not only self-right the robot, but also either lift up opponents from underneath or clamp them between it and the chassis for additional control. This model was the favourite of the driver Kim Davies, who stated that it was, in his opinion, the best version. It also had a zero ground clearance and turning circle with durable polycarbonate added to the bulletproof fibreglass shell, making it virtually impenetrable, and pneumatic power to the electric lifting forks to enable it to lift twice its own weight. The weaponry, however was not always reliable and the self-righting was very slow. The name of Panic Attack 3 was not used in Extreme 2.
The Series 6 version was a completely new design, with silver forks and painted gold as opposed to yellow, as the team had run out of yellow paint when the time came to paint it. As a result, this model was unofficially, but universally nicknamed Panic Attack Gold. Although it had good pushing power, it did not have a srimech, was not as easy to control as the previous version, was slower and lighter, and generally less powerful overall. Kim Davies stated his dissatisfaction with this untested Panic Attack after its loss.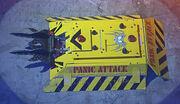 In Series 7, after Kim Davies joined the technical team of Robot Wars, Panic Attack was entered by Kevin Pritchard, Series 2 team member and builder of Evil Weevil. This version of Panic Attack, largely the same robot as seen in Extreme 2, was altered to have six wheels and alloy and polycarbonate construction, and a rear skirt was added, seemingly with the ability to flip itself up and down. The top srimech was replaced by an anti-hammer cushioned top, in response to its brutal loss at the hands of Terrorhurtz in Series 6.
Team Members
Edit
The captain of Team Panic Attack (formerly Team Panic) was Kim Davies, who was originally joined by Kevin Pritchard and Lee Wicombe. In Series 3, Wicombe and Pritchard left the team, the latter creating a similar robot named Evil Weevil, and Davies was joined by his son Michael and Simon Rosen (though strangely, he was never seen on TV and presumably left after this series). Christian Bridge won a competition in Robot Wars Magazine to join the team for Series 4 (he was still listed as a team member for Series 5, but was not seen on TV during this series).
In Series 7, Davies got a job as a technical assistant on the show and left, so the team was entirely changed. Pritchard had returned to the team in Extreme 2 and took over the controls in Series 7 with team-mates Paul Wier and then-webmaster of the official Panic Attack website, Jamie McGarry.
Rivalries
Edit
Panic Attack had a long-standing rivalry with the House Robot Shunt that spawned from their very first encounter, during Panic Attack's Gauntlet run in Heat F of the Second Wars. After Panic Attack leaped off the see-saw, it became stranded on the top of Dead Metal, allowing Shunt to come in and cause severe damage to the top of Panic Attack's armour, which was subsequently referred to as 'machine gun holes'. Panic Attack did not have to wait long to achieve vengeance however, defeating Shunt in the Sumo trial after the two dodged each other and the House Robot spun off the platform.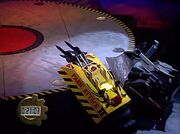 After a somewhat quieter Series 3 between the two machines, the grudge was rekindled in The Fourth Wars. During Panic Attack's heat semi-final against Saw Point, Shunt was pressurised repeatedly by Panic Attack, who shoved him around the arena. During the Semi-Finals, Shunt once again came under attack from Panic Attack, who hoisted Shunt off his wheels, but failed to topple him over. Perhaps the most famous encounter between the two occurred in the Sumo Basho side competition. After evading each other on the plinth, Shunt mistimed his charge, and Panic Attack was able to push Shunt off the platform, but not without going off itself. Video replays showed that Shunt had hit the tyres just before Panic Attack had, and so Panic Attack was victorious.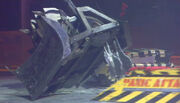 During Extreme 1 and Series 5, the grudge once again surfaced, with Panic Attack ignoring the call of 'cease' in its Mayhem battle to lift Shunt, not freeing it and receiving a yellow card for its efforts, as cease was called for a second time. In Panic Attack's Heat Semi-Final against Tiberius 2, Panic Attack took on Shunt again. As before, Panic Attack failed to topple Shunt over on either occasion.
The grudge remained quiet during Series 6, where Panic Attack Gold failed to attack Shunt at all, although the House Robot paraded Panic Attack around the arena and onto the Floor Flipper and Drop Zone following their Heat Final defeat against Terrorhurtz.
During Extreme 2, in the Commonwealth Carnage, Panic Attack came up against Shunt during its first round battle. After leaving Terror Turtle to Sir Killalot, Panic Attack turned on Shunt, lifting the House Robot again, but yet again failing to tip him over onto his side.
The two robots would meet one last time in the first round of the Series 7 All-Stars tournament. Here, Shunt was immediately ganged up upon by the four competing robots, with Panic Attack assisting the others in overturning the House Robot. This was effectively Panic Attack's last act of vengeance against its arch-enemy.
Firestorm
Edit
Perhaps Panic Attack's most famous grudge was with Firestorm. This grudge began with the two machines' first conflict, during the first semi-final of Series 3, at which point Panic Attack was the reigning champion. During this battle, Fire Storm dominated large portions of the battle, at one point pinning Panic Attack against the arena side-wall; however, the match was eventually settled by the judges, who ruled in favour of Fire Storm.
The two fought each other again during the All-Stars tournament of Extreme 1. After mistiming a move, Panic Attack left its sides exposed to Firestorm 3, who then lifted Panic Attack onto the side wall, as it had during their first encounter. This time however, Panic Attack's srimech was facing away from the wall, so it couldn't work its way free. Despite the best efforts of the House Robots, Panic Attack remained stuck on the wall, and was counted out.
The grudge was rekindled in Series 5, when Panic Attack encountered Firestorm 3 and Wheely Big Cheese in the loser's melee of the second Semi-Final. Despite Panic Attack breaking down, and then coming back to life again, they and Firestorm 3 only managed one flip apiece throughout the melee, far quieter than in previous battles.
During the Extreme 2 Commonwealth Carnage, Firestorm 4 and Panic Attack met each other once more in the second round. In a battle dominated by Firestorm 4, the robot from Durham flipped Panic Attack onto its side once more after shoving them around the arena. From there, Panic Attack's srimech proved ineffective, then broke after Refbot tried to free it, allowing Firestorm 4 to emerge victorious for the fourth time.
The two robots met each other for the last time during the Series 7 All-Stars tournament, which coincidentally was also the last time Panic Attack attacked Shunt. Neither robot attacked each other, choosing instead to attack the House Robots with assistance from Bigger Brother and Kat 3. Firestorm 5 eventually drove into the pit after deflecting off of Refbot, with Panic Attack going on to qualify alongside Kat 3, the only time it would defeat Firestorm on five occasions.
Robot History
Edit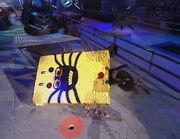 Panic Attack was the first robot to compete in Heat F. In the Gauntlet, it took the centre route and, after a nervy start, made it onto the ramp. However, as it got halfway up, Sir Killalot followed and held the ramp down. Unable to turn back, Panic Attack made a flying leap off the ramp, right onto Dead Metal. After several attacks by Shunt, Panic Attack had achieved 10.8 metres, which was enough to put it in third place and into the next round, though the subsequent disqualification of The Parthian Shot would have put it through anyway.
"It's all very well to be called Panic Attack, but you shouldn't panic when you're halfway across the see-saw..."
— Philippa Forrester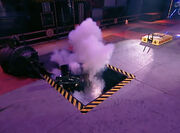 In the Sumo Trial, it gained revenge on Shunt after he fell off the platform after 13 seconds, putting it through to the Arena stage. In the Arena Semi-Final, Panic Attack managed to get underneath Whirling Dervish and flip it over, before disabling Sergeant Bash. In the Arena Final against Disruptor, it managed to easily push its opponent into the pit, its body being too low for Disruptor's saw to reach. This easily saw it through to the Semi-Finals.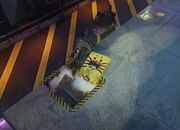 In the Semi-Finals, Panic Attack finished in joint-last place in the Gauntlet with Mace, getting stuck after just 6.9 metres. Both robots then contested the Gauntlet again at the same time in the first (and only) 'Race-Off', but Panic Attack was able to progress to the next round after Mace was trapped and pitted by the Sentinel. Panic Attack then finished first in the Pinball Trial with an impressive score of 320 points. In the Arena, Panic Attack pushed Mortis into the PPZ, and with the help of Matilda, pushed its opponent into the pit of oblivion and qualified for the Grand Final.
In the first round of the Grand Final, Panic Attack pushed Killertron into the PPZ, where it was flipped over by the lance of Sir Killalot. With its opponent at the mercy of Sir Killalot, Panic Attack spent the rest of the battle attacking the house robots and managed to push Sergeant Bash into the pit, going in itself in the process. However, Killertron had long since been immobilised and Panic Attack went through.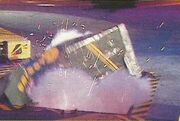 The final battle was against Cassius, and it was Rex Garrod's machine that started the stronger, driving underneath Panic Attack, sending it into the air and back onto its wheels. Cassius then attempted to attack Panic Attack before reversing and turning around, which allowed Panic Attack a run at the back of its opponent and it took this opportunity by pushing Cassius into the Pit of Oblivion, thus claiming the title of Second Wars Grand Champion despite having been the underdog for the entire series.
"We've honestly thought we've been going out since every round we came in, and it's just been a dream"
— Kim Davies on winning the title
Panic Attack returned for Series 3, completely rebuilt since Series 2 with a stronger forklift and new self-righting mechanism. It won its first round battle by driving around, lifting up, then completely overturning Axios before overturning Matilda.
"Toe Cutter could cut a melon in half, as they told everyone. It looked good, but unfortunately for them, PA was much tougher than a melon."
— Panic Attack website
Panic Attack repeated this tactic successfully against Toe Cutter in Round 2 and tried to take on Sergeant Bash. In the heat final, Panic Attack had problems getting a hold of the much faster and more aggressive X-Terminator, but eventually slammed it into the arena wall. This ruptured X-Terminator's gas canisters, disabling its axe and self-righting mechanism. Eventually, Panic Attack managed to flip X-Terminator over to progress to the semi-finals.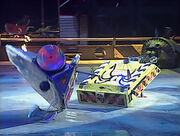 In the first round of the semi-finals, Panic Attack came up against Thing 2. Thing 2 started well, pushing Panic Attack into a CPZ and then into an arena wall. The champions continued to struggle, but after reversing into Thing 2, it was turned over by an arena spike. Thing 2 could not self-right, and Panic Attack was victorious.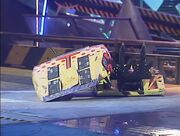 In the next round, Panic Attack came up against Fire Storm. Both robots spent the early stages of the battle attempting to get underneath each other, but neither were able to flip the other over. This was until Panic Attack was lifted up by an arena spike, giving Fire Storm the chance to get underneath and pin its opponent against the arena wall. Panic Attack righted itself but lost out on a judges' decision and was eliminated from the competition.
After the main competition was over, Panic Attack represented Wales in The First World Championship. In its first round match against 101, Panic Attack was able to get underneath its opponent and lift the robot into the air with its lifting spikes, turning it upside-down in the process. Panic Attack then picked up 101 again and, while attempting to carry 101 to the pit, Panic Attack was pushed into the pit after failing to pit 101 twice.
Panic Attack returned for Series 4 as the fourth seed, in recognition for winning Series 2. In the first round, it efficiently teamed up with S.M.I.D.S.Y. against Overkill GTI, lifting Overkill GTI up and pushing it around the arena, proceeding through on a judges' decision.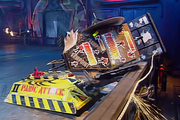 In Round 2, it got hold of Saw Point very quickly and tried to lift it out of the arena, but got it stuck against the grinders. Saw Point then became immobilised and was seized by Sir Killalot, who lifted it up and took it towards the pit. Panic Attack took advantage of the now front heavy Sir Killalot, lifting it up and trying but failing to push it into the pit as Sir Killalot dropped Saw Point in.
Panic Attack met up with S.M.I.D.S.Y. again in the Heat Final. Here, Panic Attack initially had problems catching its faster opponent until it got its forks wedged in one of S.M.I.D.S.Y's wheel guards, allowing it to hold the Cyberspace machine in place and carry it to the pit.
In the Semi-Finals, Panic Attack was drawn up against 10th seeds Spawn of Scutter. After lifting it up several times, it drove the Essex machine into the arena wall, stranding it there.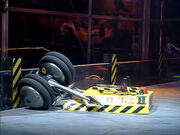 This led to a battle against 30th seeds Stinger. Panic Attack's tough armour deflected the numerous blows Stinger administered, as it pushed the axlebot around the arena and into several CPZs. The judges had to make a decision and gave the match to Stinger by one point on a split, and extremely controversial, call.
"It's a shame, as I think Stinger was the only robot that Panic Attack couldn't have beaten outright!"
— Jamie McGarry
Panic Attack also competed in the Sumo Basho side-competition. It was the only robot that successfully managed to push Shunt off the platform, with both robots falling off after 21.15 seconds. However, the replay showed that Shunt hit the ground first, so Panic Attack was ruled the winner. As the only robot to actually defeat Shunt, Panic Attack won the tournament.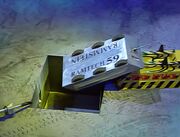 Panic Attack later competed in the War Of Independence special. In its first round match against Rammstein, it used its lifting forks to overturn the American machine several times, although this had little effect as its American opponent was invertible. However, Rammstein quickly lost power (its batteries were designed to last for the three-minute matches held in BattleBots, rather than the five-minute ones held in Robot Wars), which allowed Panic Attack to lift it up and pit it.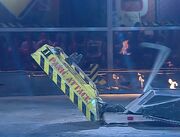 This led to Panic Attack facing Mortis in the second round, in a rematch from Series 2. Panic Attack was consistently aggressive here, as it lifted and pushed Mortis around the arena several times (at one time lifting Mortis onto their side) and into Sir Killalot, who hoisted Mortis aloft with his jaws. However, Mortis landed several axe blows on Panic Attack, inflicting superficial damage and causing their decorative light to fall off, and momentarily lifted them from behind as time ran out. After a close and evenly-matched fight, the judges gave the decision to Mortis by one point due to the damage it caused to Panic Attack.
Extreme 1
Edit
Panic Attack competed several times in Extreme 1 with an improved self-righting mechanism that could also be used like a secondary weapon, for lifting and clamping purposes. Because of its status as former champion and consistent semi-finalist, it featured in the All-Stars competition, where its first fight was against Firestorm 3, the robot that ended its reign in Series 3.
"You know what's left at the end of a firestorm's ashes? Well we're gonna put their flames out."
— Kim Davies prior to the fight
However, within the first few seconds, Firestorm got under Panic Attack, flipped it over, and then pushed it against the arena wall so that it couldn't self-right. Despite attempts by Sir Killalot & Dead Metal to get it off the wall, it remained stuck and was counted out by Refbot.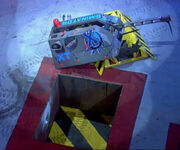 Panic Attack also competed in a Vengeance battle against X-Terminator. Immediately, it overturned X-Terminator, which was unable to self-right due to a new spike addition. Panic Attack then helped X-Terminator back onto its wheels, before getting underneath it and pitting it, taking a near-flawless victory.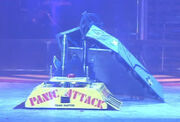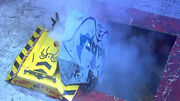 The Welsh Panic Attack also had the chance to represent the whole of the UK in the International Inferno against Manta (USA), Maximill (Holland) and Flensburger Power (Germany). It rammed Flensburger Power once, causing it to break down, whilst MaxiMill was defeated by Manta. With the UK and US hopes remaining, Panic Attack slotted underneath Manta, and hooked it underneath its front, allowing Panic Attack to carry Manta around the arena. Upon letting go, Manta slammed into Panic Attack, but once Panic Attack lifted Manta a second time, it did not let go. Matilda hit the pit release, and Manta, which was already above the pit with Panic Attack, descended into the pit.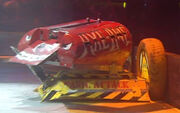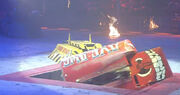 Panic Attack also fought in a Wild Card Warriors match, against Axe-Awe. Panic Attack initially pushed Axe-Awe around before lifting them over, with Axe-Awe self-righting immediately using their axe. As Axe-Awe spun around, Panic Attack slipped underneath them and repeated its signature move, holding Axe-Awe on top of its srimech, carrying them to the pit release button, and lowering the Somerset machine down the pit.
Panic Attack fought Shear Khan and Diotoir in a Mayhem qualifier. Panic Attack went after Shear Khan first in an attempt to silence the newcomer's big weapon and was successful, flipping it over and leaving it in the flames. Strangely, Diotoir didn't catch fire but was flipped anyway, and the poster of Panic Attack that Diotoir had put on its scoop was incinerated. Diotoir did not self-right and was counted down. Panic Attack tried to awaken it, but when that failed it hooked Diotoir onto its back and performed its usual manoeuvre by dropping the Dublin machine into the pit. The ex-champions then attacked Shunt, but received a yellow card from Refbot. Regardless, Panic Attack was through to the Annihilator.
"Why bother? Everyone wants to see the house robots being attacked!"
— Panic Attack website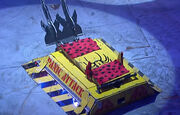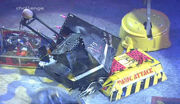 In the Annihilator, Panic Attack began by lifting up both Disc-O-Inferno and Fighting Torque. Napalm then drove on top of Panic Attack, but the Series 2 champions couldn't flip it and it escaped. Panic Attack then drove away from the action, before returning to the fray. It then got under The Steel Avenger and later Fighting Torque, carrying each around for a while. Panic Attack then reversed into Disc-O-Inferno, whose disc tore a small bit of armour off the Welsh robot. It then attacked The Steel Avenger and almost flipped Disc-O-Inferno, but it didn't matter because Refbot counted out the destroyed Fighting Torque.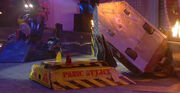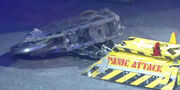 In Round 2, Napalm was forced to pull out due to damage from the first round, so the remaining four robots fought on. Panic Attack began by pushing the flipped Steel Avenger towards the arena side wall, where it eventually self-righted. Panic Attack flipped the axe-wielding robot again, just as the Welsh robot was hit by Disc-O-Inferno. Panic Attack then lifted up the invertible machine but was shoved away and driven under by
Spirit of Knightmare
. Panic Attack recovered, and pushed the wedge shaped robot towards the arena wall. The Steel Avenger then attacked the former champions. Panic Attack then did a bit of dodging from the other robots, before both almost shoving Spirit of Knightmare into the pit and driving into it itself. It then attacked Spirit of Knightmare again, before attacking The Steel Avenger once more. However, the robot this time got a blow onto one of Panic Attack's side skirts. The Steel Avenger was then flipped and counted out, because it wasn't able to self-right.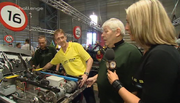 However, Panic Attack forfeited its place in the next round, as it had been too badly damaged, its fork mechanism being damaged by Steel Avenger, and having a magnet in one of its motors removed by Disc-O-Inferno, which went on to win the Annihilator.
"It was the awesome driving skills of Kim Davies impressing us all. First knocking out Barber-Ous, and then instigating the fall of Tiberius the emperor, before making sure Kat 3 had used up all of its nine lives."
— Jonathan Pearce on Panic Attack's run to the finals
In Series 5, Panic Attack ran into problems with its first opponent, the fairly destructive newcomers Barber-Ous. Barber-Ous's spinning drum managed to disable Panic Attack's lifting forks and mangle a bit of their top armour. However, this promising run ended when Panic Attack pushed Barber-Ous into Sergeant Bash, who disabled one of their wheels. Panic Attack was then able to push the defeated newcomers down the pit.
Panic Attack progressed to the Heat Semi-Finals, where they faced the crusher of Tiberius 2. Panic Attack was on the offensive early on, lifting Tiberius 2 up before their opponents got their claw interlocked with Panic Attack's forks. Both machines pushed each other until Panic Attack broke free, and after spending a while dodging Tiberius 2's attacks, The Welsh machine lifted Tiberius up again over the flame pit and pinned it against the wall. The House Robots came in to attack Tiberius 2, which allowed Panic Attack to try and flip Shunt over. Panic Attack then lifted Tiberius 2 once again and did its normal trick, carrying them to and dropping them into the pit, almost falling in itself in the process.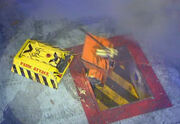 In the Heat Final, Panic Attack faced Kat 3. After a tentative start, the Welsh machine lifted Kat 3 up with the forks, which got stuck underneath Kat 3's front wedge and prevented Panic Attack from breaking free. Kat 3's front panel was bent out of shape as Panic Attack raised their forks several times, but despite ramming it into the wall, Panic Attack still couldn't free themselves. So, Panic Attack opened the pit, and after much hesitation, finally managed to push Kat 3 over the pit and drop them in, separating from Kat 3 in doing so.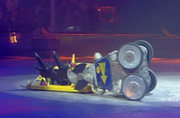 In the first Semi-Final round against the 2nd seeds Pussycat, Panic Attack started the stronger machine, pushing the pyramid shaped robot into the CPZ. However, problems with the aerial hindered Panic Attack's movement severely, making it stop and start frequently. Pussycat was able to take advantage of this, damaging the skirts and lifting forks, eventually winning a judges decision.
This put Panic Attack into the loser's melee alongside long-term rivals Firestorm 3 and the colossal flipper of Wheely Big Cheese. The latter launched a flip on Panic Attack, which retaliated by lifting Wheely Big Cheese. The match quickly became a head-to-head when Wheely Big Cheese broke down, so Firestorm 3 pushed Panic Attack around and lifted it, bending Panic Attack's skirts. Panic Attack's controls were intermittent, so Kim Davies could not accurately control his robot, but it eventually breached Firestorm 3's wedge. The lift-up of Firestorm in the last 10 seconds wasn't enough to save Panic Attack, however, and it lost the Judges' decision again.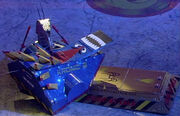 Panic Attack came to Series 6 as the 8th seed. In its first battle against three veterans R.O.C.S., Corkscrew and Kronic 2, it initially teamed up with R.O.C.S. to lift Kronic 2. However, this left Panic Attack exposed to Corkscrew's spinning body, putting it in immediate danger when its side skirt was ripped away. However, the Scottish robot drove itself into the pit, and Kronic 2 flipped R.O.C.S. over, allowing Panic Attack to qualify. Regardless, Panic Attack was flipped over by Kronic 2, and was left for dead.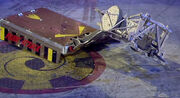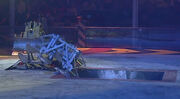 In the second round, Panic Attack fought A-Kill. Panic Attack could easily expose the ground clearance of A-Kill, and hooked through the exposed bars of its opponent using the lifting forks. Panic Attack carried A-Kill into Shunt's CPZ, and eventually to the pit, where it won the battle in a relatively slow-paced fashion. Kim Davies remarked after the fight that he was unhappy with his robot's performance, although Panic Attack was through to the Heat Final.
"It hasn't been tested, it's slow, it doesn't turn, we're not happy with it....No! Not a chance. The way it's going now, I very much doubt it."
— Kim Davies and his response to Craig Charles' question about winning another title
This lead to a match-up with Terrorhurtz. There, the former champion received numerous blows from the double-headed axe of Terrorhurtz, which damaged the top armour and began to pry it loose. When it was pushed into the CPZ, Matilda tore the panel clean off with her flywheel. Rendered immobile, Panic Attack was counted out of the Sixth Wars, before being flipped by the floor flipper and pushed onto the Drop Zone, where a washing machine was dropped on it much to the delight of the audience. Surprisingly, it managed to begin running again just as it was pushed onto the drop zone, but was unable to avoid the falling appliance. Panic Attack survived the blow.
"Maybe it's time now to completely rebuild Panic Attack."
— Jonathan Pearce
The damage that the Series 6 version of Panic Attack took from Terrorhurtz, Matilda, Shunt and the Drop Zone was also one of the reasons for why the team reused their original Series 5 version for the second series of Robot Wars Extreme.
Extreme 2
Edit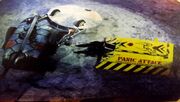 Panic Attack briefly appeared in the second series of Extreme, reverting to their Series 5 version and representing Wales in the Commonwealth Carnage. In Round 1, Panic Attack were drawn against Cerberus (Cyprus), Crushtacean (South Africa) and Terror Turtle (Canada). Panic Attack spent the majority of the battle attacking Terror Turtle, pushing and dragging the Canadian representatives around by its spinning weapon as Crushtacean pitted Cerberus. However, neither Panic Attack nor Crushtacean were able to finish Terror Turtle off, despite the latter being overturned by Sir Killalot, and the Welsh machine turned to attack Shunt once again as 'cease' was called. The judges unanimously put Panic Attack and Crushtacean through.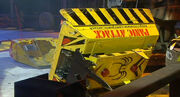 The second round was another rematch against Firestorm 4 and was fairly even with neither robot getting the upper hand until Firestorm 4 flipped Panic Attack onto its side against the arena wall. Panic Attack tried to self-right but Refbot broke its lid when he came in to see if Panic Attack was still moving.
Mr. Psycho
then lifted Panic Attack up and pitted it after grilling the former champion over the flames, before the House Robot was tipped on his side by Firestorm 4.
"The seventh...it's going to be a biggie"
— Kevin Pritchard
Panic Attack returned for the Seventh Wars, once again seeded 8th for the competition. The Series 5 and Extreme 2 version was used, albeit without the srimech, instead replacing it with an anti-hammer cushioned top plate. In its first battle, Panic Attack was up against New Blood heat finalists Edge Hog, previous Round 1 drop-outs Spin Doctor and fellow Welsh robot Mega Morg. Prior to the battle, Panic Attack was suffering badly from technical issues, where the robot kept intermittently cutting out and then starting up again, but since the battle was about to start, there was no time to try and fix it.
In the battle, despite the transmission issues, Panic Attack managed to quickly overturn Spin Doctor just by slamming into it and then it picked it up with its forks and threw Spin Doctor into the pit release. This was the end for Spin Doctor as it was then counted out. Panic Attack then teamed up with the fellow Welsh yellow robot Mega Morg to pick up and push Edge Hog into the pit. There was a great deal of cheers coming from the Panic Attack/Mega Morg control booth.
"Celebration in the welsh camps!"
— Jonathan Pearce, as both Welsh teams celebrate, following Edge Hog's demise
This put both Welsh robots through to the next round of the Heat. In the pits, after a lot of time for repairs, the technical problems during the battle were found to be caused by a loose wire in the receiver.
In the Heat Semi-Final, Panic Attack was drawn up against Dutch entrant Tough as Nails. However, Panic Attack was yet again suffering from technical problems, as the forks wouldn't go down to the floor, which put it at a disadvantage straight away. In the actual battle, unable to lower the forks, Panic Attack was only able to ram Tough as Nails rather than get underneath it, and since the forks were at an awkward angle, Tough as Nails was able to take advantage and break the forks off mid-way through the match, leaving the Series 2 champions without weaponry at all.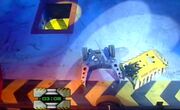 This meant that Tough as Nails was able to dominate the pushing battle that then ensued. On several occasions, Tough as Nails was nearly able to put Panic Attack down the pit, but Panic Attack's six-wheel drive managed to halt each attack. Despite a few dodges from the CPZs by Panic Attack and also a few retaliating pushes towards the end of the battle, the battle went to a judges' decision, with the decision going in favour of Tough as Nails, eliminating Panic Attack from the competition.
"Well, a lesser robot would've fallen by now."
— Jonathan Pearce, towards the end of the battle
Towards the end of filming for the Seventh Wars, the Panic Attack team were asked to take part in the upcoming Annihilator, but by the time the team were able to confirm that they could take part, the slots were already filled.
"It eventually turned out that this show was full...so we packed to go home again. But no! We were asked to take part in an "All-stars" show with lots of famous and successful robots from the past (and Kat 3.)"
— Panic Attack Website
However, Panic Attack did later make a comeback in the All-Stars tournament at the end of the series. Its first round battle saw it go up against Kat 3, Firestorm 5 and Bigger Brother. However, in the battle, all four machines ignored each other and proceeded to attack the House Robots instead. All four immediately went straight for Shunt, leaving him overturned and immobile. The four then turned on Cassius Chrome, but as Panic Attack went in to attack him, Firestorm 5 came in from the other side, and as Firestorm tried to shove Cassius Chrome, it also scooped up Panic Attack and shoved it across the arena as well. After a while, Cassius Chrome was immobilised, but the competitors were unable to overturn him. However, Panic Attack qualified for the next round alongside Kat 3, after Firestorm 5 drove into the pit whilst attacking the Refbot and Bigger Brother following it after pursuing Kat 3.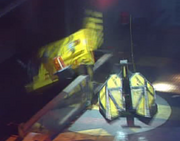 However, Panic Attack was quickly defeated in the Semi-Final stage against Dantomkia. In the battle, after a short ducking and dodging session, Dantomkia carefully lined up an attack, getting in underneath the side skirts of Panic Attack and throwing the latter over, and following that up by throwing it out of the arena. Dantomkia then went on to attack the House Robots before cease was called. This was Panic Attack's last appearance in Robot Wars.
PANIC ATTACK - RESULTS
Series 2
The Second Wars - UK Championship
Champion
Heat F, Gauntlet
10.8 m (3rd)
Qualified
Heat F, Trial (Sumo)
Victorious (1st)
Qualified
Heat F, Semi-Final
vs. Whirling Dervish
Won
Heat F, Final
vs. Disruptor
Won
Semi-Final 1, Gauntlet
6.9 m (equal 5th)
Drew
NOTE: Panic Attack had to face Mace in a race-off to break the tie.
Semi-Final 1, Gauntlet Race-off
Completed (1st)
Qualified
Semi-Final 1, Trial (Pinball)
320 points (1st)
Qualified
Semi-Final 1, Arena
vs. Mortis (2)
Won
Grand Final, Eliminator
vs. Killertron (4)
Won
Grand Final
vs. Cassius (5)
Won
Series 3
The Third Wars - UK Championship
Semi-Finals, Round 2
Heat K, Round 1
vs. Axios
Won
Heat K, Round 2
vs. Toe Cutter
Won
Heat K, Final
vs. X-Terminator
Won
Semi-Final 1, Round 1
vs. Thing 2
Won
Semi-Final 1, Round 2
vs. Fire Storm
Lost
The First World Championship
Representing Wales, Eliminator
Eliminator
vs. 101 (ENG)
Lost
Series 4
The Fourth Wars - UK Championship
4th Seed, Semi-Finals, Round 2
Heat O, Eliminator
vs. Overkill GTI, S.M.I.D.S.Y.
Qualified
Heat O, Semi-Final
vs. Saw Point
Won
Heat O, Final
vs. S.M.I.D.S.Y.
Won
Semi-Final 2, Round 1
vs. Spawn of Scutter (10)
Won
Semi-Final 2, Round 2
vs. Stinger (30)
Lost
Sumo Basho
Champion
Sumo-Basho
Won in 21.15s
1st
War of Independence
Representing UK, Semi-Finalist
Round 1
vs. Rammstein (USA)
Won
Semi-Final
vs. Mortis (UK)
Lost
Extreme Series 1
All Stars
1st Round
Round 1
vs. Firestorm 3
Lost
Mayhem & Annihilator
3rd in Second Annihilator
Mayhem Qualifier
vs. Diotoir, Shear Khan
Won
Annihilator 2, Round 1
vs. Disc-O-Inferno, Fighting Torque, Napalm 2, Spirit of Knightmare, The Steel Avenger
Qualified
Annihilator 2, Round 2
vs. Disc-O-Inferno, Napalm 2, Spirit of Knightmare, The Steel Avenger
Qualified (by Default)
Annihilator 2, Round 3
vs. Disc-O-Inferno, Spirit of Knightmare, The Steel Avenger
Qualified
Annihilator 2, Round 4
vs. Disc-O-Inferno, Spirit of Knightmare
Eliminated
NOTE: Panic Attack had suffered major damage and the team could not fix it, so the competition skipped to Round 5 and Panic Attack was eliminated.
Other Battles
Wild Card Warriors, Vengeance & International Inferno (Representing UK)
Wild Card Warriors
vs. Axe-Awe
Won
Vengeance
vs. X-Terminator
Won
International Inferno
vs. Flensburger Power (GER), Manta (USA), Maximill (NED)
Won
Series 5
The Fifth Wars - UK Championship
6th Seed, Semi-Final, Round 1
Heat J, Eliminator
vs. Barber-Ous
Won
Heat J, Semi-Final
vs. Tiberius 2
Won
Heat J, Final
vs. Kat 3
Won
Semi-Final 2, Round 1
vs. Pussycat (2)
Lost
Semi-Final 2, Losers Melee
vs. Firestorm 3 (7), Wheely Big Cheese (10)
Lost
Series 6
The Sixth Wars - UK Championship
8th Seed, Heat Final
Heat I, Round 1
vs. Corkscrew, Kronic 2, R.O.C.S.
Qualified
Heat I, Round 2
vs. A-Kill
Won
Heat I, Final
vs. Terrorhurtz
Lost
Extreme Series 2
Commonwealth Carnage
Representing Wales, Semi-Finalist
Round 1
vs. Cerberus (CYP), Crushtacean (RS),
Terror Turtle (CAN)
Qualified
Round 2
vs. Firestorm 4 (ENG)
Lost
Series 7
The Seventh Wars - UK Championship
8th Seed, Heat, Round 2
Heat M, Round 1
vs. Edge Hog, Mega Morg, Spin Doctor
Qualified
Heat M, Round 2
vs. Tough as Nails
Lost
All Stars
Semi-Finalist
Round 1
vs. Bigger Brother, Firestorm 5, Kat 3
Qualified
Semi-Final
vs. Dantomkia
Lost
Wins/Losses
Edit
Panic Attack's successful Gauntlet and Trial runs, and the second round of the Annihilator where Napalm withdrew, are omitted from the wins tally.
Series Record
Edit
Outside Robot Wars
Edit
The team, calling themselves The Welsh Wizards, also entered Panic Attack (billed as Panic Attack 3) in Season 2.0 of BattleBots, beating Gammatron by knock-out, before losing to frenZy after being battered into submission by their opponent's axe. They returned for Season 3.0 with a new robot called Scallywag, a wedge-shaped lifter with a colour scheme similar to Panic Attack but lost its only battle to Omega-13 on a close 23-22 judges decision.
Panic Attack alongside Suicidal Tendencies, Dundee, Miss Struts and Eye of Newt fought in a car park rumble in November 1999 in Plymouth in aid for Children in Need. In one fight it fought against Suicidal Tendencies and lost, and later fought in a rumble against Eye of Newt, Suicidal Tendencies and Miss Struts.
The Series 5/Extreme version of Panic Attack was recently taken out of retirement and overhauled back to running condition in mid-2012, with the intention of entering live events again. Its first fight was an exhibition match hosted by Robots Live! against Behemoth - during the battle, Panic Attack's srimech failed to work correctly and had to depend on Behemoth to right it. As a result, Behemoth ultimately won the fight via judges' decision, with both robots still mobile at the end.
Kim Davies confirmed that Panic Attack would not appear in Series 8 due to him being busy[2].
Appearances in Merchandise
Edit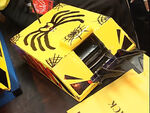 For Series 4, the team had a smaller version of Panic Attack called Panic, which was a modified RC Car and used as a mascot, driven by team member Michael Davies at school fêtes.
Panic Attack was profiled in Robot Wars: The Ultimate Guide.
Panic Attack was the only one of the UK Grand Champions to not make a subsequent appearance in a Grand Final (this is excluding Typhoon 2, who didn't return to defend its title).
In Series 3 and 4, the robot who beat Panic Attack lost its Grand Final Eliminator to Chaos 2, then was given the default third place because the loser of the other eliminator was forced to withdraw due to irreparable damage.
Panic Attack was the sixtieth robot to be thrown out of the arena, and the last in the original run of the show.
Out of 28 Robots to have represented the United Kingdom, Panic Attack is the only one to have originated from Wales.
Panic Attack was one of nine robots to have flipped Matilda. Others to have done so were Chaos 2, Cassius, Facet, Inquisitor Mk 2, Recyclopse, Steg 2, Apollo and Tricerabot.
Panic Attack is one of nine UK Series Competitors to have fought in BattleBots.
Panic Attack was one of only three Semi-Finalists from Series 2 to get to the Semi-Finals of Series 3, along with Mace 2 and Beast of Bodmin.
Panic Attack was the only Grand Champion to have been hit by an object from the Drop Zone.
Throughout the series' original run, Panic Attack was the only Grand Champion to lose before the Heat Final in a series after it won the championship, losing in Round 2 of Series 7. However, it now shares this dubious honour with Razer, who was eliminated in the first round of the 2016 series.
Panic Attack has lost more battles than any other Grand Champion at 12.
Panic Attack is the only robot to have lost to a single opponent on four occasions.
Panic Attack was one of six robots to be a figurine for the Robot Wars Board Game.
Panic Attack is one of four robots to be the same seed in consecutive series (8th in Series 6 and 7). The others are Tornado, Chaos 2 and Wild Thing.
Panic Attack's Series 3 Heat Final battle with X-Terminator was nominated for the Battle of the Series, however it lost out to The Big Cheese vs Chaos 2.
If there had been an eighth series filmed the year after Series 7, Panic Attack would likely have been invertible.[3]
Panic Attack was the only robot to both benefit from another robot's forfeiture and forfeit a place in the same competition.
In Extreme Series 2, Panic Attack had a Firestorm logo sticker on the front of the srimech and base. These Logos are visible in Panic Attack's Semi-final in the Commonwealth Carnage.
Panic Attack was the last robot to be flipped out of the arena in the original series.
Team member Michael Davies joined Marlon Pritchard from X-Terminator in two battles due to his other two team members Simon Baldwin and Paul Lewis not being able to there.
Every single battle Panic Attack lost (excluding its forfeit in the Extreme 1 Annihilator) was to a robot that made at least the semi-finals of the main UK Championship at some point.
The only times Panic Attack won on judges' decisions were in battles that featured more than two robots.
Team Panic Attack was one of only three semi-finalist teams from Series 2 (along with Mace and Bodmin Community College) to also make the semi-finals of Series 3. All three fell in the second round of the semi-finals.
References
Edit
↑

Kim Davies' response on Facebook
Ad blocker interference detected!
Wikia is a free-to-use site that makes money from advertising. We have a modified experience for viewers using ad blockers

Wikia is not accessible if you've made further modifications. Remove the custom ad blocker rule(s) and the page will load as expected.