"Wooden it be nice if Overdozer survived? Get it?"
— Jonathan Pearce
Overdozer was a chartreuse coloured heavyweight robot from Falkirk, Scotland, which entered Series 8 of Robot Wars. It lost its Group Battle after becoming immobilised by King B Remix in the opening moments, before being flipped and having its armour destroyed by Dantomkia.
The team refer to Overdozer's front scoop as a 'dozer blade', hence the robot's name. Memento Mori returned for Series 9 with Wyrm.
Dara Ó Briain: "You've made a boat?"
Nicholas White: "It probably wouldn't float!"
— Before the fight
The front of Overdozer was armed with a large, black 'indestructible' static scoop, giving the robot a total emphasis on pushing. Overdozer also had an active weapon in the form of a brushcutter blade at the rear spinning at 6000 RPM, driven by a 2 stroke engine, similar to that of Wheelosaurus, accompanied by static spikes.. The robot's frame was made out of 25mm steel box section, however the external armour is MDF, 18mm thick.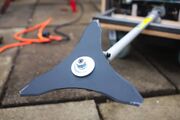 "We went with an MDF armour because it's cheap and really easy to cut because we did not have a lot of time to make this robot."
— The team explain their odd choice of materials
Beyond the wooden armour, Overdozer also had no method of self-righting, and was comparatively lightweight at 86kg. Overdozer was the only robot in Series 8 to be equipped with a petrol engine, which was on board to power the weapon.
Robot History
Edit
Overdozer competed in Heat 3. It was initially supposed to battle Thor, Shockwave and Tough as Nails in Heat 2, but withdrew due to technical problems, and was replaced with DisConstructor. Instead, it fought Dantomkia, King B Remix and Glitterbomb, standing in for Armakillo.
"How high do you rate your chances with your petrol engine which could burn down your wooden boat, which has an outboard engine?"
— Dara Ó Briain's question, which led to a long pause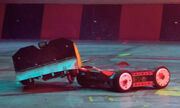 Overdozer did not move off the starting block, instead spinning on the spot as self-defence. The unfazed King B Remix charged into Overdozer, knocking a panel away, and Overdozer tripped on the surface of the raised pit, immobilising the machine straight away.
"Well they didn't last long, did they Overdozer, we didn't think they would, but we thought they'd do better than that, they were rubbish! And they'll be consigned to the rubbish pit of the arena!"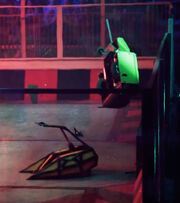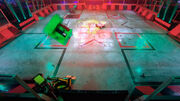 King B Remix moved Overdozer off the pit, and Glitterbomb pushed it into the arena wall. Left idle for a while, Dantomkia closed in to flip the beaten Overdozer, and tossed the lightweight machine into the air, and flipped it a second time later on, causing the robot to fall apart, although one of these landings impaled one of Overdozer's spikes into Dantomkia's armour. Overdozer's brushcutter blade had long been strewn across the arena floor, and Dantomkia's last attack lifted a sheet of Overdozer's MDF high above the floor.
It was revealed by Dara Ó Briain that Overdozer was only active in the battle for 23 seconds.
"You were like the first little piggy of this particular story, they huffed and puffed, and blew your house down!"
— Dara Ó Briain
Wins/Losses
Edit
Series Record
Edit
The team's name, "Memento Mori", is a Latin phrase which translates to "remember that you have to die".
External Links
Edit