"As far as heavyweight robots go, this thing was huge."
— Team RCC website[1]
Obsidian was a robot that competed in Series 5 of Robot Wars. It was probably named after the Volcanic Glass of the same name, which is also black in colour and commonly found near the team's home town in Derbyshire.
Obsidian was a large box shaped robot with a slight wedge at the front, resembling a stealth bomber and clad in carbon fibre and aircraft-grade materials. Its weapon was described as a "solid titanium, articulated, accelerated motion axe".
Qualifiers
Edit
To qualify for Series 5, Obsidian defeated Hammer & Tong[2] and Storm Force[3] in the qualifiers.
Obsidian was repaired and improved for the Series 6 qualifiers, but the team ultimately did not attend the qualifiers because they felt that their robot was not ready for battle. The team did apply to enter Extreme Series 2, but were not asked to compete in any of the tournaments. [4] They intended to enter Series 7, but it is unknown if they attended the qualifiers. [5]
Robot History
Edit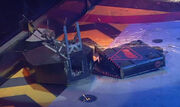 Obsidian faced the 24th seed S.M.I.D.S.Y. in its first round battle. The robots began by slamming into each other. Obsidian used its pickaxe several times to no effect. S.M.I.D.S.Y. then attacked Obsidian with its spinning disc, shoving it into the CPZ, but it escaped. S.M.I.D.S.Y. then shoved Obsidian into an angle grinder, before it was counted out by Refbot. Matilda then attacked it with her flywheel, causing considerable damage. The House Robots then placed Obsidian on the Floor Flipper, and cease was called after it was launched.
OBSIDIAN - RESULTS
Series 5
The Fifth Wars - UK Championship
Heat, Round 1
Heat A, Round 1
vs. S.M.I.D.S.Y. (24)
Lost
Wins/Losses
Edit
Series Record
Edit
Outside Robot Wars
Edit
In 2007, Obsidian was sold to Team RCC (a Dutch/Belgian team that entered RCC and Blackdevil Warzone in Dutch Robot Wars) who had brought it out of retirement and fought with it in Live Events. It was rebuilt in 2008 to a smaller size and continued fighting until 2009 where it took heavy damage from Kan-Opener at a Dutch Robot Games event in Holland. Team RCC have retired Obsidian since that event.
References
Edit
Ad blocker interference detected!
Wikia is a free-to-use site that makes money from advertising. We have a modified experience for viewers using ad blockers

Wikia is not accessible if you've made further modifications. Remove the custom ad blocker rule(s) and the page will load as expected.