Not to be confused with fellow New Blood competitor Niterider
"Has a mighty flipper, is stealthy under cover of darkness in the toolshed, but what happens in the flood-lit arena?"
— Jonathan Pearce
Night Raider was a robot that fought exclusively in the New Blood Championship of Robot Wars Extreme Series 2. It did not achieve great success, being eliminated in its only battle and not appearing in any subsequent series.
Night Raider also previously failed to qualify for the main competition of the Sixth Wars, after it lost its qualifier against Derek 2 and Killer Carrot 2. The team later entered Series 7 with the equally unsuccessful B.O.D., which despite their confidence was also eliminated in the first round.
Night Raider was a large black wedge-shaped robot armed with a titanium spiked flipper. The flipper was capable of lifting 200kg, and the robot had twin roll cages on the back wedge to allow it to self-right, similar in principle to the roll cages found on Spawn Again's Series 6-7 incarnations. Night Raider also had a high top speed of 18mph, but the team admitted to being inexperienced and not as strong as flipping-wielding veterans like Chaos 2 and Bigger Brother.
Robot History
Edit
Extreme Series 2
Edit
In Heat B of the New Blood, Night Raider struggled to go in a straight line and out of the CPZ in its opening battle, as a drive train had already gone.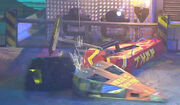 In the opening battle, its opponents
Thor
and
Hell's Teeth
both attacked Night Raider, but neither attack landed much damage. Night Raider was pushed against the side wall, but then pulled away and pushed Thor around. However, it took a direct blow from Thor which appeared to knock it out, before it was also bludgeoned by the hammer of
Mr. Psycho
. Night Raider was then counted out, thrown by the floor flipper and eliminated from the competition.
"So; pinched, bashed, crashed, squashed, crushed, all of them! Thrown, flipped, I mean it was stupendous!"
— Philippa Forrester describes the damage done to Night Raider
NIGHT RAIDER - RESULTS
Extreme Series 2
New Blood Championship
Round 1
Heat B, Round 1
vs. Hell's Teeth, Thor
Eliminated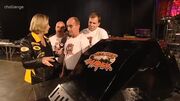 Wins/Losses
Edit
Series Record
Edit
Ad blocker interference detected!
Wikia is a free-to-use site that makes money from advertising. We have a modified experience for viewers using ad blockers

Wikia is not accessible if you've made further modifications. Remove the custom ad blocker rule(s) and the page will load as expected.