Miss Ile (spelt "Missile" on screen) was a robot that solely entered Series 3 of Robot Wars. It lost its only battle after being pitted by Anorakaphobia.
Miss Ile's name was a pun on 'missile', although this was lost when the robot's name was spelt this way during its Series 3 appearance. The team also entered Flirty Skirty in Series 2, and fought in the Forces Special with Shockwave, which also lost their only battles in their respective series.
Miss Ile was a green, yellow and orange box-shaped robot armoured in fiberglass and featuring a static front scoop and a rear lifting arm as its weapons. The lifting arm was claimed to double as a self-righting mechanism, although this was not seen, and was able to lift team member Victor Peter without issues during testing. The robot was also powered by four Sinclair C5 motors, cost £2000 to build, and featured two decorative stalks with 'eyes' that proved fragile in its only battle.
Interestingly, although Miss Ile had four outside wheels, only the front wheels drove and steered the robot, with the rear wheels being noticeably higher off the ground than the front ones.
Robot History
Edit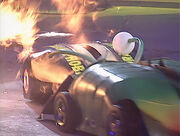 Miss Ile was sluggish to get away in its first round battle against Anorakaphobia, who immediately ran up its scoop and used its axe to hammer it as Sergeant Bash popped both of its eyes with his flamethrower.
"Aye, aye, problems here for Miss Ile!"
— Jonathan Pearce as Miss Ile loses both eyes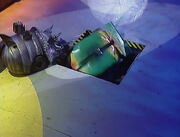 Miss Ile carelessly drove into Sergeant Bash's CPZ, then Anorakaphobia pushed it into the wall and kept hammering at its fiberglass body with its quick-firing axe. It struggled to push Anorakaphobia around as both machines steered closed to the pit, with Anorakaphobia shoving Miss Ile around in circles before driving onto the arena spikes. Anorakaphobia recovered, shoving Miss Ile onto the edge of the pit with a great turn of speed, before Matilda nudged Miss Ile in with her tusks.
MISS ILE - RESULTS
Series 3
The Third Wars - UK Championship
Heat, Round 1
Heat E, Round 1
vs. Anorakaphobia
Lost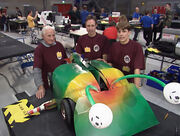 Wins/Losses
Edit
Series Record
Edit
Ad blocker interference detected!
Wikia is a free-to-use site that makes money from advertising. We have a modified experience for viewers using ad blockers

Wikia is not accessible if you've made further modifications. Remove the custom ad blocker rule(s) and the page will load as expected.