Minotaur was a super heavyweight robot entered by Random Violence Technologies into Series 2 of Robot Wars. It competed exclusively in the Super Heavyweight Championship, also known as the Super Showdown, but lost its qualifier after getting toppled over by eventual champion Kick Robut.
Minotaur was originally intended to enter the main competition but withdrew, allowing Wheelosaurus to enter in Heat B.

Minotaur was a box-shaped robot with hydrostatic drive motors and large triangular-shaped tracks mounted outside the robot's chassis. It had no weapons - instead relying on brute force as its main means of offensive output - and had a high ground clearance that left it vulnerable to being lifted and toppled over, as its only battle demonstrated.
Robot History
Edit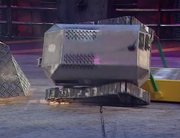 Minotaur competed in the Super Heavyweight Championship, and was drawn against Kick Robut and Reckless Endangerment in its qualifier for the Super Showdown. However, it stalled at the start of the battle, leaving it immobile in the middle of the arena. This allowed Kick Robut to get underneath, hook its lifting spikes into Minotaur's tracks and lift it, rolling it over onto its back. Without a self-righting mechanism, Minotaur was eliminated from the Super Heavyweight Championship, along with Reckless Endangerment.
Wins/Losses
Edit
Series Record
Edit
Outside Robot Wars
Edit
In September 2009, Minotaur was given to Team Bud along with Maelstrom/Rigormortis and Random Violence Technologies' Series 1-4 heavyweight, Mortis. It was intended that all three robots were to be restored to running condition, although it was later known that Minotaur would not be rebuilt, because it requires a new petrol engine in order to run again.