Minibots
Talk

15
1,514pages on
this wiki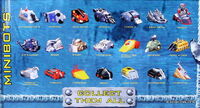 The Minibots were small, metallic pullback toys based on competitor robots and house robots. Unlike the series of larger pullback and pitstop toys, most of these minibots did not have moving weapons, but they did have their own mini arena to compete in.
The minibots were manufactured by Feva and sold exclusively at Argos in packs of two, three or five. There were two generations of minibots. The first was released in 2001 and featured Razer, Hypno-Disc, Panic Attack, Pussycat, X-Terminator 2, Chaos 2 and the house robots (except Mr Psycho, Growler and Cassius Chrome, who had not made their debuts when the minibots were made). These minibots were based on the Fourth Wars incarnations of the machines (note X-Terminator's scoop, and Matilda's chainsaw tail, instead of a flywheel).
The second generation of minibots was released in 2002 and consisted of Wild Thing, Firestorm 3, Tornado, Mega Morg, Suicidal Tendencies, Gemini, Plunderbird 5, Dominator 2 and Wheely Big Cheese. These minibots were based on the Fifth Wars or Extreme 1 incarnations of the machines. More of the second generation minibots had moving parts than the first generation, with six of the nine second generation robots having moving parts, compared to just three of the original twelve. Interestingly, the six of the second generation minibots that did have moving weapons were not made into pullbacks.
Minibot Arena
Edit
Main article: Minibot Arena
Competitor Robots
Edit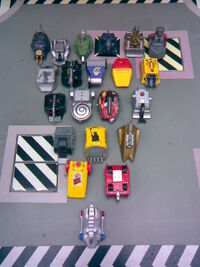 House Robots
Edit