Ad blocker interference detected!
Wikia is a free-to-use site that makes money from advertising. We have a modified experience for viewers using ad blockers

Wikia is not accessible if you've made further modifications. Remove the custom ad blocker rule(s) and the page will load as expected.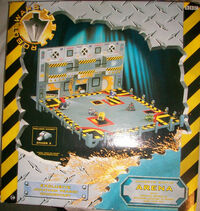 The Robot Wars Minibot Arena was a playset launched specifically for the minibots. It came with the CPZs, flame pit, arena floor flipper and pit of oblivion. It came with instructions on how to assemble the arena.
A drop zone feature was released at the same time as the second wave of minibots. It could be purchased with the arena, or separately.
The arena set also came with a minibot of Chaos 2.
Instead of the pit tile dropping into the trench, the pit acts like a trap-door in which both halves push down and away from each other. Perhaps this was the only way that the toymakers thought that the pit would work.
The arena walls are made up of attachments which slide onto the edges of the arena.
The Drop Zone was vaguely similar in shape to the pullback Pussycat's Power Hammer accessory.

The drop zone itself was also similar to the flame thrower turret base that came with the pullback Firestorm.
The Drop Zone itself comes with a washing machine which can have pound coins or the mini tyres and a box that drops silver balls and tyres.

Like the arena from Series 4 onwards, the minibot arena had three entry gates that could open and close vertically, this also came with a ramp that could attach to any of the gates so that the minibots could drive up that and through any of the entry gates and into the arena.
The flame pit was merely a black sticker with red rim to it.
The main apparatus above the arena (containing the control pods) had three buttons on top for certain sound effects, one had Jonathan Pearce in-battle commentary as well as Pearce announcing the beginning and end of the battle despite not doing the latter two on the TV show, one had a battling robots sound, and the third had cheers from the crowd.

This main apparatus was also collapsable, to help with storage.

Despite having the "x" for where the Drop Zone should be and is for the TV show, the Drop Zone attachment does not line up at that spot regardless of which way it is attached to the arena toy.