For the similarly-named robot which competed in Series 2-4, see Milly-Ann Bug.
"...Will this be a bugbear for the rest?"
— Jonathan Pearce introduces Millenium Bug
Millennium Bug was a walking robot that exclusively competed in Series 4 of Robot Wars.
Its name came from the Year 2000 problem, commonly known as "The Milennium Bug", a problem suffered by many computers which caused the date to be shown as 1900 instead of 2000, which caused many computer failures.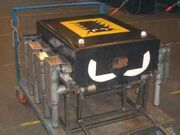 Box-shaped and very large for its time, Millennium Bug walked on 8 legs made from scaffold pipes, and it was armed with a large forklift at the front, and a 2000rpm forward-facing spinning disc at the rear. It was a very slow robot with a top speed of just 4 MPH.
Qualification
Edit
At the Fourth Wars qualifiers, Millennium Bug fought Little Fly. The walker lost one of its legs during the battle, but regardless both robots survived for the full fight, and qualified for the series.
Robot History
Edit
In its first battle against the seeded X-Terminator 2 and Judge Shred 2, Millennium Bug failed to made an impression as it couldn't keep up with the speed of its opponents. Eventually X-Terminator managed to break off a few leg guards with its axe, and Judge Shred got underneath it, and used its flipper to turn it onto its rear. Unable to self-right, with it legs still waving about in the air, Millennium Bug was deemed imobilised, and was finished off by being put onto the Arena Floor Flipper and sent flying, landing upside down at the bottom end of the arena. This would be Millennium Bug's only Robot Wars appearance.
Wins/Losses
Edit
Series Record
Edit
Outside Robot Wars
Edit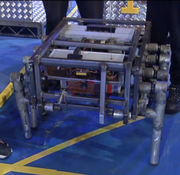 Millennium Bug was entered in the spin-off series Techno Games, devoid of its armour and weapons, in the battery sprint competition. It was significantly more successful, beating Team EyeEye's Rita Rocks in the heat and ultimately finishing third overall.
Ad blocker interference detected!
Wikia is a free-to-use site that makes money from advertising. We have a modified experience for viewers using ad blockers

Wikia is not accessible if you've made further modifications. Remove the custom ad blocker rule(s) and the page will load as expected.