Merlin was a heavyweight built by Team MAD which competed in the pilot episode of Robot Wars: Series 8. Although the episode went unaired, Merlin made various cameo appearances throughout the main series, appearing in the pits, alongside with Turbulence and Monte.
Merlin was previously intended to compete in Series 7, but Merlin suffered from technical issues the day before the qualifiers, so had to withdraw from the qualification process.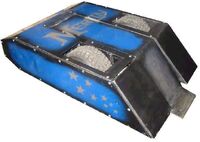 The robot was armed with a very powerful full-pressure flipper, but was also invertible, similar to Raging Knightmare, another robot from Leicestershire (also a robot that the team would later own). It ran on a two-wheeled drive, and could still self-right in spite of being invertible.
Robot History
Edit
Although Merlin did not compete in the main competition of Series 8, it was regardless invited to attend filming of the pilot episode on March 1st, giving it the opportunity to compete in front of a live audience, as part of a camera test.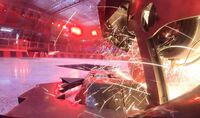 In its first battle, Merlin was drawn into a four-way qualifier against Reaper, Wraith and Monte. Wraith suffered from electrical problems before the start of the battle, and withdrew, turning the fight into a three-way battle. Monte quickly broke down, and was pitted, leaving Reaper and Merlin to fight alone until cease was called, with both robots qualifying.
In the first battle of the head-to-head round, Merlin defeated veterans in Team Onslaught, winning against their new robot, Ka-Pow!, when Ka-Pow! drove into the pit in the opening moments of the fight. As the battle was so short, Merlin turned its efforts to attack Dead Metal.
Merlin's final battle was a loss against fellow flipper, Turbulence. After a close fight between the two flippers, Turbulence won the Judges' decision on the basis of aggression and control. Merlin never fought Reaper to complete the second round, and was eliminated at this stage.
Series Record
Edit
Outside of Robot Wars
Edit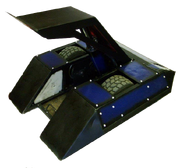 Since Robot Wars, Merlin has been rebuilt several times, but has experienced great success, particularly in the Roaming Robots circuit. Arguably Merlin's greatest triumph to date was when it won the Tag Team Terror Competition alongside Velocirippa in 2006.
Merlin still fights competitively today, reaching the Quarter-Finals of the 2011 UK Championships, after beating Dantomkia and Iron-Awe 6 in its heat, but then Merlin lost to Iron-Awe 5.
Despite Team MAD making several robots for Robot Wars, Merlin was the only heavyweight at the time of Series 7.