"A solid steel chassis and 3mm thick aluminium body shell give Maza a solid look. The weapon's a cutting disc, but a very high ground clearance means this is weak defensively. Mazakari may commit kamikaze!"
— Jonathan Pearce introduces Mazakari
Mazakari was a competitor robot built by students from Queen Elizabeth Sixth Form College, Darlington, that competed in the fourth series of Robot Wars. In its only series appearance, it lost its first round battle on a judges' decision after spending the majority of the battle hooked onto Mortis' lifting arm.
Mazakari was a black two-wheeled robot with a solid steel frame and armed with a large 70cm horizontal cutting disc. The robot was clad in 3mm thick aluminium checker plated armour, and featured a top castor as well as its main metal wheels which enabled it to run inverted. Like many others, Mazakari had many holes cut into its disc and chassis in order to keep it under the weight limit. While it was invertible, Mazakari's high ground clearance and susceptibility to being hooked through its chassis proved costly in its only battle.
Robot History
Edit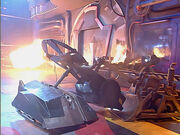 Mazakari fought in Heat D, and faced the twenty-third seed Mortis and fellow newcomer Iron-Awe in its first round battle. It got its disc up to speed straight away, but Mortis immediately got underneath it and shoved it into Sergeant Bash. Mazakari was held by Sergeant Bash's pincers before being released, only for Mortis to topple it over with its wedge and lifting arm after it shoved Iron-Awe into the wall. Mazakari ran into Mortis' side with its disc, but its disc had no effect on the latter's silicon carbide-coated armour, and again Mortis got underneath it, but without toppling it over. Mazakari sat in the middle of the arena before Mortis pushed it into Dead Metal, and the three robots came together as Mortis tried to lift Iron-Awe onto its side. Eventually, Mortis lifted Mazakari again, hooking its lifter under its disc as it sustained an axe blow from Iron-Awe.
"There's no, no hope for Mazakari, I'm afraid."
— Jonathan Pearce as Mortis carries Mazakari by the frame
Mortis pushed Mazakari into Sir Killalot twice, while Refbot attempted to separate the two robots. Mazakari was then held over a flame jet before Mortis dragged and slammed it into Iron-Awe and Shunt, with Shunt axing the top of Mazakari's armour. Both robots remained locked together for the remainder of the battle, with Mortis toppling onto its side as it attempted to lift Mazakari, and Sergeant Bash gripping and shooting flames at Mazakari until 'cease' was called. The battle went to a judges' decision, which despite Iron-Awe appearing to have become immobilised for a long period of time during the fight, went against Mazakari on account of it sustaining too much damage. This eliminated Mazakari from the Fourth Wars.
"Well. The decision is unanimous. Mazakari is eliminated."
— Craig Charles announcing the judges' decision
MAZAKARI - RESULTS
Series 4
The Fourth Wars - UK Championship
Heat, Round 1
Heat D, Eliminator
vs. Mortis (23), Iron-Awe
Eliminated
Wins/Losses
Edit
Series Record
Edit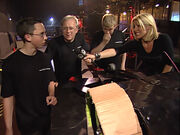 An editing error credited Mazakari with the same stats as Mortis during the UK TV broadcast of its heat.