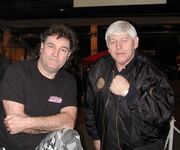 Mat Irvine is a technical consultant and Visual Effects designer, best known as a judge on the TV show Robot Wars.
Robot WarsEdit
Irvine was one of three pioneers of Robot Wars that helped the series get off the ground, giving Irvine direct relation to every series. From Robot Wars: The Fifth Wars onwards, Irvine became a judge, determining the outcome of many battles.
In 2013, Irvine stated in an interview with Votesaxon07 that Robot Wars had 'come to its natural end' after Series 7, and stated that a comeback would be unlikely.[1] This contrasts with the announcement of a new series in 2016, which Irvine had no involvement with.
Outside Robot WarsEdit
Irvine also helped as a technical consultant in spin-off of Robot Wars, Techno Games.
Irvine's most famous creation is the famous robotic dog, K9, from the TV series Doctor Who, creating the new model for spin off The Sarah Jane Adventures. Irvine claims to be the 'only one who knows how his insides work.'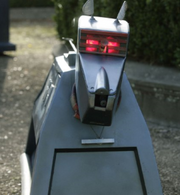 In addition, Irvine has also penned twelve books, co-writing and being consulted for several more. He also works designing exhibitions, presenting videos, model making, and has written articles, for prominent model-making magazines.
References
Edit
External Links
Edit
Personalities
Presenters
Pit Reporters
Commentators
Judges

Noel Sharkey

(

Series 1

-

10

,

Extreme 1

-

2

,

US 1

-

2

,

Nickelodeon

,

Dutch 1

-

2

,

German

) •

Eric Dickinson

(

Series 1

-

2

) •

Adam Harper

(

Series 1

-

3

) •

Martin Smith

(

Series 3

-

7

,

Extreme 1

-

2

,

US 1

-

2

,

Nickelodeon

,

Dutch 1

-

2

,

German

) •

Myra Wilson

(

Series 4

-

5

) •

Mat Irvine

(

Series 5

-

7

,

Extreme 1

-

2

,

US 1

-

2

,

Nickelodeon

,

Dutch 1

-

2

,

German

) •

Sethu Vijayakumar

(

Series 8

-

10

) •

Lucy Rogers

(

Series 8

-

10

)

Other