Marauder was a middleweight robot from the second season Robot Wars: Extreme Warriors. As Extreme Warriors had no middleweight division, Marauder was allowed to take part in the main competition.
Marauder made it to the second round of its heat, only to be pitted, driving in under pressure from Destructive Criticism.
Marauder is circular shaped robot. Its primary weapon is an overhead spinning bar with two truck hitch balls at either end that could spin up to 3000 RPM. Despite being a middleweight and having no driving experience, Marauder's armour proved to be very durable.
Robot History
Edit
In the first round, Marauder mostly drove around with no direction, avoiding trouble. This proved to be a worthwhile tactic, as G-Force broke down, and Marauder progressed to meet the eventual heat winner, Destructive Criticism. Despite being light in weight, Marauder proved difficult to deal with, as Destructive Criticism's spinning disc could surprisingly cause little damage to Marauder, and even pushing Marauder proved ineffective. A tentative battle ensued, but eventually, Marauder drove too near to the pit, and the pressure of Destructive Criticism being nearby caused Marauder to drive itself in.
Wins/Losses
Edit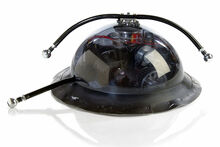 Series Record
Edit
Outside Robot Wars
Edit
Marauder also competed in BattleBots Season 4.0 as Miriah, losing its only battle to Summoner, and in RoboGames as Black Magic. The robot was also preregistered to compete in Robotica but wasn't completed in time.
Ad blocker interference detected!
Wikia is a free-to-use site that makes money from advertising. We have a modified experience for viewers using ad blockers

Wikia is not accessible if you've made further modifications. Remove the custom ad blocker rule(s) and the page will load as expected.