Major Damage
Talk

0
1,514pages on
this wiki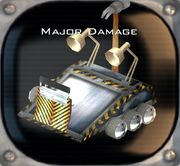 "Here's Major Damage- yes, you've guessed it. It causes Major Damage!"
— Jonathan Pearce
Major Damage was a super heavyweight competitor robot in the games Robot Wars: Arenas of Destruction and Robot Wars: Extreme Destruction, undertaking similar guises in both appearances. In Arenas of Destruction, its weapons were a lifting scoop and a hammer and it was armoured in titanium. In Extreme Destruction, the scoop was smaller and was static.
Arenas of Destruction
Edit
Components
Edit
Locomotion: 6 x Large Outer Solid
Power: 4 Stroke 5 HP Gas Engine (pressurized)
Drive: 6 x Differential and High Ratio Gearbox
Weapons: Pneumatic Lifting Scoop & Low Power Pneumatic Hammer
Extras: 2 x Angle Poise Lamp
Strategies
Edit
Using Major Damage
Edit
Major Damage can prove to be quite a threat to other opponents, due to its fast and powerful weapon, speed and pushing power. An effective tactic is to push opponents with its scoop or flip them, or a simple full-on assault with the hammer. However, one must be careful of damage to the engine, as the petrol engine can burn out easily. Despite having a flipping weapon, Major Damage cannot self-right, so be cautious around flippers.
Against Major Damage
Edit
It would be wise to take caution around Major Damage, as due to its speed, powerful weaponry and tough armour it is one of the more difficult competitor robots to defeat. However, Major Damage cannot self-right, so it can be easily defeated by flipping. Attacking the engine area is another effective tactic, as a petrol engine is relatively unreliable compared to a battery.

Extreme Destruction
Edit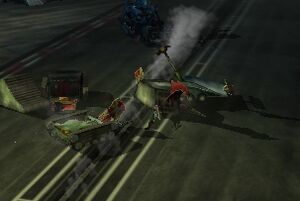 Components
Edit
Locomotion: 4 x Large Comps
Weapons: Hammer & Low Scoop
Strategies
Edit
Using Major Damage
Edit
Against Major Damage
Edit