"Very powerful flipper, looks mean, two wheel driven, has a steel backbone chassis, heat treated aluminium and polycarbonate shell, but it does lack experience. Don't they all?"
Mad Dog was a heavyweight robot which fought exclusively in the New Blood Championship of Extreme Series 2 of Robot Wars. It lost in its first and only battle to Chopper and ICU.
Mad Dog was a two-wheel driven wedge-shaped robot that was somewhat similar in appearance to the Italian robot Mastiff, as it featured a motif of biting jaws and a dog theme. It had a steel chassis with an aluminium and polycarbonate shell and its flipper was listed as 'very powerful' with 1400lbs of thrust, but never showed the power in battle. In testing the flipper threw several 100kg V6 engine blocks 3ft in the air and 5-6ft forwards prior to their appearance in the warzone.
Qualification
Edit
Mad Dog had previously attempted to enter Series 6, but failed to qualify. At the qualifiers, Mad Dog fought Aggrobot, Hydra and an unknown third robot. The winner is unknown, but Aggrobot and Hydra both qualified, while the other two did not.
Robot History
Edit
Extreme 2
Edit
Mad Dog faced Chopper and ICU in its first round battle. From the off, it was shoved around by ICU, attempting to use its lifter but failing to do anything.
Sir Killalot
shoved it into its CPZ and attacked it. Mad Dog escaped, and ICU attacked it again. Mad Dog was left immobilised on the Floor Flipper.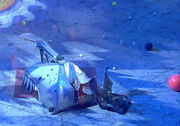 Refbot
counted out the fallen robot, and the House Robots came into attack. It was flipped by the floor flipper, and then picked up by Sir Killalot. but the Drop Zone, which had a dustbin of bowling balls, missed Mad Dog. It was pitted, leaving ICU and the heavily damaged Chopper to go through.
MAD DOG - RESULTS
Extreme 2
New Blood Championship
Heats, Round 1
Heat C, Round 1
vs. ICU, Chopper
Eliminated
Wins/Losses
Edit
Series Record
Edit