"Named after the team's horse. Power comes from two wheelchair motors, but top speeds of just 4mph...not impressive. The weapon's an agricultural lawnmower blade, giving the fly plenty of buzzzzz!"
— Jonathan Pearce introduces Little Fly
Little Fly was a competitor robot in Series 4 of Robot Wars. It only appeared in one series, reaching the Heat Final. It eliminated the 28th seed Weld-Dor, before defeating Tiberius to meet Mousetrap in the heat final. Although Mousetrap was victorious, Little Fly did quite a bit of damage, which was evident in Mousetrap's next battle. The name originated from the team's horse.
It was an aluminium grey box shaped robot with an orange lawnmower blade. The blade, although looking fragile, was capable of a fair amount of destruction - it could spin at 1000 RPM, but tended to jar if it struck metal. The robot also featured two lights - one to indicate that the weapon was armed and ready, the other a novelty spotlight, for creating "confusion".
Qualification
Edit
At the Series 4 qualifiers, Little Fly was painted black, and had a yellow blade. It fought Millennium Bug at the qualifiers, and cut one of its legs off. Both robots survived for the full fight, and qualified for the series.
Robot History
Edit
In the first battle, the robots danced around until Little Fly attacked Weld-Dor 2, and
Sump Thing
used its spike on Little Fly. Little Fly got part of its blade stuck on Weld-Dor 2, and Sump Thing hit it.
"Again that blade seems to be stuck by Little Fly. Once it hits metal it seems to jar, then has a redundant spell."
— Jonathan Pearce's observations
The melee continued, with Little Fly appearing very sluggish, coming to a complete halt on several occasions. However, Little Fly was saved when Sump Thing appeared to immobilize Weld-Dor 2, and Little Fly rammed into it to prove that it was still alive.
"...Little Fly, he was doing us a lot of damage with his...spinning disc thing. I think he's done a majority of the damage there. He did remove one of my cables of our batteries, and that's what actually immobilised us."
— Phelim Lundy's revelation after the battle
Next, Little Fly met Tiberius, who was favoured to win the heat since the demise of both seeds. Tiberius drove straight into Little Fly. It got under it many times, but could not use its crusher. It slammed Little Fly into Sergeant Bash, and pushed it across the arena. Refbot separated them, but Tiberius got stuck on the arena wall in forward drive. Little Fly was through to the heat final, against Mousetrap.
Little Fly drove onto Mousetrap's wedge, scuffing the wedge itself, but Mousetrap swung its trap weapon, colliding with the weapon of Little Fly and sending sparks flying. Little Fly then drove aside and struck Mousetrap, sending a shard of metal flying.
"Come into my parlour, said the mousetrap to the fly. Little Fly, not buying that."
— Jonathan Pearce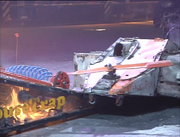 Mousetrap took more damage from the blade, but pushed Little Fly around the arena with little effort, and Little Fly was unable to sever the spring for the trap mechanism. Mousetrap shoved Little Fly into Matilda's CPZ, and time ran out as Little Fly tried to escape Matilda. The judges decided that Little Fly hadn't done enough to reach the semi-finals.
"I would've made it a draw, it was that close...Forgive the pun, but it was a gnat's breath away."
— Craig Charles to Richard Woodward, and then his teammates
Wins/Losses
Edit
Series Record
Edit
Ad blocker interference detected!
Wikia is a free-to-use site that makes money from advertising. We have a modified experience for viewers using ad blockers

Wikia is not accessible if you've made further modifications. Remove the custom ad blocker rule(s) and the page will load as expected.