"This machine can operate even when it's flipped upside-down, on 163cm tracks made from motorcycle chains. The batteries, motors and speed controller come from a wheelchair, the chassis frame is steel, the 6-inch diameter front saw has bit, but it cost just 28 pounds to build!"
— Jonathan Pearce introduces Limpet
Limpet was a tracked robot that competed in Series 2 of Robot Wars. It was the initial entry from Team 13, and reached the Trial stage in its only appearance, where it was eliminated after knocking only 23 skittles down.
Limpet Mk 2 was being built for Series 3, similar in shape and size to the original Limpet but with new and improved tracks and a small lifting mechansim. However, it was not finished by the end of qualifying, and Limpet Mk 2 subsequently was not selected to compete.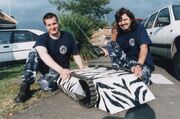 Limpet was a tracked, box-wedge shaped robot with a steel chassis and armour, powered by two 24v wheelchair motors and equipped with a 6-inch circular saw, although the saw was removed to bring the robot within the weight limit. Its tracks were 1.63m long and made out of motorcycle chains and allowed it to run inverted, making Limpet one of the first invertible robots to appear on the show. Limpet was painted white with black stripes resembling a zebra, had a top speed of 4mph and cost £28 to build.
Robot History
Edit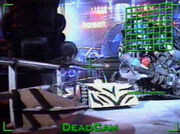 Before it could compete in Heat G, Limpet's saw had to be removed to bring its weight below the maximum 80 kg limit. Additionally, the team stuck a small piece of French baguette to the robot's back in an attempt to have it set alight by Sergeant Bash during its Gauntlet run, as well as fireproofing Limpet's internals using foil from the studio canteen.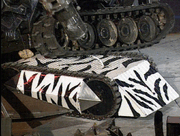 In its Gauntlet run, Limpet trundled out of the starting zone, and drove up the see-saw. Sir Killalot pinned Limpet against the wall as it cleared the see-saw, driving on top of Limpet's tracks and armour as Limpet struggled to get away.
"Takes on Killalot? Crushed by Killalot!"
— Jonathan Pearce as Sir Killalot drives up and over Limpet
Sir Killalot backed down as Dead Metal grabbed hold of Limpet, before snapping its left track with his jaws. Despite losing mobility, Limpet still travelled a distance of 10.8m, enough for it to qualify for the Trial stage.
"We were looking forward to some toast, actually, but we didn't get that far!"
— John Denny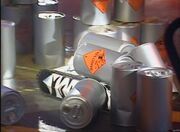 In the Skittles Trial, Limpet was the last robot to run, and had a chance of progressing to the Arena stage after defending champion Roadblock had only knocked down 34 barrels. However, it started slowly, and made a steady run through the stacks of barrels, not knocking down a great amount of them in the process. It only managed to knock down 23 barrels by the time 'cease' was called, so it was eliminated.
LIMPET - RESULTS
Series 2
The Second Wars - UK Championship
Heats, Trial
Heat G, Gauntlet
10.8m (3rd)
Qualified
Heat G, Trial (Skittles)
23 Barrels (5th)
Eliminated
Series Record
Edit
Outside Robot Wars
Edit
Limpet now resides in Team 13's garden, its internals having since been removed and its tracks rusted solid. According to the team, its empty chassis often acted as a home for mice during the winter seasons. Limpet's successor, 13 Black, has also been retired since the end of the original series of Robot Wars.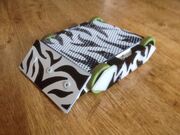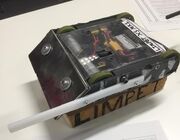 John Denny later built Limpet XS, a beetleweight version of Limpet with roughly the same design as the original robot. In its first event, the Beetleweight World Series in July 2014, it lost both of its battles to Anvil and Spinza respectively, before returning to compete at the Robots Live! event in Stevenage later that year. There, it won the beetleweight event by beating Newton in the final. Following conversion from four- to six-wheel drive, Limpet XS repeated this feat at The Iron Games at Wolverhampton in February 2015, again defeating Newton in the final round, and continues to fight in beetleweight events with considerable success. Limpet XS returned to four-wheel drive in 2017, and gained new 3mm HARDOX armour. In February 2018, Limpet XS won the UWE Beetleweight Brawl, defeating Rory Mangles and his robot in the final. Team 13 have also built an antweight replica of Limpet, Limpet XXT, which competes at live combat events.
Team 13 and Team PS-All-Stars have recently built Limpet XL, a featherweight version of Limpet, which is currently competing in live events. The robot made its competition debut at the Robots Live! event in Stevenage, in October 2017, where it finished every whiteboard fight over the two days, winning one of them.
In 2014, John Denny stated on the Official Robot Wars Facebook page that he was going to rebuild or update Limpet so it can return to combat in 2015, although this plan did not come to fruition it is still very much on the cards as the younger John Denny is determined for it to return.
"I`ve got the body of Limpet and its being rebuilt/updated to fight again next year."
— John Denny on the Official Robot Wars Facebook page.
In 2018, John Denny revealed that the chassis and drive had been completed for the new Limpet, although with a few issues with the batteries heating up.[1] Limpet, alongside other Team 13 Black machine 13 Black, was among other former competitors that appeared in the 2018 Robonerd event on display.
Limpet is one of 20 robots to enter the main competition but never fight a battle, having only ever been in the Gauntlet or Trial.
John Denny used Limpet to make some toast with Sergeant Bash, preferring to tackle that house robot rather than any other, causing Team Nemesis to put a kebab between the wheel arches of Nemesis. This explains why there was bread on Limpet.
" I went to the kitchens for some foil to protect the insides of limpet, while I was there I grabbed some bread and stuck it on the aerial to make some toast. Nemesis were next to us in the pits and suddenly everyone was involved"
— John Denny on Facebook
References
Edit