Lawnmower blades
Talk

14
1,514pages on
this wiki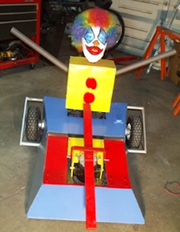 Lawnmower blades were a common form of rotating weapon.
Definition
Edit
Lawnmower blades refer to thin spinning blades made of plastic or metal, usually taken from a gas-powered lawnmower. Because lawnmower blades could bend and warp fairly easily, they were sometimes mounted at an angle so that the bladed part didn't strike the opponent directly. Another common method to solidify the weapon was to mount two or more blades vertically and spin them on the same axle.
It is important to note that some robots who are labeled as having lawnmower blades for weapons do not fall into this category. Robots equipped with blades taken from a push mower such as Blade are classified as Drums.
Advantages and Disadvantages
Edit
Advantages
They require less time and money to make than most spinning weapons, and are usually lighter too.
Their simple design means they are easy to repair or replace between matches.
If placed at an angle, a lawnmower blade can easily get at the undercarriage of the opposing robot.
Disadvantages
Because they are so light and thin, lawnmower blades have the tendency to bend and break if they take too much punishment.
They cannot do much against well-armoured robots; their potential for causing damage relies on finding and hitting an opponent's weak point.
List of Robots with Lawnmower Blades
Edit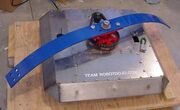 This Robot Wars related article is a stub. You can help Robot Wars Wiki by expanding it.