"Its armour is impenetrable to chainsaws and other pokey things."
— Matthew Davy
Krayzee Tokyo was a very small Featherweight Robot that competed in Series 1 of Robot Wars.
Krayzee Tokyo was one of several machines to come from schools, just like Detonator and Roadblock. Krayzee Tokyo competed in the Featherweight feature Heat D of the wars, and managed to get to the Trial Stage of the heat where it broke down after suffering damage when it "False Started".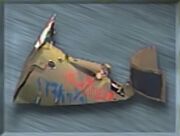 It was a slightly rounded wedge robot driven by a teddy bear, with bumper weapons to push robots aside. It had a top speed of 12 mph. However, it was incredibly unreliable, burning up three different batteries (including those lent to them by Adam Clark from his Armadillo machine).
Robot History
Edit
"What have they made this thing out of?"
— Jonathan Pearce
Krayzee Tokyo drove through the maze, before running into the springs. Matilda attempted to attack but also got stuck before the house robot's engine exploded. As purple smoke engulfed the arena, the cease was called. This distance was enough to qualify for the Stock Car Trial in 4th place, ahead of Bugs and the eliminated Vector of Armageddon. It appeared to jump start the race - driver Kevin Church blamed interfering frequencies from his adversaries. Regardless of the advantage, Krayzee Tokyo spun into the inside wall of turn one. It retired after crashing into SAT'arn just over halfway through the first lap.
"No, no, no, the one that looks like a dustbin or something, is out!"
— Jeremy Clarkson after the trial
KRAYZEE TOKYO - RESULTS
Series 1
The First Wars - UK Championship
Heats, Trial
Heat D, Gauntlet
12.65m (4th)
Qualified
Heat D, Trial (Stock Car)
0 laps (5th)
Eliminated
Series Record
Edit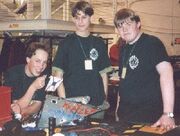 Krayzee Tokyo is one of 20 main series robots never to fight in robot combat, having only ever been in the Gauntlet or Trial.