"More bite than a Great White!"
— The robot's tagline
Kan-Opener was a competitor robot that competed in Series 5 to 8 of Robot Wars, plus the second series of Robot Wars Extreme. Although Kan-Opener never progressed beyond the first round in any of its four main competition appearances, it won two separate Annihilators, one in Extreme 2 and the other in Series 7. This made Kan-Opener the only robot ever to win more than one Annihilator, and to defend its Annihilator title.
Versions of Kan-Opener
Edit
"The Kan-opener concept was thought up by Alistair O'Neal of West Bromwich in the early days of the TV series Robot Wars. Alistair then sought the help of Andy Kane, a hydraulic engineer, for the hydraulic design concept. It soon became apparent that the complimentary skills of Alistair and Andy would be better suited to a team approach and the Kan-opener team was formed to include Andy's son Tom then aged 9."
— Kan-Opener website on the origins of Kan-Opener
In all appearances, Kan-Opener was a yellow robot, heptagonal in its first four versions, with two large horizontal crushing claws with hardened steel tips, driven by a 6.6 ton hydraulic ram, delivering 6.4 tonnes of force and capable of crushing car skins and chassis. It also featured two wet go-kart tyres, making it very quick and agile, and the robot had a total of four sets of jaws, all of which were interchangeable.
Kan-Opener's pincers sometimes posed a problem in that they would get lodged in their opponent's armour hence why Kan-Opener went out in the 1st round in the 7th Wars and lost one of its qualifiers for the 5th Wars despite pitting its opponent.
Kan-Opener A-spec (Series 5)
Edit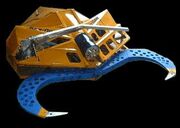 Kan-Opener A-spec, which competed in Series 5, was the only version of Kan-Opener to not be invertible. Instead, it featured a self-righting mechanism in the form of a sideways-opening bar, like that of Hypno-Disc. However, it proved unable to right the robot in battle. The robot's armour was pyramid-shaped, and was filled with holes in order to meet the weight limit. The robot took 18 months to build.
Kan-Opener B-spec (Series 6)
Edit
"The BBC told us they loved the shape of this first Kan-opener as it was good for TV, we decided to scrap it and make a new one that could work just as well up side down, even though we were not happy with a box."
— Kan-Opener website on redesigning Kan-Opener after Series 5.
From Series 6 onwards, Kan-Opener was much flatter and invertible. A battering ram was also added to the back of the machine in Series 6 and the armour was upgraded to Grade 4 titanium as well as having its ground clearance lowered. The Series 6 version took 4 months to build, using most of the internal components from Kan-Opener A-Spec. However, Kan-opener B was a completely different machine to A spec, with a complex hydraulic system, which now featured a double hydraulic pump and associated valves.
Kan-Opener C-spec (Extreme 2)
Edit
"Filmed in the autumn of 2002 it was time for a new Kan-opener, even though Kan-opener B was only three months old. It was decided by the team to de-rate the hydraulic system as we had caused so much damage in friendly fights with the previous Kan-openers. With the help of our hydraulic sponsors "Bosch Rexroth" a new lightweight design was envisaged. Kan-opener C differed from B with making the hydraulic system a much lighter design with the weight saved being put into side armour an increase in thickness from 1mm to 5mm titanium. It was felt by the team that this would give our opponent spinner teams a little more indigestion chewing 5mm thick material."
— Kan-Opener website
Despite looking near-identical to the previous version of Kan-Opener, a brand new version of the machine entered the Annihilator of Extreme 2. Changes included an expanded array of interchangeable claws.
Kan-Opener D-spec (Series 7)
Edit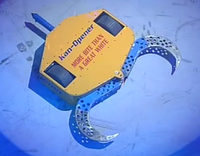 "The major changes on Kan-opener D spec was the wrap around armour with major structural strengthening while saving weight from other parts at the same time."
— Kan-Opener website
Series 7 continued the trend of Team Kan-Opener building a brand-new robot, once again looking much like the previous versions. New internals improved the robot's performance, and more armour was added to the section of the robot housing the pincers.
Kan-Opener J-spec (Series 8)
Edit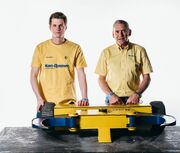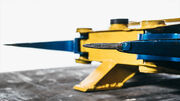 Tom and Andy Kane returned to enter a new version of Kan-Opener into Series 8. This version of Kan-Opener was in fact owned by Jason Marston, but was lent to its original team for the sake of the competition, while Jason entered Thor. The robot now features a much more compact design, being much wider than its length, and features stronger armour than the version of Kan-Opener previously seen on TV. It also has stronger crushing claws, which have 12 tonnes of force at the tip of the pincers, making them the strongest crusher in the history of Robot Wars.
Qualification
Edit
In order to qualify for Series 5, Kan-Opener fought in two battles of the live tour. In its first, Kan-Opener fought veteran robot Arnold A. Terminegger, and emerged victorious. This allowed it to move on to a battle with fellow newcomer 8645T, although Kan-Opener did not win this battle. Regardless, Kan-Opener had done enough to qualify for the Fifth Wars.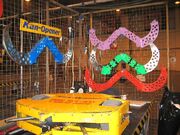 In its Series 6 qualifier, Kan-Opener fought Boudicca, Retribution, and future heat winner 13 Black. Kan-Opener was instrumental in immobilising Retribution in a combined attack with 13 Black, with Kan-Opener being the robot to disable its power circuit. Kan-Opener also landed one of the final blows on Boudicca, which was largely immobilised by 13 Black. This left the two remaining robots to fight alone, but Kan-Opener sustained a huge blow from 13 Black, causing a shard of its titanium to burn up. After this, both robots suffered from radio interference. Kan-Opener was still able to grab 13 Black, but the interference stopped the robots from causing major damage to each other. Although the interference subsided eventually, time expired on the battle, and Mat Irvine was to declare a winner. Although he decided that 13 Black had won the battle, he was also impressed with Kan-Opener's performance, and immediately offered it a place in the Sixth Wars.
Kan-Opener would also successfully qualify for the Seventh Wars after competing in a live qualifier, and qualified for Series 8 through open applications, after the team borrowed their robot from Jason Marston. The team did not return for Series 9 due to work commitments.
Robot History
Edit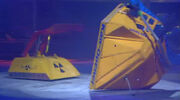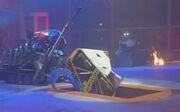 The number 22 seed Atomic 2 was Kan-Opener's opponent in Round 1 of the Fifth Wars. Atomic 2 was very quick to flip over Kan-Opener, which had a self-righting arm fitted with a small glove. This self-righting arm failed to work, but Atomic 2 flipped Kan-Opener back onto its wheels. Kan-Opener was tossed onto its back again by Atomic 2 before it could use its weaponry, and pitted at the end of the battle.
"Kan-Opener gets turned into a tin of beans!"
— Craig Charles, following Kan-Opener's defeat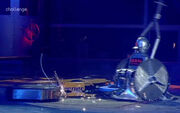 In Round 1 of Series 6, Kan-Opener faced Double Trouble, Demolition Man and Fluffy. It began stronger than in Series 5, hooking its claw around Demolition Man and grappling with the meter high robot, whilst beaching Double Trouble on top of it. However, Fluffy rushed into the fray, slamming and gouging several blows in Kan-Opener's side.
"...and that has opened up a can of worms for those boys..."
— Jonathan Pearce
Kan-Opener lost all mobility, remaining pinned to Demolition Man, but Double Trouble released itself, slamming clean into Kan-Opener's side. Kan-Opener was separated from Demolition Man and counted out, before Double Trouble slammed it into another wall and Sir Killalot put it on the floor flipper. However, Kan-Opener had already done enough damage to Demolition Man to drag it out alongside it.
Extreme 2
Edit
Kan-Opener fought in the Annihilator competition of Robot Wars Extreme Series 2 with Major Tom, Thermidor 2, Typhoon 2, Raging Reality and Revenge of Trouble & Strife. It was flipped around by Raging Reality and Thermidor 2 in the first round and didn't do too much. During an attack from Typhoon 2, the tip of one of Kan-Opener's claws speared the cone spinner, stopping the Air Cadets machine from spinning, and it was unable to start spinning again. After Raging Reality flipped and immobilised Typhoon 2, the remaining five continued on.
In Round 2, Raging Reality broke down after Kan-Opener sank its claws into it. In the next round, Kan-Opener was through once more after Revenge of Trouble and Strife had been flipped and immobilised by Thermidor 2 before Kan-Opener pushed it down the pit. For the fourth round, Kan-Opener's claws had been greased up, so it was one of the more aggressive along robots with Thermidor 2. Major Tom finally dropped out after breaking down and getting severely damaged by the house robots leaving Kan-Opener and Thermidor 2 to go through to the Annihilator final.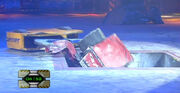 It started off with Thermidor 2 trying to flip Kan-Opener but couldn't due to its large width. Kan-Opener then had Thermidor 2 in its claws trying to get it in the pit with it holding on well, then Kan-Opener grappled with Thermidor 2's wheel but Thermidor 2 got away. The two robots then found themselves in the CPZ getting attacked by Sergeant Bash and Shunt but they escaped. After Thermidor 2 tried flipping it over in a few failed attempts and Kan-Opener buried its claws into the lobster-like machine, Thermidor 2 was beginning to look damaged with holes and scratches spreading all over its armour. As the last 10 seconds of the fight started counting down, Kan-Opener slowly pushed Thermidor 2 towards the pit and with only four seconds to go, Kan-Opener managed to get it down claiming the title and becoming Annihilator champion, while setting the record for the longest bout to not go to a Judges' Decision.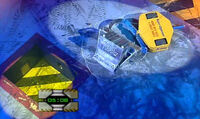 Kan-Opener fought against Barbaric Response, Big Nipper and Grim Reaper in Round 1 of the Seventh Wars. It started its opening round melee by getting its pincers to crush onto Barbaric Response's wheel guards, breaking them and crushing into the wheels. Whilst causing a large amount of damage, it couldn't pry the pincers out of Barbaric Response for the remaining duration of the battle. It edged Barbaric Response towards the pit but couldn't nudge Barbaric Response in, with the remaining time. It is disputed whether Kan-Opener had broken down by this point or whether it was simply unable to push Barbaric Response, it wasn't officially counted out and was included in the Judges' decision, which went against it. Kan-Opener was out in the first round once more.
"Heave, ho! Will it, go? Yes, no! It all goes to the Judges!"
— Jonathan Pearce on Kan-Opener nearly pitting Barbaric Response
After going out of Robot Wars in Round 1 for a 3rd time in a row, Kan-Opener was given the opportunity to defend its title in the Series 7 Annihilator contest along with Ripper, Flippa, Robochicken, Ewe 2 and Raging Knightmare, therefore being the only non-flipper in the Annihilator. The first round, as described by Andy Kane was "5 flippers and 1 crusher." Kan-Opener survived the first round, despite nearly getting flipped out the arena twice. Robochicken had been turned over by Ripper straight away and was unable to recover, allowing Kan-Opener to go through as a result. In spite of this, Kan-Opener collected an also immobile Ewe 2 between its claws, and pushed it into the pit, even though Robochicken was already eliminated.
In the next round, Flippa failed to make it into the arena due to technical problems, putting Kan-Opener through by default. The third round battle started as a result, where Kan-Opener was able to avoid a contest of flippers that eventually resulted in Ewe 2 being stranded on its side. However, despite Ewe 2's immobility, Kan-Opener pierced the thin armour of Raging Knightmare, and dragged it towards the pit. Ewe 2 was already being counted out, when Kan-Opener held Raging Knightmare over the pit. Although Raging Knightmare hung above elimination, Kan-Opener could not free its claws from Raging Knightmare's armour until Ewe 2 had already been counted out. Kan-Opener still dropped Raging Knightmare in the pit regardless, making this the second battle in a row where Kan-Opener pitted a qualifying machine.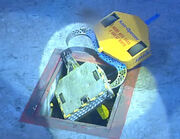 It was perceived by Jonathan Pearce that Kan-Opener's team were very good friends with Team Roaming Robots. As a result, it was unsurprising in the fourth round that Kan-Opener teamed up with Ripper to dispose of Raging Knightmare. Like in the last round, Kan-Opener pierced the armour of Raging Knightmare, creating a huge hole, but struggled to release its prey. Kan-Opener held Raging Knightmare over the pit, and Ripper buffeted the back of Kan-Opener repeatedly to separate the two robots. Kan-Opener and Ripper would then meet in the final.
The Final started off with Ripper getting a series of flips in on Kan-Opener, but Kan-Opener was unharmed due to it being invertible. Ripper then found itself going round in circles and was unable to manoeuvre properly. Kan-Opener tested Ripper's mobility by driving away, proving that it was to become a champion once again. Kan-Opener then crushed in on Ripper's titanium side panels, noticeably bending them, causing Ripper's top armour to come off, all whilst Ripper was being counted out. At this point, Kan-Opener was smoking and could not be freed from Ripper, but as Ripper was immobilised anyway, Kan-Opener claimed the Annihilator title for a second time in a row.
"When you go into the UK championship, you get one chance at it, and you kill. This Annihilator is a different game altogether - it's staying alive that counts"
— The Kan-Opener team explain their robot's differing performances
Kan-Opener appeared in Episode 4. In the first round, Kan-Opener fought Gary Cairns for a second time, drawn against PP3D, as well as newcomers Apollo and Sweeney Todd.
"I just want to see somebody's poor robot being picked off the teeth of your robot!"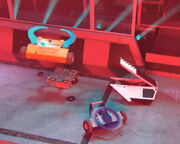 As Kan-Opener had entered the arena directly in front of the pit release button, they immediately reversed and opened the pit. It then targeted the dangerous spinner of PP3D, knocking it away, but Kan-Opener was tossed by Apollo, though Kan-Opener pushed the inverted Apollo in return. Once it grabbed hold of PP3D, it did not let go, driving themselves over the floor flipper, which overturned the locked pair, and the two were only freed when Apollo flipped both at once. Kan-Opener drove back over the floor flipper, and was thrown over by it, but returned to grab PP3D. However, it was at this point that Apollo launched Kan-Opener across the arena, knocking out its safety link upon landing, eliminating it from the competition alongside Sweeney Todd.
KAN-OPENER - RESULTS
Series 5
The Fifth Wars - UK Championship
Heat, Round 1
Heat B, Eliminator
vs. Atomic 2 (22)
Lost
Series 6
The Sixth Wars - UK Championship
Heat, Round 1
Heat F, Round 1
vs. Demolition Man, Double Trouble, Fluffy
Eliminated
Extreme Series 2
Annihilator
Champion
Round 1
vs. Major Tom, Raging Reality,
Revenge of Trouble & Strife, Thermidor 2, Typhoon 2
Qualified
Round 2
vs. Major Tom, Raging Reality,
Revenge of Trouble & Strife, Thermidor 2
Qualified
Round 3
vs. Major Tom, Revenge of Trouble & Strife, Thermidor 2
Qualified
Round 4
vs. Major Tom, Thermidor 2
Qualified
Round 5
vs. Thermidor 2
Won
Series 7
The Seventh Wars - UK Championship
Heat, Round 1
Heat B, Round 1
vs. Barbaric Response, Big Nipper, The Grim Reaper
Eliminated
Annihilator
Champion
Round 1
vs. Ewe 2, Flippa, Raging Knightmare,
Ripper, Robochicken
Qualified
Round 2
vs. Ewe 2, Flippa, Ewe 2,
Raging Knightmare, Ripper
Qualified (by default)
Round 3
vs. Ewe 2, Raging Knightmare, Ripper
Qualified
Round 4
vs. Raging Knightmare, Ripper
Qualified
Round 5
vs. Ripper
Won
Series 8
Series 8 - UK Championship
Round 1
Episode 4, Group Battle
vs. Apollo, PP3D, Sweeney Todd
Eliminated
Wins/Losses
Edit
The second round of The Seventh Wars Annihilator, where Flippa forfeited, is omitted from the Wins tally.
Series Record
Edit
Robot Wars Live Events
Edit
Kan-Opener J-spec debuted at the Robot Wars live event at Portsmouth 2015 where it did reasonably well in the friendly fights. It also participated in the Robot Wars World Championships 2015, held in Colchester. In the first round, Kan-Opener was the last robot left standing - Rybot could not self-right after it was flipped by Maelstrom, the latter breaking down after a combined attack from Kan-Opener and Tough as Nails. Both robots qualified, but Kan-Opener also lodged Tough as Nails in the arena wall, immobilising it. However, Kan-Opener broke down within the opening moments of its second round fight, leaving Gravity and Tiberius to fight alone.
Outside Robot Wars
Edit
At the 2006 UK Championship hosted by Roaming Robots, Kan-Opener famously defeated American success story Sewer Snake. However, it still fell in the group stage after being stranded on the arena wall by Beast, and pitted by Ka-Pow! in a battle where Kan-Opener was otherwise on top.
As of 2012 there have been nine versions of Kan-Opener (taking a letter sequence as opposed to a numerical sequence), with a further two in the build stage. Both of them (G and H) were sold to Team Bud after Team Kan-Opener retired from the event circuit. Tom Kane has also become a member of Team Bud, adding Kan-Opener G and H to Team Bud's armada of robots. Kan Opener G has been kept by Jason (previously a member of Team Bud) and Kan Opener H has been sold to Mario of Team KODOX. In 2015, Jason built Kan-Opener J which was a complete departure from previous models in shape, but still retains the same design concept in being invertible with the crushing jaws. It is also the version that entered Series 8 of Robot Wars.
Kan-Opener H-spec in original shape participated in the Bronebots 2016 competition in Moscow. After this event Marco from VHS-Robots took over Kan-Opener H-spec.
As of February 2017, Kan-Opener J-Spec belongs to John Findlay, joining the fleet of TV robots that Findlay has managed to acquire for the Platinum VIP experience at his Extreme Robots events. Other such robots include Stinger, DTK, Bulldog Breed and The Steel Avenger.
Kan-Opener is one of three robots to win an annihilator after going out in the first round of the UK Championship in which it competed in directly before the annihilator, along with Disc-O-Inferno and Spikasaurus.
Kan-Opener is also one of only two robots to win a UK side competition but never win a battle in the UK Championship, along with Spikasaurus. It was also the only robot to compete in more than one UK Championship.

Interestingly, Kan-Opener Specs D to H all have rounded corners.

Kan-Opener is the only robot from the West Midlands with more combat wins than losses.
Kan-Opener's participation in Series 8 was leaked as early as March 11th, 2016, as it featured in the background of a tweet from Angela Scanlon.
The reason Kan-Opener did not apply for Series 9 was due to Tom Kane's work commitments. Prior to Series 10, Kan-Opener had already been sold on again by Jason Marston to John Findlay, and so it will not compete on the show again.
Kan-Opener was said to be the inspiration for the design of Team Rogue Two Robots' featherweight, Carcinus.
A Kan-opener D2 Spec was built for live circuit fights only, which the team claimed was the most successful at that point (2004)
Kan-Opener was one of eight robots whose silhouette was used as a placeholder when demonstrating the Series 9 episode format. During this demonstration, Kan-Opener qualified for Head-to-Heads by defeating Soldier Ant, Kadeena Machina and Jar (despite it not being possible for only one robot to qualify from a melee). It then defeated Eruption via judges, and then lost to both Terror Turtle and PP3D via knockout, placing last.
External Links
Edit
Ad blocker interference detected!
Wikia is a free-to-use site that makes money from advertising. We have a modified experience for viewers using ad blockers

Wikia is not accessible if you've made further modifications. Remove the custom ad blocker rule(s) and the page will load as expected.