Jonathan Pearce is a British football commentator and the commentator for all UK versions of Robot Wars. He has commentated on every UK series so far, including the reboot and both series of Robot Wars Extreme - the only member of the hosting team to do so.
Robot WarsEdit
"The best thing about his commentary is that it's spontaneous. If it was rehearsed at all, you'd be able to tell."
— Bill Hobbins, speaking about Pearce's commentary in a Robot Wars Magazine article[1]
Although often criticised for his sometimes overly-exuberant approach to football commentary, Pearce's commentary was universally considered better suited for the faster and more hectic pacing typical of Robot Wars battles. He began his initial six-year run as the show's commentator in 1998 and his enthusiasm attracted mainly positive reviews.Citation? Pearce was notable for his enthusiastic and excitable tone, often making witty remarks about a robots' performance or puns based on a team member's occupation or interests. Occasionally, he would burst into laughing fits at especially destructive, surprising or humorous moments, such as Hypno-Disc's decimation of Robogeddon (Series 3), Chaos 2's out-of-the-arena flip on Fire Storm (Series 3) and Apollo's attack on Dead Metal during its Head-to-Head against Storm 2 (Series 8). Pearce's position was never considered to be in doubt, and he served as commentator for all seven series of the original Robot Wars, as well as the revived series and both series of Robot Wars Extreme. He also provided voiceovers and/or commentary for all of the Robot Wars video games except Robot Wars: Metal Mayhem, which had no voiceovers or commentary.
Pearce revealed in a 2016 BBC Radio 5 Live interview that if a hypothetical Robot Wars: The Eighth Wars happened in 2004-2005, he and Craig Charles would not have returned.[2] However, he would reprise his role in the rebooted Series 8, Series 9[3] and Series 10.[4]
Predictions
Edit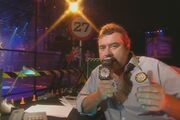 In Extreme 1, Pearce appeared on screen for the first time, usually before the final battle of each episode to give his predictions on what would happen in that battle (except for the two Annihilators and the Flipper Frenzy of Episode 11):
Episode 1 (Challenge Belt - Behemoth vs The Steel Avenger) In his first on-screen appearance on the show, Pearce quickly looked over both robots' prior track records, before declaring the match was too close for him to call.
Episode 2 (Mayhem - Hypno-Disc vs Wheely Big Cheese vs Ming 3) Pearce commented that all three robots had powerful weapons, and predicted a close victory for Hypno-Disc.
Episode 3 (International Inferno - Flensburger Power vs Manta vs Maximill vs Panic Attack) Pearce said that Maximill and Manta looked decent robots while Flensburger Power was the weak link out of the four, but backed Panic Attack to emerge on top.
Episode 4 (Vengeance - Razer vs Pussycat) Pearce predicted that the improvements made to Razer for Extreme would be enough to give it victory, though he did remark that Pussycat had a better track record in competition.
Episode 5 (Armed Forces Face-Off - Anvil vs Mega Hurts vs Rhino) Out of loyalty to his RAF serviceman father, Pearce backed Anvil to emerge on top, but commented that he was expecting good things from the Armed Forces robots.
Episode 6 (Vengeance - Plunderbird 5 vs Sir Chromalot) After summarising both robots' defensive and offensive capabilities, Pearce backed Plunderbird 5 for the victory.
Episode 8 (All-Stars – Stinger vs Pussycat) – While he suggested Stinger as a potential future champion and that it could succeed if its swinging weapon worked properly, Pearce predicted Pussycat would win by attacking Stinger's exposed tyres.
Episode 9 (House Robot Rebellion - Plunderbird 5, Stinger & Scorpion vs Dead Metal & Shunt (& Matilda) - Pearce commented that the three competitor teams were crazy to agree to take part, especially Plunderbird 5 and Scorpion, and that Stinger was the only one who stood any sort of chance of going the distance.
Episode 10 (All-Stars – Pussycat vs Tornado) – Pearce noted Pussycat's track record and cutting blade as its key advantages, but sided with Tornado as he believed that its spinning drum was more destructive.
Episode 12 (All-Stars – Chaos 2 vs Tornado) – Again, Pearce noted Tornado's drum as a potential threat to Chaos 2's chances, but reluctantly backed Chaos 2 anyway.
Episode 13 (Tag Team Terror – Diotoir & Pussycat vs The Steel Avenger & Suicidal Tendencies) – While summarising each team's strengths and weaknesses, Pearce backed The Steel Avenger & Suicidal Tendencies because of their more potent and reliable weapons.
Episode 15 (All-Stars – Razer vs Tornado) – Pearce predicted Razer to win by crushing through Tornado's armour, despite once again highlighting the possibility of Tornado's drum causing damage to Razer.
Guest interviews
Edit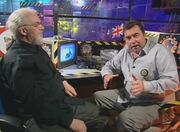 In the heats of Series 6 and all episodes of the second series of Extreme, Pearce would interview various other Robot Wars personalities on their predictions for the final battle of the episode. Whenever Pearce was joined by a current Robot Wars Judge, they would not give a verdict, as they had to remain impartial, but Pearce would still offer his prediction anyway.
Heat A: Pearce was joined by Noel Sharkey to discuss Razer's success and Raging Reality's performance so far. Pearce backed Razer.
Heat B: Pearce was joined by Philippa Forrester. Both Pearce and Forrester backed Firestorm to defeat X-Terminator.
Heat C: Pearce was joined by Craig Charles. Pearce backed Chaos 2, but Charles backed eventual winner Dantomkia.
Heat D: Again joined by Sharkey, Pearce again backed the seeded robot (S3) after Sharkey noted the different types of discs being used (2 horizontal counter rotating discs for Shredder and 1 large vertical disc for S3).
Heat E: Pearce and Charles both outlined Wild Thing's durability throughout its career and both backed it from having more experience.
Heat F: Similar to Heat C, Pearce backed the seeded Stinger, but Charles backed eventual winner 13 Black.
Heat G: Pearce, joined by Martin Smith, discussed the strengths of each robot before backing eventual champion Tornado.
Heat H: Unlike other heats, Pearce was not accompanied by anyone and this time backed Supernova after observing Spawn Again's difficulties throughout the heat. Despite this, another seeded robot made it through.
Heat I: Alone, Pearce said that "with my heart, I'd go with Terrorhurtz but my head says that Panic Attack will have its day". Pearce backed Panic Attack.
Heat J: Pearce was joined by Mat Irvine and noted how damage is the key factor in winning judges' decisions. Pearce then backed Dominator 2. He also added that Dominator 2 would not struggle with this victory.
Heat K: Pearce was once again joined by Philippa Forrester, who explained about Barber-Ous' modifications from the first round. Both Pearce and Forrester backed Hypno-Disc to defeat Barber-Ous 2.
Heat L: Pearce and Martin Smith discussed the battle between Bigger Brother and Disc-O-Inferno, comparing the flipper boom with the rise of the spinning disc. Smith was unable to make a prediction as a judge, but Pearce backed Bigger Brother to defeat Disc-O-Inferno.
Extreme Series 2
Edit
All-Stars - Heat A: Pearce was joined by Noel Sharkey. Sharkey noted that both machines were All-Stars but neither had made it all the way to the end. Sharkey had to remain impartial as a judge but Pearce backed Bigger Brother for no particular reason.
All-Stars - Final: Craig Charles joined Pearce in the box and Charles made an agreement that Razer was controversially defeated in the Sixth Wars because of Tornado's adaptation. Since Firestorm could not do so, both backed Razer to win the All-Stars again.
Annihilator: Derek Foxwell joined Pearce and explained about the repairs the finalists had to go through and how difficult they were. Despite Thermidor 2's success, Pearce backed eventual champion Kan-Opener.
Minor Meltdown: Pearce was joined by Philippa Forrester, who was particularly pleased with Joe and Ellie Watts' teamwork and the fact that none of the young roboteers were having any help. They unanimously voted Bigger Brother to defeat Lambsy.
New Blood - Heat A: Pearce was joined by Derek Foxwell, who had seen all of the New Blood contestants in the auditions, and felt that people did get nervous in the arena. Foxwell thought that Mute was more manoeuvrable but Pearce backed Roobarb.
New Blood - Heat B: Pearce, noting damages sustained by both heat-finalists, was joined by Mat Irvine. Irvine mentioned that both Thor and Edge Hog reminded him of robots from earlier wars. Thor, with its powerful, if inaccurate, hammer, was the robot which Pearce backed.
New Blood - Heat C: Craig Charles joined Pearce to discuss Storm 2 and ICU. Pearce thought that ICU had to work very hard to make it to the final and Charles felt the robot was not up to scratch. Although both felt it was a "Tornado rip-off" and lacked any real weaponry, both backed Storm 2.
New Blood - Heat D: Pearce was joined by Noel Sharkey, who was quick to notice Pressure's five weapons and Cedric Slammer's one and the difference in power. He also suggested that people who competed in New Blood also develop their own robots overtime to learn from experience. Pearce backed Cedric Slammer.
New Blood - Final: Martin Smith joined Pearce in the box. Smith was extremely impressed with Storm 2 and dubbed it as "a work of engineering art". Despite the lack of new design innovations, Pearce backed Storm 2 to win the title.
Challenge Belt Final: Mat Irvine joined Pearce and suggested Terrorhurtz is the most violent of all robots. Irvine noted Tornado's anti-crusher frame and encouraged other competitors to use these if they are legal. Pearce backed Terrorhurtz to win.
Iron Maidens: Pearce, joined by Philippa Forrester, favoured Pussycat, but Forrester, after showing how women drivers are more nervous than men at times because of the amount of damage that might happen to their robots, backed Chompalot.
University Challenge: Noel Sharkey joined Pearce in the commentary box, who thought that it was a very good idea for students to develop a product and bring it into the real world. Even though it lacked in power compared to Razer, Pearce backed Tiberius 3.
Commonwealth Carnage: Pearce was joined by Mat Irvine, who was very impressed by the technology used in Crushtacean's claws but both ultimately backed Firestorm 4.
European Championship: Pearce was joined by Craig Charles, who noted Team Razer's generosity for handing Tornado a place and felt that Razer was immobilised. Charles unsurprisingly backed Tornado as he felt that Philipper 2 was very lucky to reach that stage.
Outside Robot Wars
Edit
Known for his loud, exciteable commentaries, Pearce has worked for both Radio Five Live and Match of the Day, as well as participating in other lower key sports programmes.
Pearce initially wanted to become a footballer, but his career was ended after breaking his leg in 1974. He started his career in broadcasting at BBC Radio Bristol before becoming a Sports Editor at the age of 23. In 1987 he moved to Capital Radio and he launched Capital Gold Sport a year later. Pearce also commentated on a few low-key Premier League games for Sky Sports during the 1992-93 season, before taking up his Five Live and Match of the Day roles.
When Channel 5 was launched in 1997, Pearce was signed as their lead football commentator. Unlike his Robot Wars glory days that were before him, his excitable style of commentary received criticism from some quarters. Despite these setbacks, he joined Five Live in 2002 and was part of their commentary team for the 2002 FIFA World Cup. He went on to present the midweek sports programme Sport on Five from 2003 until 2005 and became a commentator for BBC television on Match of the Day in 2004.
Pearce has commentated on over 150 England internationals, seven FIFA World Cups, seven European Championships and over 20 FA Cup Finals. In 1998, he received heavy criticism from British tabloid The Daily Mail for his exceptionally exuberant commentary during England's 1998 World Cup qualifier against Poland, often cheering his home nation on during the game. Despite the detractors, some praised Pearce on his outstanding ability to pronounce the Polish players' names.
Since joining the BBC Match of the Day team, Pearce has consistently been used for high-profile games, and has been part of their coverage of international tournaments since 2006. He is currently one of the BBC's main commentators, alongside Guy Mowbray, Simon Brotherton and Steve Wilson. He has also appeared in other BBC productions, such as Hole in the Wall and a guest appearance on Doctor Who.
At the time of Series 4, Jonathan Pearce claimed his favourite robot was Diotoir.
"Amy Sproat, and Daniel Parry, don't harry, with Barry! There they go for the ramp but they've only got a ground clearance of 6cm, will that be costly? They've only ever made a cassette rack before, and a key fob, and they're gonna be fobbed off here! ...and they need to get those wheelchair motors moving now, because Matilda's in, and she's hungry for rrrrrrubber! And the pupils from Hagley High, seem to me to be left hanging high, and dry!"
— Barry, Series 1, Heat A, Gauntlet, watching the House Robots gang up on Barry
"The Nemesis boys all want to go into space – AND THEY'RE IN THE AIR! THEY'RE IN THE AIR - AND THEY'RE ON FIRE! GET THE FIRE BRIGADE! Aye, aye, you're in trouble!"
— Nemesis vs Roadblock, Series 1, Heat A, Semi-Final, as Nemesis gets shoved and has its fur torched by Sergeant Bash
"And Killertron's on the run – its piggyback time! They're in underneath Killertron! It's only a question of time, they know it! Killertron, will be in for the big, big flip! They're gonna flip him – noooooo, it's all over! Roadblock the winners!"
— Roadblock vs Killertron, Series 1, Heat A, Final, as Roadblock tips Killertron over
"AH, he's into the sheeps pen, and this could be lambs to the slaughter, because Bash and Shunt are closing in, and it could be roast lamb at that - if the torch comes out, and it does! Lamb keebab!"
— Scrapper, Series 1, Heat B, Gauntlet, as Scrapper is trapped by the House Robots
"Oh, that's not too much of a weapon, is it really... oh, and that is! Look at that Japanese blade, thrusting down! Leighbot?! Pepper pot! You could pour pepper out of that Leighbot machine now! Look at the holes!"
— Mortis vs Leighbot, Series 1, Heat B, Semi-Final, as Mortis uses its tantō blade for the first time
"Tantalising, teetering, tottering, toppling, toppling, Tantrummm, totalled!"
— Tantrum, Series 2, Heat B, Trial, as Dead Metal drags Tantrum into the open pit
"Technophobic... I hope it's not claustrophobic, or arachnophobic! There are spiders down there! It's dark, it's gloomy...and you're going down!"
— Killertron vs Technophobic, Series 2, Heat E, Final, watching Killertron push Technophobic into the pit
"Killalot coming in, but holding the see-saw down! Oh, that's demonic, and that's Evel Knievel!"
— Panic Attack, Series 2, Heat F, Gauntlet, as Panic Attack leaps off the see-saw onto Dead Metal.
"And I think we can have – yes we do! Smoky bacon!"
— Napalm vs Robopig, Series 3, Heat G, Round 2, watching Sir Killalot push Robopig onto the Flame Pit
"Poor old Robogeddon crumpled, by Hypno...D.I.S.C- oh! No more letters in that, never mind."
— Hypno-Disc vs Robogeddon, Series 3, Heat H, Round 1, as Robogeddon gets its armour shredded.
"Oh James of the Stealth team. I do feel sorry for you. No I don't! Go in with the big boys, and you get bashed!!"
— Series 3, Heat H, after the battle between Hypno-Disc and Stealth
"But it's exterminate, exterminate! Judgeshred pushed towards the pit! Judgeshred... PSI, CO2, KO, TTFN, TA-TA FOR NOW! JUDGESHRED, OVER AND OUT!"
— X-Terminator vs Judgeshred, Series 3, Heat K, Round 2, as Judgeshred is pitted
"Plunderstorm? It's not even a shower! Well, the blows are raining down, under a hail of blows from Shunt. It's a cloudy future for Plunderstorm, that's for certain. It's snow joke for them, and the weather forecast, is that the Plunderstorm will be swiftly snuffed out and there will be sunny skies ahead for Thermador."
— Plunderstorm vs Thermador, Series 3, Heat M, Round 1, as the House Robots deal punishment on Plunderstorm
"And Chaos 2-OH-HA-HA-HA-HA-HA, FIREST-HA-HA-HA. What a way to go!"
— Chaos 2 vs Fire Storm, Series 3, Grand Final, Eliminator, reacting to Chaos 2 throwing Fire Storm out of the arena
"Well, Terror Australis, as menacing as a koala bear. And, they've shut up shop, and they're heading back to Ayers Rock, and Mortis didn't have to do a lot, let's be honest."
— Mortis vs Terror Australis, The First World Championship, Eliminator
"Dominator 2, madly flailing away with that axe. Do not try this at home, children, with a toothpick on your brother's favourite model car... wait until Christmas Day and do it then!"
— Dominator 2 vs 101, Series 4, Heat E, Final, as Dominator 2 attacks 101
"Stinger's doing its own thing out there. Like the loony who dances by himself at the disco on a Friday night - you've all seen them, you've all been there... Well I have... I know... That's another point though!"
— Stinger vs Spikasaurus vs Bulldog Breed 2, Series 4, Heat J, Eliminator, watching Stinger spinning madly
"Certainly the message got out from the house robots. In comes Killalot! In comes Killalot. They must have been immobilised, because the house robots can come in. And Killalot. And that's the end of Tiberius, Sam Smith. You are going, you are going, you are gone! Ooh no. You're not. Not yet. You are on the brink though, Sam Smith. Get your machine away if you can. I don't think he can. I think there's no more drive. Matilda, a little shove, a little glance, a little delicate blow. Sam Smith, and Tiberius, you have gone."
— Tiberius vs Little Fly, Series 4, Heat K, Semi-Final, when Tiberius is placed on the pit by Sir Killalot and then flipped in by Matilda and nudged in fully by Shunt
"Headache? I don't think any pills are gonna... make that one feel better!"
— Spawn of Scutter vs Knightmare vs Banshee, Heat L, Eliminator, after Banshee is decapitated by Shunt
"This is Chaos 2 trying to flip Tornado out of the arena - and succeeding! That's what he lives for, George Francis - and again, he's pulled it off! Look at this - in underneath. If you don't first succeed, try, try, try again - out go Tornado in style. Blown out of the arena!"
— Chaos 2 vs Tornado, Series 4, Semi-Final 1, Round 2, as Chaos 2 throws Tornado out of the arena
"Are they in control? We've seen this before from them, when they lost the Tag Team Terror eariler!"
— King B Powerworks vs 101, Extreme 1, Vengeance, when King B Powerworks goes out of control
"Baa baa, burnt sheep!"
— Plunderbird 5 vs Mega Morg, Extreme 1, Vengeance, as Sergeant Bash torches the inflatable sheep on top of Mega Morg
"Oh, err, no, no, this isn't fair! Don't take on Beef-Cake, now you've - aw, you've flipped him over - he's like a little beetle - YOU'VE CRUSHED HIM! Oh no, you've crushed him, Killalot! Oh that is so cruel!"
— RC Warrior vs Beef-Cake, Extreme 1, Featherweight Championship, watching tiny Beef-Cake get attacked by Shunt and Sir Killalot
"Irish eyes are not smiling – in fact, there's only one left!"
— Diotoir vs Flensburger Power vs Razer vs The Revolutionist, The Second World Championship, Heat 3, spotting Diotoir's missing eye as Razer lifts the Irish machine near the Flame Pit
"Out of the arena, out of the Robot Wars galaxy!"
— Wheely Big Cheese vs Axe Awe, Series 5, Heat H, Round 2, during replays of Wheely Big Cheese's record-setting flip on Axe Awe
"Well, if you crush a beetle, it rains and rains and rains, and punishment raining down on Big Nipper now from Razer..."
— Razer vs Big Nipper, Series 5, Heat K, Round 1, as Razer pierces and lifts Big Nipper
"I'll eat Shunt piece by piece if Suicidal Tendencies doesn't get this decision, it caused more damage to Rick all the way through, was the more aggressive machine. This has to go to Suicidal Tendencies. I have my spanner ready, though, just in case..."
— Suicidal Tendencies vs Rick, Series 5, Heat K, Round 1, reviewing the highlights of the aforementioned battle
"...and I tell you what, despite all the damage, Bigger Brother are still fighting on. I wouldn't have minded a Bigger Brother like this... and they've got enough confidence to go for the pit release button, have they? Are they going to... nudge Hypno-Disc onto the pit release - what a fightback! Oh, Hypno-Disc is on the verge of GOING DOWN - WHAT AN UPSET! Bigger Brother have beaten Hypno-Disc! Ellie - look again! Hypno-Disc are out! You've done it - you've won it! What a stunner!"
— Bigger Brother vs Hypno-Disc, Series 5, Grand Final, Eliminator, as a heavily-damaged Bigger Brother pits Hypno-Disc
"The strengths… it's made of plastic, the weaknesses… oh, it's made of plastic. Curious."
— Hypno-Disc vs Granny's Revenge 2 vs 4x4 vs Barber-Ous 2, Series 6, Heat K, Round 1, summarising Barber-Ous 2's stats
"Behemoth's in trouble now. What a great fight. This is a piggyback, piggyback - and down you go!"
— Bigger Brother vs Behemoth, Series 6, Heat L, Round 2, when Bigger Brother throws Behemoth into the pit
"Mr ugly, is Mr. Psycho of course. Mr gruesome, is Mr. Psycho. Mr merciless, is Mr. Psycho. Imagine him as your Uncle. Imagine him as your teacher. Imagine him as the boy next door."
— Spawn Again vs Terrorhurtz, Series 6, Semi-Final 2, Round 1, as Mr Psycho and Dead Metal dispose of the immobilised Spawn Again
"They can't get them down the pit! Look at that, it's an anti-pit device as well!"
— Razer vs Tornado, Series 6, Grand Final, Final, as Tornado's 'anti-crusher' weapon prevents Razer from dropping it into the pit
"Eddy, none too steady, and went to beddy! WAHHHHH! I WANT MY TEDDY!"
— Featherweight Championship, Extreme 2, Robot Rampage, as Eddy Evolution pits itself during a recap of its heat
"Six foot two, eyes of blue. Mr. Psycho's after you."
— Firestorm 4 vs Panic Attack, Extreme 2, Commonwealth Carnage, Round 2
"For me, it's all The Grim Reaper, and the Gyrobot, defensively, erm, now what do you call that tactic? I think it's called… running away!"
— The Grim Reaper vs Gyrobot, Series 7, Heat B, Semi-Final, unimpressed with Gyrobot's lack of aggression
"That's come down with snow on it!"
— Series 7, Featherweight battles, Heat B and Heat P, after G2 and Rampage 2 are sent flying out of the arena by the Floor Flipper
"That's one hammer blow, Mr Psycho managed to hit himself in the head. Ladies and gentlemen, he's not the brainiest, he's not the brightest. Pinser, neither are you. GET OUT OF THE WAY!"
— Pinser vs Cobra vs The Kraken vs Kronic the Wedgehog, Series 7, Heat J, Round 1
"Two electric motorsh, two-cylinder she-O2 shyshtem for the axe, lift, and shrimech, but die wheelsh are exposhed guysh, huh?"
— Spawn Again vs Chip vs NEATer Machine vs Revenge of Trouble & Strife, Heat N, Round 1, summarising NEATer Machine's statistics with a badly exaggerated Dutch accent
"Mr. Psycho has lost... what little brains he had."
— Topbot vs R.O.C.S. vs Raging Knightmare vs The Executioner, Series 7, Heat N, Round 1, when Mr. Psycho's head falls off
"And Raging Knightmare, in no sympathetic mood! Spawn Again... Now you can't sit there all day... That's better, down you go, out."
— Spawn Again vs Raging Knightmare, Series 7, Heat N, Final, Spawn Again balancing on the wall before being flipped out by Raging Knightmare
"Woah, look at that speed for Typhoon 2 now! Listen…listen! The Typhoon is nearing! It is closing! OOOHHH! Momentarily, Atomic was in the eye of the storm, and in the calm, until Typhoon 2 came in!"
— Typhoon 2 vs Atomic, Semi-Final 2, Round 2, as Typhoon 2 slams into an inverted Atomic
"It's the baby of Robot Wars, five weeks old. Bye-bye baby... baby bye-bye!"
— M.R. Speed Squared vs Thor, Series 8, Heat 2, Head-to-Head, as Thor and Dead Metal gang up on M.R. Speed Squared
"Killalot has them slammed. Killalot has them pinned. Killalot has them pinched. Killalot has them raised. He signals to the crowd - will it be thumbs down from the crowd?"
— Dantomkia vs Big Nipper, Series 8, Heat 3, Head-to-Head as Sir Killalot holds Big Nipper aloft with his claw
"Houston, we have a problem with Apollo!"
— Apollo vs Storm 2, Series 8, Heat 4, Head-to-Head, spotting Apollo's drive issues
"Carbide, as a chemical compound, one of the strongest in the world. Carbide, the robot - one of the strongest we've ever seen..."
— Carbide vs Thor, Series 8, Grand Final, Head-to-Head, following Carbide's dominant knockout victory
""Oh yeah, we're safe now – oooh, no we're not!" One moment, [Cherub] thought they were okay and look at that! No wonder Gary [Cairns] thinks this is the most powerful machine he's ever built."
— Cherub vs PP3D, Series 9, Heat 2, Head-to-Head, during replays of PP3D's battle-stopping attack on Cherub
"...but poor Concussion. They're almost out of it, because they're stuck in there. They can't drum up enough power to get away – they can! OH! They flip Thor with the mighty power of the drum! What a turn up, what a turn up!"
— Thor vs Concussion, Series 9, Heat 3, Head-to-Head, as Concussion flips Thor over despite getting stuck on the lowered pit
"Aftershock have gone into the arena with sticky-back plastic tape. Are you sure?"
— Aftershock vs Ironside3, Series 9, Grand Final, Head-to-Head, expressing disbelief at Team Shock's decision to hold Aftershock's armour panels together with gaffer tape
"Apollo are down! Apollo are down! Splashdown, Apollo! Behemoth, the greatest moment in twenty years! Twenty years of hurt and grief, end with huge celebrations, and frustration for Apollo."
— Apollo vs Behemoth, Series 10, Heat 1, Final, as Behemoth famously pits Apollo for its first heat win since Series 2
"Carbide have never had to work anything like this! This is sensational stuff – this is the 91st Wonder of the World!"
— Big Nipper vs Carbide vs Gabriel 2, Series 10, Heat 2, Group Battle, as Carbide sustains an attack from Shunt during its tussle with Gabriel 2
"There's no more gas in Bucky; no more nip in those gnashers! It won't matter, though, I think – are they going to be saved by the bell?"
— Bucky the Robot vs Rapid vs Track-tion, Series 10, Heat 3, Group Battle, as Bucky the Robot survives to a Judges' decision despite getting flipped and running out of CO2 to self-right
"What am I hearing? I'm hearing Mangetar's death drum whirring up! Oh, what a powerful onslaught! Ellis used that Fog of War brilliantly to get his weapon up to speed, his lethal drum catapulting Expulsion right onto that flipper..."
— Magnetar vs Expulsion, Series 10, Heat 4, Semi-Final, as Magnetar throws Expulsion into somersaults with its drum
"It's time for the biggest battle in Robot Wars history. If I don't survive this, tell my wives - all 162 of them - I love them! It's battle time!"
— 10 Robot Rumble, Series 10, Grand Final, prior to the start of the Rumble
References
Edit
Personalities
Presenters
Pit Reporters
Commentators
Judges

Noel Sharkey

(

Series 1

-

10

,

Extreme 1

-

2

,

US 1

-

2

,

Nickelodeon

,

Dutch 1

-

2

,

German

) •

Eric Dickinson

(

Series 1

-

2

) •

Adam Harper

(

Series 1

-

3

) •

Martin Smith

(

Series 3

-

7

,

Extreme 1

-

2

,

US 1

-

2

,

Nickelodeon

,

Dutch 1

-

2

,

German

) •

Myra Wilson

(

Series 4

-

5

) •

Mat Irvine

(

Series 5

-

7

,

Extreme 1

-

2

,

US 1

-

2

,

Nickelodeon

,

Dutch 1

-

2

,

German

) •

Sethu Vijayakumar

(

Series 8

-

10

) •

Lucy Rogers

(

Series 8

-

10

)

Other