Jaws
Talk

0
1,514pages on
this wiki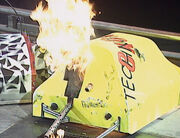 Jaws are gripping weapons that function similarly to pincers. The best true jaw-wielding robot would statistically be Pitbull from the Third Wars, or three time heat finalist S.M.I.D.S.Y.
Definition
Edit
Jaws function in the same way as pincers, except that they are usually not designed to be capable of damaging the opponent, more as clamping.
Advantages and Disadvantages
Edit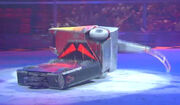 Advantages
Their strength is that they can easily have multiple purposes, like doubling up as lifting weapons, with Lambsy and S.M.I.D.S.Y. as examples.
They can also facilitate pushing other robots around by keeping the foe's wheels off the ground while clamped onto the opponent.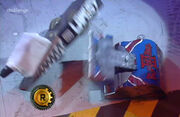 Of all clamping weapons, they restrict movement the best, as was shown in the bout between Pitbull and Fire Storm. Despite being bounced by the arena spike, Pitbull managed to continue its hold on Fire Storm.
Disadvantages
On the other hand, their weakness is that they are not designed to cause as much damage to the opponent as the other types of gripping weaponry. This also makes it very difficult for jaws to score on damage points. This is shown in General Chompsalot's combat record.
Being narrow for the most part, jaws have a limited degree of attack and are nearly always at the mercy of high power flipping weapons, as S.M.I.D.S.Y.'s loss to Chaos 2 and Lambsy's defeats to Bulldog Breed and Bigger Brother demonstrate.
List of Robots with Jaws
Edit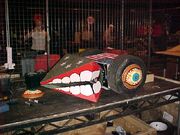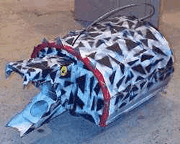 Robots are listed alphabetically. Robots that are not heavyweight are listed with a green background. House robots are listed with a red background.
| Robot | Series Appearences with Jaws | Notes |
| --- | --- | --- |
| Crocodilatron | Series 3 | |
| Cerberus | Extreme 1-2 | Used a spike to clamp opponents against its head. This design was made for Series 4, but weight constraints prevented the head from being used. |
| Draven | Extreme 1 | Mounted on lifting arm. |
| General Chompsalot | US Season 1-2 | Very successful, but tended to always finish second. |
| Growler | Series 6-7, Extreme 2 | |
| Lambsy | Series 5, Extreme 2 | Jaws were also used as a flipper. |
| Pitbull | Series 3 | Reached the series semi-finals of Series 3, therefore being the only robot with a jaw weapon to reach the semi finals. |
| Reactor 2 | Series 5 | Main function was as a flipper, nicknamed a "flamp". |
| S.M.I.D.S.Y. | Series 3-5, Extreme 1 | Replaced with a lifting shovel in later wars. |
| Sobek | US Season 1 | |
| Wowot | Series 5 | Jaws were mounted on a vertical arm, and could function as a vertical crusher. |

This Robot Wars related article is a stub. You can help Robot Wars Wiki by expanding it.