"... and beyond they'll hope with this powerful pusher"
Infinity was a competitor in the sixth series of Robot Wars and Series 2 of Robot Wars Extreme, entered by students from the University of Wales, Aberystwyth (now Aberystwyth University).
"About 1 B.I (one month before Infinity), a meeting was organised. The flyer that got me interested read: "Interested in entering Robot Wars?? Then meet @ 1:30 in the honours lab. Steve." 46 (!!) people showed up ... funny how this has dropped to 6 as time has gone on. Anyway, at this initial meeting, we were split into 2 groups: one to discuss chassis and shell design and shape (containing Dave and Matt), the other to brainstorm weaponry (containing me (hehe…) and Ed). After 45 minutes of serious head scratching, the initial plans for Infinity started to take shape."
— Carl Bater on the Team Infinity website
Although it went out early in the main series, it finished second in the University Challenge of Extreme Series 2, losing in the final to Tiberius.
Infinity was a blue invertible box robot with clutching claws and diamond tipped spikes as its weapon and could run both ways up. It had strong armour, was fast and manoeuvrable but the wheels were exposed and the team lacked experience. The claws lacked crushing power and they could be buckled with relative ease, but effectively grappled with robots.
Robot History
Edit
Despite avoiding any seeded robots in the first round, Infinity still found itself in the middle of an unlucky draw, as it would be facing the frightening newcomer, 259, alongside Infernal Contraption, another robot to represent a university in Robot Wars, and former Heat Finalist Aggrobot 3.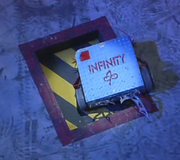 To begin with, it ran over the top of Aggrobot 3 before charging Infernal Contraption from the side, but sure enough, one blow from 259 ruptured the pincers of Infinity. Infinity had not sustained any major bodily damage before it spun away from 259 and pressed the pit release. In spite of its action, Infinity then reversed into the descending pit, eliminating it from the competition. Infinity was later followed in the pit by Infernal Contraption, but not before it had taken considerably more damage than Infinity did.
Extreme 2
Edit
Philippa Forrester: "Now how strong are these claws?"
Carl Bater: "Umm, we're not sure. We'll find out in a minute I think."
Philippa Forrester: "Is that strong enough to get through 15mm steel?"
Carl Bater: "Probably not... we might scratch it."
— Worries about Infinity's weaponry
Infinity returned to the warzone, where it represented the University of Wales in the University Challenge. In Round 1 it faced two experienced robots in the form of Tiberius 3 and Fluffy. Infinity was quick off the mark and rammed Tiberius, but bounced off its rounded shape. Fluffy then attacked Tiberius and Infinity pushed Fluffy into Tiberius' claw range, but it escaped. In doing so one of Infinity's wheel guards was ripped away. Tiberius caught Fluffy and crushed into it, whilst Infinity repeatedly drove into Tiberius. Fluffy couldn't escape and it seemed that Tiberius wasn't able to let go, so Tiberius just dragged Fluffy around the arena, whilst Infinity kept up its attacks. Growler then activated the pit, with all three robots very close to it. Infinity was left over the edge of the pit, but Tiberius in attempting to drop Fluffy down it managed to free the Welsh robot and Fluffy fell into the pit, dragging Tiberius 3 with it.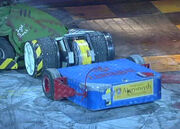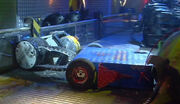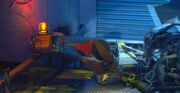 In the second Round Infinity met Infernal Contraption, one of the robots it fought in Series 6. At the start of the battle neither robot could get their weapons into play, but then Infernal Contraption landed on top of Infinity's pincers and Infinity rammed Infernal Contraption into the arena wall. Infinity then pushed Infernal Contraption into Sergeant Bash. Infinity continued to shove Infernal Contraption around, but then Infernal Contraption finally hit Infinity with its spinning drum and buckled the pincers of Infinity. Both robots drove into a CPZ and Sir Killalot came over and picked up Infinity. Sir Killalot then spun around with Infinity and released it. Infinity went straight back on the attack and rammed Infernal Contraption into the wall again. Infernal Contraption then slowed down a lot and just escaped Sir Killalot. Both robots were looking worn out and the battle went to the judges, who decided that Infinity was the winner.
Infinity then faced Tiberius 3 again in the final.
"We know that Infinity can push for Wales, very dogged and determined."
— Jonathan Pearce talks of Infinity's main strength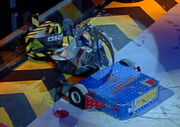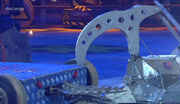 Infinity immediately had problems as Tiberius' shape hampered Infinity's pushing power. Tiberius managed to grab hold of Infinity, but there wasn't enough pressure behind its weapons, so it merely grazed Infinity, who then pushed back Tiberius and into a grinder. Both robots then chased each other around the arena, until Tiberius gripped Infinity. Again it couldn't do any damage, so it pushed Infinity onto the flame pit. Infinity tried to push back, but couldn't gain and purchase on the arena floor. Tiberius then crushed in between Infinity's tyre and chassis, but didn't do any visible damage. Eventually the match went to the judges, who decided that Tiberius 3 was the University Challenge Champion.
Wins/Losses
Edit
Series Record
Edit
Outside Robot Wars
Edit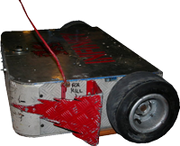 Although Infinity and its team did not compete in the spin-off show Techno Games, the robot did make a cameo appearance in the 2003 series. As part of the show's features about robotics, Episode 5 showed a robotics demonstration at The Learning Lightor in Liverpool. Infinity was only briefly shown arriving at the event, along with Razer.
Infinity came out of retirement to compete in the 2007 UK Championships, falling in the group stages to Terrorhurtz. As of 2017, it is still in the possession of Aberystwyth University, and has received modifications such as inside wheels and a cutting disc with the hope of returning for a potential future series of Robot Wars.[1]
Robot Wars Live Events
Edit
In 2014, Steve Fearn along with Cai Langstaff and David Martin, entered a featherweight version of Infinity at the Robot Wars Newport event. It initially differed from its heavyweight counterpart by featuring its wheels inside the robot, and uses a front wedge for weaponry, painted white overall.
References
Edit
External Links
Edit