Immortalis was Team Death's entry into Series 5 of Robot Wars. It lost in the first round of its heat after losing to 14th seeds X-Terminator.
Immortalis failed to qualify for Series 6, after losing its melee that involved Ming 3, Revolution 2 and winners of the battle The Hassocks Hog.
Immortalis was an cylindrical-shaped robot with weaponry at the front, rear and top of it. At the front, it had a pneumatic three-sided plough and a ghastly face with a spike coming out of the forehead. At the rear, it had a firefly's tail, two pneumatic high impact spikes and a concrete-slicing saw. It also had spikes affixed to the top portion of its cylindrical body.
Most of Immortalis' components were recycled; according to the Robot Wars Magazine, the drive came from a disused bumper car, the hydraulics came from a bus as well as steering wheels, and a dustbin formed the main body. All of the recycled parts meant that the robot cost under £100 to build.
Qualification
Edit
At the Series 5 qualifiers, Immortalis fought S.M.I.D.S.Y., Tridentate (under the name Trident- not to be confused with the Series 3 semi-finalist Trident), and Viking. It suffered control problems and lost the battle to Viking, but was given a discretionary place regardless.
Immortalis returned for the Series 6 qualifiers. It fought Ming 3, Revolution 2 and The Hassocks Hog. It broke down, and consequently failed to qualify. [2]
Robot History
Edit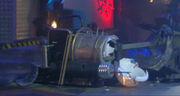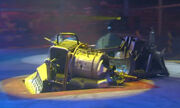 Immortalis faced the 14th seeds X-Terminator. After a sluggish start from Immortalis, the seeded machine moved in and hit Team Death's entry a few times with its axe. After one hit, the axe was stuck in Immortalis and as it drove backwards, the seeds retracted their axe and flipped themselves over, stopping them both. After being freed by Refbot, Immortalis tried to escape, but ran into the house robots. An axe blow from Shunt onto the globe on the back immobilised Immortalis, so it was counted out and eliminated, before being pushed down the pit by Shunt.
IMMORTALIS - RESULTS
Series 5
The Fifth Wars - UK Championship
Heats, Round 1
Heat F, Round 1
vs. X-Terminator (14)
Lost
Wins/Losses
Edit
Series Record
Edit
Although Team Death did not enter Series 8, Colin Scott's creation, Chimera, competed under ownership of a new team, who also entered Chimera2 into Series 9.
Outside Robot Wars
Edit
Immortalis also competed in the Football competition at Techno Games as Celestial Terror. It teamed up with Smash and Grab, a robot entered by Tantrum's team.
References
Edit
Ad blocker interference detected!
Wikia is a free-to-use site that makes money from advertising. We have a modified experience for viewers using ad blockers

Wikia is not accessible if you've made further modifications. Remove the custom ad blocker rule(s) and the page will load as expected.