"We have the big teeth that hit hard!"
— Team Duct Tape in preparation for the Tag Team battle
Hyperactive was a robot and second entry of Team Duct Tape competing in the Tag Team Terror and Annihilator of Extreme Warriors: Season 2, but losing in the first and second round of those competitions respectively.
Hyperactive is essentially a modification of the first version of Unibite. The main difference is that its flywheel is now mounted vertically as opposed to horizontally. Though its weaponry proved to be potent, the weapon chain and axle were exposed as shown when its weapon collided with Cyclone's.
Robot History
Edit
Hyperactive's partner for the Tag Team Terror competition was Mechadroid, and they were against General Chompsalot 2 and The Termite. Mechadroid and General Chompsalot tried to clamp onto each other with their gripping weapons, before Hyperactive attacked The Termite, tearing chunks off its opponent. General Chompsalot 2 switched its attention to Hyperactive and shoved it into the arena wall while clamping onto the right hand side of Hyperactive. Hyperactive was pushed into the pit by General Chompsalot, who in turn was pitted by Mechadroid. Mechadroid drove into the pit as well, handing victory to The Termite and General Chompsalot 2.
"A virtual game of follow the leader"
— Mick Foley on the pit pile-up in the Tag Team Terror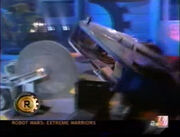 Hyperactive also competed in the Annihilator. It used its disc to send the lightweight Thor's Hammer flying into the air, immobilizing them before Cyclone tossed Thor's Hammer out of the arena, allowing it to go through. In round 2, Hyperactive struck The Termite with its disc and then collided with Cyclone's disc, ripping Hyperactive's own disc off. Cyclone proceeded to rip off pieces of Hyperactive's armor before flipping it against the arena wall. After several more hits, Cyclone tossed Hyperactive over the wall and out of the arena.
Wins & Losses
Edit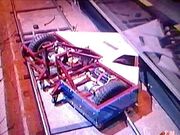 Series Record
Edit
Outside Robot Wars
Edit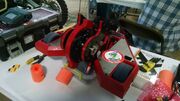 12 years after its fight against Cyclone 2, Hyperactive returned in 2014 as a featherweight at the Motorama event in February. It lost its first fight to Gloomy however after bursting into flames spectacularly. Jerome Miles managed to fix Hyperactive though as it fought again the same day, only to lose after being flipped.
It returned in a rebuilt form (so the disc mount will adjust if it is flipped) at Motorama in February 2015 where it beat Gloomy, the robot that caused it to burst into flames, as well as beating a robot called General Lee after tearing its front open. However it lost to both The Magnificent Poncho and Whammo on judges' decisions.
Jerome Miles later fought in the 2016 series of BattleBots with Red Devil which beat Wrecks and Witch Doctor before losing to eventful runner up Bombshell in the round of 16.
Like Thor's Hammer, Hyperactive is one of only two robots flipped out of the arena during an annihilator.
The Termite was involved in all of Hyperactive's battles.
Ad blocker interference detected!
Wikia is a free-to-use site that makes money from advertising. We have a modified experience for viewers using ad blockers

Wikia is not accessible if you've made further modifications. Remove the custom ad blocker rule(s) and the page will load as expected.