For the robot built by The Sylvan Lake Robot Warriors, see Joker.
Humdrum was a loanerbot that appeared in Season 1 of Robot Wars: Extreme Warriors and Nickelodeon Robot Wars. In Extreme Warriors, it was known as Joker and lent to the Sylvan Lake Robot Warriors team after their robot, also called Joker, was lost in transit to England before filming began. It won one battle in the Extreme Warriors War of Independence against regular UK competitor Spawn Again, but lost in the second round. Under its original name, Humdrum also competed in the Nickelodeon Robot Rebellion, operated by Team Robot Dojo, but lost after it and Squirmin Vermin were destroyed by the House Robots.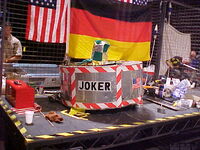 Humdrum was a tall, silver full-bodied spinner armed with two maces and decorated in hazard stripes along its sides. In Extreme Warriors Season 1, it was decorated in red and white hazard tape and stickers with the American flag and its alternate name, Joker, all around its body, which was replaced in Nickelodeon Robot Wars with several pictures depicting a juggling jester.
Robot History
Edit
In Extreme Warriors, Humdrum was referred to as Joker, the name of the robot that the team had originally intended to enter with.
Joker competed in the Tag Team Terror alongside Falcon. In the first round, they faced General Chompsalot and Run Away. Falcon started with General Chompsalot. Both robots quickly tagged the others and Joker attacked Run Away, but then the wedge shaped machine got under Joker's full-body spinner and lifted it up. General Chompsalot came in without being tagged and lifted Joker onto the Flame Pit. Strangely, Falcon didn't come out to help Joker. Dead Metal rescued Joker from the flames and Run Away pressed the pit release button. Sir Killalot suddenly picked up Run Away without reason and carried it around the arena , leaving it on the Floor Flipper where it was flipped back onto its wheels. Cease was called after this, with the Judges putting General Chompsalot and Run Away through due to Sir Killalot's unfair intervention.
In the third place playoff, Joker and Falcon faced Tricerabot and Rosie the Riveter. Here, Falcon and Rosie the Riveter started. The two robots clashed, then Joker and Tricerabot came out of their CPZs to join them. Team Juggerbot's robots attacked Falcon, and Joker was only able to inflict more damage to its teammate by hitting Falcon with its maces. Joker then lost its ability to spin, and it and Falcon were constantly shoved around by the opposing team. Joker and Falcon were both immobilized after this brutal assault. Sergeant Bash set Tricerabot on fire, but it was able to pit both Falcon and Joker (and itself in the process), although the latter had already been counted out.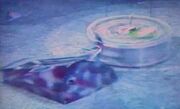 Joker was also one of the four robots representing the US in the War of Independence event. First, it faced Spawn Again, a UK robot with a flipper. However, Spawn Again was suffering from a faulty kill switch, meaning that just one attack from Joker immobilized it. This was Joker/Humdrum's only victory in five battles. This was also the Sylvan Lake Robot Warriors' only ever victory in any series of Robot Wars.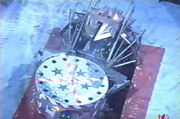 In the second round, Joker faced General Chompsalot once again. General Chompsalot straight away went for Joker and tore off one of its maces, then shoved it around the arena. The robots exchanged blows for a while, before Joker activated the pit release button, only to drive straight into Dead Metal's CPZ. Dead Metal proceeded to attack Joker, before both robots ended up getting stuck over the Pit, only for the Pit to be raised back up. After escaping, Joker was grabbed by General Chompasalot who very nearly pitted it, but failed to push it down. Cease was called with Joker smoking, and the judges put General Chompsalot through.
Nickelodeon
Edit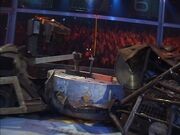 Under its original name, Humdrum participated in the Robot Rebellion, where it fought House Robots Shunt and Dead Metal alongside fellow loanerbot Squirmin Vermin. Humdrum got its full-body spinner up to speed, ricocheting off Shunt when the House Robot approached it. However, Humdrum had trouble getting its weapon spinning again, and Shunt punctured its top armor. Shunt then hit the pit release button, and pushed Humdrum around the arena. Dead Metal grabbed Humdrum with his pincers, easily slicing through Humdrum's body several times with his saw. Sir Killalot then entered the arena, dumping Squirmin Vermin out of the arena before picking up the immobilized Humdrum and crumpling its shell. Humdrum was finally put on the Drop Zone, where it had a pile of scrap metal dropped onto it.
Wins/Losses
Edit
Ad blocker interference detected!
Wikia is a free-to-use site that makes money from advertising. We have a modified experience for viewers using ad blockers

Wikia is not accessible if you've made further modifications. Remove the custom ad blocker rule(s) and the page will load as expected.