Hot Pants was a robot that competed exclusively in Series 6 of Robot Wars, one of many robots entered by Team Panda.
Pete Collier and Steve Bracewell went into their Series 6 Heat wearing large wigs and very outlandish and colourful shirts.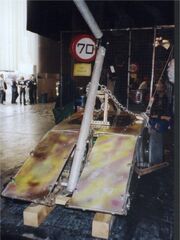 Hot Pants was a box-wedge shaped robot with a top-speed of 15mph. Its weapon was a pneumatic axe which had a silver bauble underneath that Philippa Forester complimented with particular enthusiasm. However, the robot proved to be unreliable, with a lack of damage output, and its two wheels were exposed.
Qualification
Edit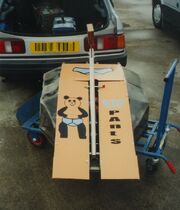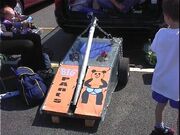 The robot had previously failed to qualify for Series 4 and 5 under the name Big Pants. At the Series 4 Qualifiers, it maintained a fair stalemate with Edge Hog in its one qualifier battle, the producers had their doubts about the reliability of Big Pants, so they rejected it from entering the main competition. Edge Hog also failed to qualify for the main competition.
Robot History
Edit
In Heat H of the Sixth Wars, Hot Pants was drawn against Ming 3, The Hassocks Hog and Spam in its first round melee. The battle started fairly quickly with Spam charging around the arena. Hot Pants spun away from a charge from Ming 3 and then managed to axe one of The Hassocks Hog's fluffy ears, but its axe caused little to no damage at all, and also became stuck in the down position. Hot Pants then seemed to break down and pushed around the arena by Spam. Ming 3 then crushed into the insides of Hot Pants, doing some damage, and pulled it over to the flame pit. Hot Pants was then counted out by Refbot, eliminating it from the competition, before being pushed into the pit by House Robot Sergeant Bash. Hot Pants was immediately followed by Spam, however, the judges believed that The Hassocks Hog was immobilised for longer, so Spam survived to go through to the second round of the heat along with the impressive Ming 3.
After the battle, it was found that Hot Pants' power key had fallen out, thus immobilising the robot.
Wins/Losses
Edit
Series Record
Edit
Outside Robot Wars
Edit
After Series 6, Hot Pants fought at a live event in Worthing in December 2002, where it was destroyed by Terrorhurtz and 13 Black. This prompted the team to retire the robot and replace it with Thunderpants.
Coincidentally, the other robot to lose in Hot Pants' only fight, The Hassocks Hog, was also from West Sussex and also had pants painted on the machine.
Hot Pants was the first heavyweight robot from Team Panda to appear on the televised show since the Second Wars, but the first robot from Team Panda to qualify without coming in as a reserve, which Panda Monium did.

Jonathan Pearce mistakenly claimed Team Panda's previous televised appearance as took place in the Third Wars.
Ad blocker interference detected!
Wikia is a free-to-use site that makes money from advertising. We have a modified experience for viewers using ad blockers

Wikia is not accessible if you've made further modifications. Remove the custom ad blocker rule(s) and the page will load as expected.