Heavy rotating blades
Talk

0
1,514pages on
this wiki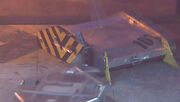 Heavy rotating blades are a type of rotating weapon. They refer to any rotating weapon that consists of a thick spinning arm, sometimes with with hammers or blades on the ends. Just like flywheels are the heavier version of cutting discs, heavy rotating blades are the the bigger version of Lawnmower blades - the distinction between the two is that lawnmower blades cut and scratch whilst heavy rotating blades gouge, tear, and concuss other robots. The heavy rotating blade design is very versatile, it can be mounted horizontally or vertically, and can be designed for piercing or hammering.
Definition
Edit
Heavy rotating blades could be in any shape or form, such as bars or triangles. A weapon falls into this category if it aims to knock internals loose or rip armour, and is shaped like a propeller blade rather than a disc.
Advantages and Disadvantages
Edit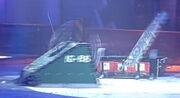 Advantages
They were often very powerful and destructive, capable of tearing huge pieces off robots and knocking internals loose.
Their shape provided the wielder with a good reach and a large attack zone.
Disadvantages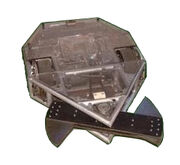 They drained batteries quickly, as they required a lot of energy. Zorro showed this.
List of robots with Heavy rotating blades
Edit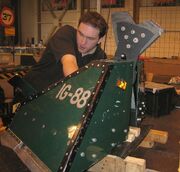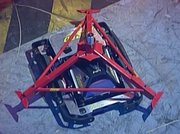 Robots are listed alphabetically. Robots that aren't heavyweight are listed with a green background.