Hamburg Dockyard
Talk

0
1,514pages on
this wiki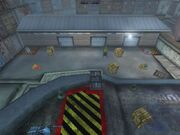 "Here in a corner of the Hamburg Dockyard the robots fight it out - the action in this impromptu arena is hard and fast, and you'll need all your wits about you to survive. Be careful of falling into the water, or being pushed into the ship's hold."
— In-game Description
The Dockyard is an arena in Robot Wars: Arenas of Destruction. It is set in Hamburg, Germany and is unlocked after the player gets 8000 credits.
Appearance and Hazards
Edit
The arena is made up of an L-shaped portion of the Dockyard with a Cargo Ship docked at it. On the largest portion of the arena, there are several boxes and a forklift that can be pushed around, as well as two CPZs, guarded by Dead Metal and Matilda.
The other section doesn't start off with anything other than Shunt's large CPZ, but it is very close to the edge of the Dock, making it a good spot for pushing opponents off and into the sea, which instantly eliminates any robot that falls in.
Both ramps to the Cargo Ship are on the larger section of the Dock- one is guarded by Dead Metal, the other is near the corner of the Dock, hazardous due to its lack of guardrails and its close proximity to the edge, making it all too easy to slip off and fall into the water below.
The deck of the Ship acts as a larger fighting area for the arena, its main features being Sir Killalot's large CPZ on the bow, and the Cargo Hold (filled with fish) near the stern- this starts off closed and is only opened when a robot drives over it, giving a few seconds' warning as it does so. When opened, the Cargo Hold acts like a massive Pit, and much like falling into the sea, getting forced into it will instantly eliminate any robot that falls in.