"4-wheel driven machine, a double acting morning star axe, they tell me, a flipper, but very slow at 7mph and light, too, at just 88kgs."
Guzunderbot was a robot built by the "Family at War" and competed in Series 5 of Robot Wars. It lost in its only battle against veterans General Carnage.
"Guzunder" is British slang for "chamber pot", although it was named as its wedge shape means it 'guzunder' (goes under) other robots.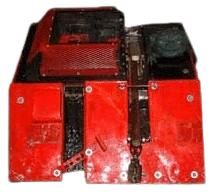 Guzunderbot was a double wedge shaped, four-wheel driven robot armed with a small flipping arm and a morning star shaped axe. However, it was slow at 7mph and lightweight at 88kg. The mascot on top of Guzunderbot could possibly be a 'Boglin', a toy line that ran from the 80's to the early 2000's.
Robot History
Edit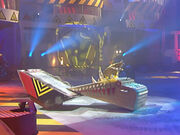 Guzunderbot's only battle, against General Carnage 2, was over very quickly in the televised edit, as both robots dodged each other for a few moments, but then General Carnage flipped Guzunderbot. The flip did not topple Guzunderbot, but the second flip rolled it over and onto its back. Guzunderbot attempted to self-right, but couldn't move more than a few centimetres.
"Peter Ellis, a train driver by profession, needs to get Guzunderbot back on the rails..."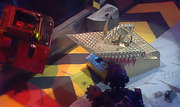 As Refbot moved forward, General Carnage finished it off, flipping it out of the arena.
"...No chance! You're over and out Mr. Ellis! The signal, green for go for General Carnage!"
— Jonathan Pearce
GUZUNDERBOT - RESULTS
Series 5
The Fifth Wars - UK Championship
Heats, Round 1
Heat C, Round 1
vs. General Carnage 2
Lost
Wins/Losses
Edit
Series Record
Edit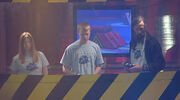 Guzunderbot was the only newcomer in Heat C of Series 5, and the only robot not to appear in any other series.
Ad blocker interference detected!
Wikia is a free-to-use site that makes money from advertising. We have a modified experience for viewers using ad blockers

Wikia is not accessible if you've made further modifications. Remove the custom ad blocker rule(s) and the page will load as expected.