"Grunt is definitely lean, mean and deadly keen."
— Jonathan Pearce
Grunt
was a robot that competed in the first series of
Robot Wars
.
Grunt was, in fact, not a real competitor robot, but rather one of three robots supplied by the Robot Wars team in order to make up the numbers, as only 33 true contenders had taken part (the other two being WYSIWYG and Eubank the Mouse). Grunt was in fact driven by the son of Robot Wars judge Eric Dickinson, and had been created by technical consultant Derek Foxwell.
As a direct result from this, Grunt was not permitted to pass through the Trial stage. Thereby, after completing the Gauntlet in the second fastest time, it drove straight off the Sumo platform in the Trial. This made it, along with the other Stock Robots very unpopular with others teams, particularly Barry, who was eliminated in the Gauntlet and denied the opportunity to test its strengths in the Sumo.
"We were kicking ourselves. It would have been easy for Barry; no problem. When it came to Grunt's turn (watch out for this on TV) he drove straight off the edge. Why couldn't he have fallen in the Gauntlet so at least we would have been given the chance to show up the house robot, Shunt?"
— Daniel Parry of Team Power, on Grunt's exit
Originally, two identical versions of Grunt were built, both of which took part in the 1995 UK Open Competition. At various stages throughout the competition, each version fought fellow Stock Robot Eubank the Mouse as well as established US Robot Wars competitors The Master and La Machine.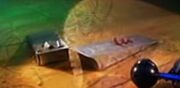 Grunt was a relatively long, thin wedge shaped robot design to look like a battleship with no weapons of which to speak of. It was also very fast for its size at 15mph, and had a novelty lightbulb on top.
Robot History
Edit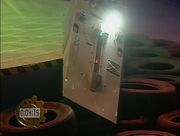 Grunt started very quickly speeding past the house robots in the gauntlet and reaching the end zone. In the Trial, which was Sumo Basho, Grunt drove around Shunt, but then drove off the edge of the ring, thus eliminating it, much to the distaste of the Barry team, whose robot had lost to Grunt, as they felt it would have done better in the sumo.
"Not so nice, over in a trice! And Grunt goes in spectacular style."
— Jonathan Pearce
GRUNT - RESULTS
Series 1
The First Wars - UK Championship
Heat, Trial
Heat A, Gauntlet
Completed (2nd)
Qualified
Heat A, Trial (Sumo)
4.15 seconds (5th)
Eliminated
Series Record
Edit
For some reason, Grunt was listed as a heavyweight, despite being a middleweight.
Grunt is the only one of the Series 1 Stock Robots not to later be associated with a team, although it had previously competed in the 1995 UK Open.
Grunt is one of 20 robots never to fight in robot combat, having only ever been in the Gauntlet or Trial.
Grunt is one of 23 robots to have completed The Gauntlet, and was the first non-heavyweight and first weaponless robot to do so.