"All I wanted to do this time was take over a House Robot!"
— An elated Oliver Steeples upon winning the Internet Insurrection
Griffon was a robot that competed in Series 2 and 3 of Robot Wars. The heavyweight successor to Grand Finalist Cunning Plan, it was reminiscent of famous Battlebots contender Biohazard. Despite performing poorly in the main competition - falling in the Gauntlet in Series 2 and swiftly pitted in only ten seconds by Cerberus in Series 3 - Griffon was most memorable for its victory of the special Internet Insurrection in Series 2, during which it overturned house robot Sergeant Bash.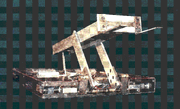 "Griffon looks like a moving video cassette recorder. Look for the fast-forward button- at 19mph, no one can match that thrust! Its lifting arm is powered by linear actuators- to you and me and you Craig, that means electronic pistons!"
Griffon was a low box-shaped robot made out of polycarbonate and armed with a four-bar lifting arm powered by linear actuators. The robot's dimensions, shape and weapon gave it a great resemblance to highly successful American robot and multiple BattleBots heavyweight champion BioHazard, while Griffon also boasted a top speed of 19mph and a tough construction.
During Series 2, Griffon suffered from interference and poor steering and traction along the arena's wooden floor panels, caused by too much friction being placed against the wheels. Oliver Steeples solved both problems by replacing Griffon's electronic speed controllers with mechanical ones to resolve the interference problems, and adding screws to Griffon's wheels to improve its traction and steering.
The original Series 2 Griffon cost around £1200, and was upgraded for Series 3 with two extra central wheels for improved manoeuvrability, a different gear ratio and upgrades to its lifting arm which enabled it to lift 300kg. The robot had also demolished a garden wall in testing.
Qualification
Edit
Despite being a successor to a Grand Finalist, Griffon was originally a reserve robot and was only able to compete after Reckless Endangerment pulled out of the main competition.
"Originally I was a reserve due to the fact that my robot wasn't very good at the preview due to the fact that I had my degree final exams just previously and didn't get a lot of info about what was happening. However on Saturday 15th I got a call saying to be ready for Monday 17th at 11am for the start of filming (Reckless Endangerment had failed to get itself working)."
— Oliver Steeples on his official website.[1]
Oliver Steeples returned with Griffon for Series 4, but failed to qualify for the main competition.
Robot History
Edit
"He said he enjoyed watching Oliver make an idiot of himself in the first wars"
— Jonathan Pearce on Ben Steeples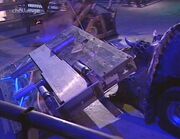 Griffon was originally a reserve robot for the Second Wars after failing to qualify, but was brought in at the last minute after Reckless Endangerment pulled out of the competition. Griffon began in the Gauntlet stage of the heat by driving forwards onto the arena spikes, stopping, turning around and heading for the route with Matilda. Shunt immediately came after Griffon, and Matilda also lifted the competitor with its tusks. The House Robots prevented Griffon from moving any further for the duration of the run. Cease was then called, and Griffon had only covered 3.4 metres, finishing sixth overall on the leaderboard, therefore being surprisingly eliminated from the competition.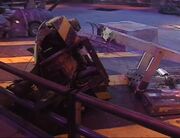 Griffon later returned in the Internet Insurrection battle, that took place at the end of the Second Wars, during the Grudge Match Special. In this battle, Griffon was placed up against previous Grand Finalists Bodyhammer, BattleBots legend Killerhurtz and Adam Clark's Corporal Punishment. Griffon started impressively, by driving into the PPZ, lifting up house robot Sergeant Bash and successfully toppling the Sergeant. Shunt then flipped Killerhurtz and Corporal Punishment became stuck underneath Sergeant Bash's spikes. Bodyhammer then charged at Griffon, but missed and became stuck under Dead Metal. Griffon was then lifted up by Matilda's tusks and blasted with her spark shooter just as time ran out. With Griffon being the only mobile robot at the end of the fight, it was declared the winner.
"All I wanted to do this time was to take over a house robot, sorry blokes, maybe better time next year"
— Oliver Steeples "to the house robots"
"We entered last year, didn't do too well...at all."
— Oliver Steeples on Griffon's Series 2 performance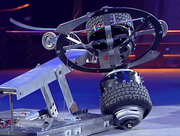 In the Third Wars, Griffon showed much more potential in the main competition, now that the trials were abolished from the heats. Griffon was placed up against fellow Series 2 Gauntlet drop-outs
Daisy Chopper
in the first round of the heat. In the battle, Daisy Chopper's blade hit Griffon to no effect, so Griffon flipped it, also to little effect. Griffon shoved Daisy Chopper around to rack up a small amount of points. Griffon pushed the giant robot into Sergeant Bash, but it escaped.
Griffon levered Bash against the side wall but failed to flip the house robot over. Griffon prised Daisy Chopper's tyre away from the wheel, severely cutting its manoeuvrability. Griffon then pushed Daisy Chopper into Dead Metal, the latter retaliating by hitting Griffon with its blade. Daisy Chopper again escaped the house robots, so Dead Metal attacked Griffon instead. Dead Metal sliced into Griffon's lifting arm until time ran out. The
judges
decided that Griffon would go through, but the Daisy Chopper team argued against this and the judges had a rethink, but still put Griffon through (albeit on a 2 to 1 split decision this time).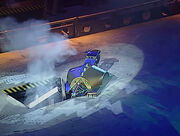 In the second round of the heat, Griffon was drawn up against Cerberus. However, Griffon barely moved off the mark, allowing Cerberus to easily push Griffon into the Pit of Oblivion in just ten seconds, eliminating Griffon from the competition. This battle would stand as the quickest battle for many years. This was Griffon's final appearance in Robot Wars as Oliver Steeples retired from heavyweight combat shortly after this.
Wins/Losses
Edit
NOTE: Griffon's loss in the Gauntlet is not included
Series Record
Edit
Outside Robot Wars
Edit
After Series 4, Steeples retired from Robot Wars as his heavyweight robots took "too much time and money" to maintain, but competes to this day in the Antweight class. One of his antweights, Mini G, took design cues from Griffon, such as the four-bar lifter weapon. Steeples still owns the internals of Griffon, as well as its lifting arm, although the robot itself has now been disassembled.
Griffon was the only substitute robot used in Robot Wars that came from a team that had competed in a previous series of the show.
Griffon is the only robot not to be seeded after reaching the Grand Final in the previous series (excluding where seeding was not incorporated).
Griffon was the first robot to successfully flip Sergeant Bash over, and the first to flip another House Robot other than Matilda.
Griffon was the only Grand Finalist from the previous series to originally not be selected for the main competition of the following series until TR2 had the same misfortune in Series 9.
For some time, Griffon's Series 3 battle with Cerberus held the record for the shortest battle in UK Robot Wars, at only ten seconds. This record was not broken until the Seventh Wars, but still stands as the quickest battle not to involve a robot being flipped out of the arena.
Griffon is the first robot whose victory was formally appealed.
References
Edit
Ad blocker interference detected!
Wikia is a free-to-use site that makes money from advertising. We have a modified experience for viewers using ad blockers

Wikia is not accessible if you've made further modifications. Remove the custom ad blocker rule(s) and the page will load as expected.