Full-body spinners
Talk

0
1,514pages on
this wiki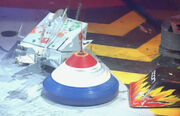 There have been several kinds of full body spinner in Robot Wars, ranging in levels of destruction and success. Without a doubt, the most successful full body spinners were Typhoon, Typhoon 2,and The Revolutionist. The pioneer of such a weapon was Caliban, though it was never used.
Definition
Edit
This weapon involves a robot equipping blades, flails or other damagers of some sort at intervals around its body (full body), which then spins up to speed (spinner).
Advantages and Disadvantages
Edit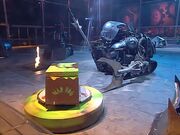 Advantages
The weapon protects the robot on all sides, making it virtually unapproachable at high speeds.
The size and weight of the weapon gives it the potential to cause very high levels of damage, as demonstrated by Team Typhoon.
Disadvantages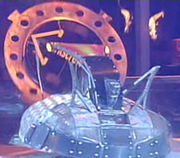 It is very difficult to tell which way the robot is facing while the weapon is spinning. Corkscrew overcame this with the signature corkscrew, which indicated which way the robot was facing.
They usually cannot utilize any pushing power from their round shape, with only Delldog and Corkscrew successful in ramming victories.
They are often unsafe (Warhog and Typhoon 2 have both shattered the arena wall, and Mauler was disqualified from the First World Championship altogether).
Most of them were unable to self-right when flipped, as The Revolutionist and Typhoon Cadet, among others, both proved. The design is often incompatible with a srimech, although Revenge of Trouble & Strife succeeded in this design.
They are often unreliable. Warhog broke down in all three of its appearances, and weapons malfunctions cost Corkscrew Two, Ajjay and Delldog potential wins.
Like other heavy spinners, often a robot must stop moving in order to get the weapon spinning again. This makes robots very vulnerable in the opening seconds of a battle, as Banshee and Daisy Cutter's respective losses to Spawn of Scutter and Ripper demonstrate.
The spinner would often stop upon impact, leaving the robot vulnerable.
Although a full body spinner could cause a lot of damage, like Typhoon 2, the spinning weapon could merely glance off harmlessly, like Revenge of Trouble & Strife in Series 7.
The build up of kinetic energy often causes a full-body spinner to rebound in a different direction upon hitting an opponent, potentially resulting in it unintentionally entering the danger zones of hazards such as the pit. This nearly happened to Typhoon 2 in Series 7, as it hit X-Terminator and bounced off close to the open pit twice.
List of Full Body Spinners
Edit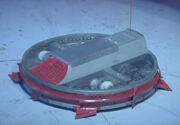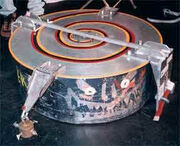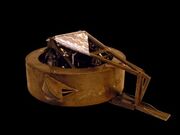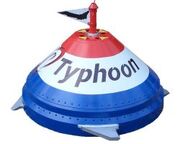 Robots are listed alphabetically. Robots that aren't heavyweight are listed with a green background.