Excalibur was a robot that entered in Series 3 of Robot Wars. It wasn't as successful as its predecessor Disruptor however, losing in the first round to Centurion.
It was named after the sword from Arthurian legend, Excalibur, wielded by King Arthur.
Excalibur was scrapped not long after its Robot Wars appearance, as its internals, including Sinclair C5 motors, were originally pulled from scrap, and were showing signs of age. The batteries and transmitter had also become unreliable. Anthony Lockwood still displays Excalibur's axe on his wall.
Excalibur is a silver wedge robot with two weapons; A double-headed axe and a small lifter at the rear. The axe proved very effective, easily making holes in Centurion, despite the latter's tough armour.
Robot History
Edit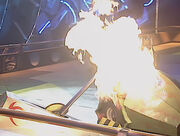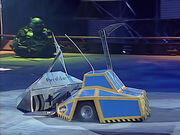 Excalibur used its axe twice at the start of its first round match against Centurion, easily penetrating Centurion's armour. Centurion used its axe to less effect, and got stuck on the arena spike. It drove under Excalibur and dragged it into Sir Killalot twice. Excalibur then drove into Sergeant Bash, before being pulled into the house robots by Centurion. The axes of Centurion and Excalibur became locked together before Excalibur was attacked, having been considered fully immobile for too long.
"Oh dear, in the Robot Wars pits sweepstake, I had Excalibur to win this! They're out!"
EXCALIBUR - RESULTS
Series 3
The Third Wars - UK Championship
Heat, Round 1
Heat J, Round 1
vs. Centurion
Lost
Wins/Losses
Edit
Series Record
Edit
Outside Robot Wars
Edit
In 2014, it was reported that Team Captain Anthony Lockwood had half completed a new robot, as yet unnamed with a front disc and rear flipper. The project was conceptualised before spinning weapons were banned from live events.
Anthony Lockwood: "I hope they do heavyweight spinners then I will finish my new robot."
Nate Franklin: "What kind of bot are you building? "
Anthony Lockwood: "I half built a vertical spinner with a flipper at the back. I put a lot of design into it, it runs both ways up and can crawl lol. 100kg."
Nate Franklin: "Why would you build it if you knew you wouldn't be able to compete with it?"
Anthony Lockwood: "I built it years ago when spinners were allowed. My third robot; I had Disruptor on Series 2 and Excalibur on Series 3, old school stuff, my third machine took me a while to build then BBC sold the show and I never finished it."
— A conversation from the Official Robot Wars Facebook group on Anthony Lockwood's new robot
In 2016, the team expressed an interest in completing a heavyweight robot named KONG, having missed out on Series 8 of Robot Wars. However, financial issues may possibly stand in the way of finishing the project.
Excalibur was incorrectly spelt as Excaliber on the TV show.
Ad blocker interference detected!
Wikia is a free-to-use site that makes money from advertising. We have a modified experience for viewers using ad blockers

Wikia is not accessible if you've made further modifications. Remove the custom ad blocker rule(s) and the page will load as expected.