Dundee/Robot Wars: Metal Mayhem
Talk

0
1,514pages on
this wiki
Dundee



Dundee in the Robot Selection screen

Robot Statistics
Weight
79.3kg
Dimensions
0.51 x 1.21 x 0.66m
Ground Clearance
0.03m
Power
2x 12v motors
Weapons
Cutter and ram
Dundee was a British heavyweight that competed in The Third Wars. The team had previously entered with Loco and both machines lost to Cassius. This was the first Robot Wars video game, and so it was the first, and last, appearance in video games for Dundee.
Appearance and Armament
Edit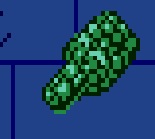 Robot Wars: Metal Mayhem was the first Robot Wars game and as such Dundee was one of the first competitor robots to be playable. Due to the Game Boy Color's comparatively poor graphics, the arenas and robots could not be very detailed, and this somewhat affects Dundee, despite it being one of the best replicas on the game.
Dundee is one of the very best replicas on the game, featuring a far more detailed colour scheme then on other robots. As with other robots such as Thermidor II, Dundee's jaws, which were made for grabbing in real life, crush in the game, and the circular saw conclealed within is not in the game at all. As in real life, Dundee cannot self-right, and is vulnerable to the arena spikes.
Differences between game and real life
Edit
The jaws crush in the game instead of grab like they did in real life
The circular saw within the jaws is omitted, although it is visible on the robot selection screen